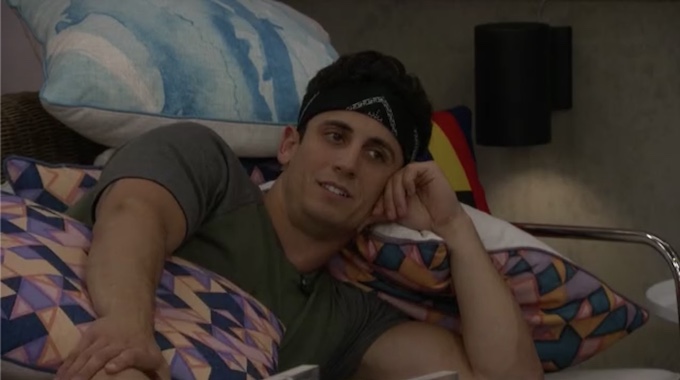 It is Power of Veto day inside the Big Brother house and as usual, Xavier, his noms, and three other randomly selected houseguests will compete. The plan for Week 3 of Big Brother 23 is pretty simple and now that we know who is playing in this week's POV Competition, we can break it down. Read on to find out who is playing and what they plan to do if they win the Power of Veto on Big Brother.
As we all know, Xavier is the Head of Household for week 3 of Big Brother and he has nominated Brent and Britini for eviction. Britini is not his target, however, Xavier has been trying to convince Brent that she is. In reality, Brent is the house's target this week and he's got that feeling which means he is going to play hard for this week's Veto win.
Obviously, if Brent or Britini win the Power of Veto, they will use it to save themselves putting Xavier in a position to have to name a renom. If Xavier wins, he will likely keep the noms the same even though he told Britini that there was a possibility that he would use it on her if a bigger target came to light.
Christian, Whitney, and Derek F were all picked to play during the player draw. Christian was picked by Xavier who drew a HG Choice chip and he will likely keep the noms the same. Brent is under the impression that he, Christian, and Alyssa are all working together though. This means if Christian wins it, Brent will most likely expect him to use it on him.
Whitney is on Brent's team and again, Brent is under the impression that he and his team are on good terms. However, that's not the case so Whitney will likely throw this competition to avoid having to have that conversation with Brent.
Finally, we have Derek F. If he wins the Power of Veto this week, he is likely to use it on Britini because he is really upset that his teammates keep finding themselves on the block. He's especially upset because, in his opinion, there was a better option to put up against Brent.
Be on the lookout for POV spoilers coming up later on. In the meantime, who would you like to see win this week's Veto Competition?
Download our Big Brother App, join us on Facebook & Twitter, and get our Email Updates for more!