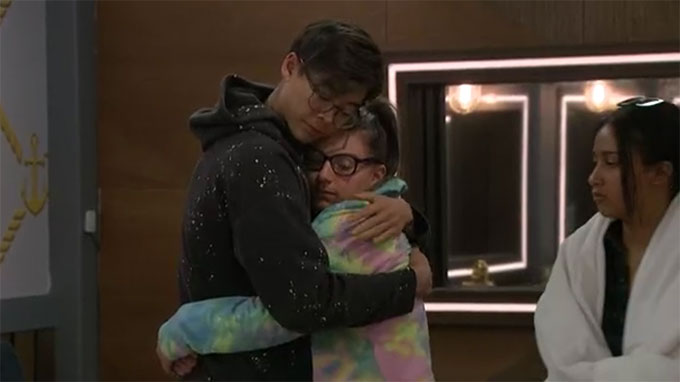 It was nomination day in the Big Brother 23 house, and the houseguests spent most of the evening pretending to Brent they had no idea he was going on the block. Also, the blossoming showmance of Alyssa and Christian was sealed with a kiss before getting caught. Read on to find out who busted the two of them making out.
Try Live Feeds 1 Week Free! Sign-up now!
If you've got the Live Feeds (Free Trial) then you can watch all of these moments with the Flashback feature to go back and watch those important conversations or funny scenes you may have missed.
Big Brother 23 Live Feed Highlights – Friday, July 23, 2021:
5:55 PM BBT – Feeds return from the nomination ceremony. Xavier nominated Brent and Britini. Xavier tells Britini he's so sorry. Britini asks him to please promise her that if she wins the veto Azah won't be the replacement. He says she won't be. "No one else from your teal is going up," he says.

5:58 PM BBT – Brent tells Xavier him nominating him doesn't make sense. Xavier says he's made it clear that Brent isn't his target (he is). Brent asks X if X's team knew who he was nominating. X says no one knew.

6:05 PM BBT – Brent tells his team that he is not an idiot and knows he's the target and not Britini. Brent says he's flattered to be considered such a target. Whitey says she thinks if Brent was the target he would have tried to backdoor him.

6:08 PN BBT – Brent says Xavier doesn't realize they have the numbers to keep Brent (they don't, everyone is in on it).

6:10 PM BBT – Brent thinks X's team knew he was going up because Alyssa and Christian couldn't look him in the eye.

6:15 PM BBT – Brent says Tiffany and Claire are upset he's on the block since they are working together.

6:20 PM BBT – Brent tells Tiffany he thinks he's the target but they have the votes to keep him. Tiffany says yes they do.

6:27 PM BBT – Brent asks Alyssa if she knew he was going up. She says no. He says he knows he's not the pawn.

6:38 PM BBT – Xavier tells Azah he knows she asked him to put her up instead of Britini but he tells her he couldn't do that. Azah thanks him for telling her what his plans are.

7:00 PM BBT – Azah and Tiffany aren't pleased with each other and finally decide to talk. Azah asks Tiffany why she and Derek went after Britini in the safety completion. Tiffany said she couldn't let Britini win it because then Azah could've gone on the block.

7:02 PM BBT – Azah says she wouldn't have cared if she was on the block because she would have the numbers. Tiffany says then we shouldn't care Britini is on the block because she has the numbers.

7:03 PM BBT – Azah asks if Tiffany if she heard she was going on the block. Tiffany says she didn't know who was going on the block but X told her to play that competition to win.

7:05 PM BBT – Tiffany tells Azah that Brent is the target and not Britini so she doesn't know what else to say to make her feel better. Tiffany says she would rather Britini be on the block than Azah.

7:12 PM BBT – Brent tells Britini to not be nervous because there's no way she's the target over him. She says X seemed to make it pretty clear in his speech that she is the target.

7:30 PM BBT – Derek F tells Xavier that they have to pray his team wins next. He says he will take a shot at X's team and says it might be Sarah Beth and Claire or Alyssa and Whitney he nominates. He says he needs a girl to go.

7:35 PM BBT – Derek F and Xavier agree if DF wins the veto he has to use it on Britini since he's on her team.

7:51 PM BBT – Tiffany is impersonating Brent.

8:24 PM BBT – Brent tells Kyland that Sarah Beth feels so bamboozled by Brent's nomination. He says everyone is shocked.

8:25 PM BBT – Derek X tells Britini that Brent doesn't know half the house is against him so don't let him know what. Whitney says she's so happy Brent is up and she's sick of his sexism. She tells Britini that they have her back. Britini says she's ready for Brent to go too since she knows he's been throwing her name out there.

8:30 PM BBT – Christian and Alyssa are making out in the HOH room.

8:34 PM BBT – Xavier catches Christian and Alyssa making out in his bed. Alyssa tells Christian that they're F'd. They laugh over it but are a bit nervous someone caught them.

8:45 PM BBT – HGs are all in the kitchen having dinner.

9:01 PM BBT – Azah tells Britini that she doesn't understand why Tiffany targeted her in the Wildcard Competition. Azah says something doesn't add up. Britini said that Tiffany used her to take out Derek X then Tiffany took out Britini. She says she didn't even have a chance to win. Britini said she didn't even want to see Tiffany today when she came to console her after the nominations.

9:35 PM BBT – Xavier teases Christian and Alyssa about catching them and says he had been on to them for awhile.

10:25 PM BBT – Kyland points out that Brent seems to be going after the women that don't flirt with him.

10:40 PM BBT – DF warns Kyland that after three men have gone so far that they need to get out two women.

10:45 PM BBT – Azah joins DF after Kyland leaves. She thinks Kyland is working with Tiffany and DX.

11:20 PM BBT – Azah talks with DX that she wants people to be honest with her. She knows it's a game but she still wants the truth from HGs. Azah is questioning DX about the comp. He says he was throwing it and asks then why would Tiffany target him over Britini if he wasn't trying to win. Azah doesn't think it was so clear that he was throwing it.

11:45 PM BBT – Brent asks Kyland and DX about what's going on. He's confused that Azah seems upset but not upset at Xavier.

12:00 AM BBT – Tiffany tells Claire and Kyland how Whitney told her she wants the Aces and Queens to work together. Tiffany is concerned that Whitney is only looking for numbers, not a true alliance.

12:10 AM BBT – Claire wants to see Whitney and Britini for targets next week. Claire and Kyland think Christian might go after the same targets. Tiffany suggests they could get Whitney this week and then Brent next week.

12:40 AM BBT – Brent tells Hannah how Xavier didn't look him in the eyes at the Noms Ceremony.

12:50 AM BBT – Brent, still talking with Hannah, says he'd go after Xavier and Christian or Azah if he gets HOH.

1:20 AM BBT – Tiffany telling DX how Azah wanted to go up this week instead of Britini and now Azah is mad but Britini isn't.

1:25 AM BBT – DX is stressing that he can not win Veto again or Brent will be all over him. DX is surprised by how hard it is to lie to Brent all day.

1:40 AM BBT – Brent is with Alyssa and Christian, again going over the Noms Ceremony and thinks Xavier was sweating. He doesn't understand why Azah isn't upset at Xavier for putting up a member of her own team.

2:00 AM BBT – Christian and Alyssa praise themselves for handling Brent after he leaves the room.

2:10 AM BBT – Lights out for the HGs.
Brent knows he's in trouble but he hasn't figured out that practically the whole house is in on his demise. Veto is his big chance on Saturday. Meanwhile we've got the "we're not a showmance!" couple fooling around in the HOH's bed and getting caught by the HOH. Yikes. Well when the house needs a new target that'll be an easy choice to split up.
You can watch all of these Big Brother events using the archives Flashback, the DVR-like feature of this year's Live Feeds which means it's always live, even when you missed it! Sign-up now to get the free trial to watch it all live & uncensored.

Gallery: Live Feeds Highlights
Download our Big Brother App, join us on Facebook & Twitter, and get our Email Updates for more!