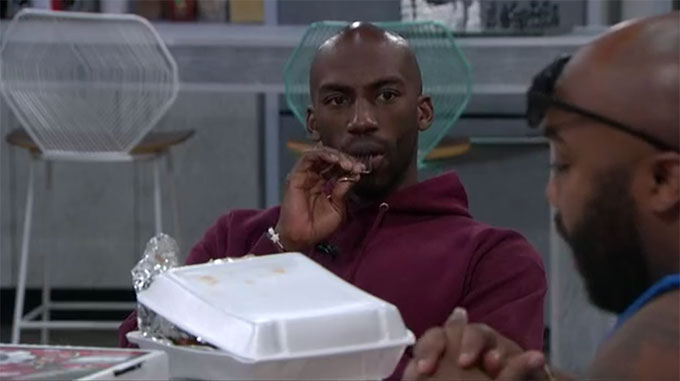 Derek spent most of Friday evening in the Big Brother 23 house stressing over what Kyland is going to do if he wins the veto. He's convinced Kyland will cut him, all while considering cutting Kyland himself if he has the sole vote to evict.
It sounds like Xavier and Azah are both leaning more toward Kyland going this week, and Derek could possibly be on board as well. But Xavier has encouraged everyone to just chill out on the game talk until the veto is played.
Try Live Feeds 1 Week Free! Sign-up now!
If you've got the Live Feeds (Free Trial) then you can watch all of these moments with the Flashback feature to go back and watch those important conversations or funny scenes you may have missed.
Big Brother 23 Live Feed Highlights – Friday, September 17, 2021:
3:00 PM BBT – Azah is trying to figure out what to make for dinner, but they're all wondering if they'll have the veto competition today. She decides to make pasta since that's fast and easy.

4:07 PM BBT – Azah spilled protein shake on the living room couch. Derek and Kyland help her clean it up.

4:25 PM BBT – Azah says there would've been a veto by now if it was going to be today. Kyland says it's probably tomorrow because it's too late now.

4:30 PM BBT – Xavier tells Derek and Azah that they have exhausted all game talk up until the veto is played. He says there's nothing else really to say until after that.

4:38 PM BBT – Derek tells Xavier that if Kyland wins veto "I'm going home." Xavier says Kyland wouldn't do that to him. Xavier says he won't let him vote him out.

4:40 PM BBT – Derek tells Xavier that he thought the two of them were going to be like Cody and Derrick. He says he thinks Kyland might not take him because he knows that Derek and Xavier had an agreement in the beginning.

4:49 PM BBT – Azah says after Kyland won veto, she felt like it was his HOH. She said she felt very disrespected by him. She said she told him not to use the veto and he still did. She said that was very disrespectful.

4:53 PM BBT – Azah tells Derek and Xavier that she didn't think Kyland getting rid of Tiffany was the best move for him. Xavier asks why she thinks that. Azah says because Tiffany is a large target and Kyland would have been smarter to get rid of Hannah or herself.

6:08 PM BBT – Kyland is talking to the cameras in the have-not room. Nothing about the game, just things about himself. Azah is downstairs crushing garlic.

6:32 PM BBT – Derek tells Azah that she won't go home if he wins veto. Azah says the same goes for him if she wins. Derek says they only have to worry about Kyland winning now. He tells Azah that he once saw himself in the Final 3 but doesn't now.

6:40 PM BBT – Derek says to Xavier that he's falling apart and his game is gone. He says he put in so much work and his game is over. Xavier tells him it's not and he has got to stop talking game. Xavier tells him he is saying and doing things he doesn't have to.

6:45 PM BBT – Derek says he had himself set up so well with both Kyland and Azah and now he messed it up. He says he messed things up with Kyland because he asked him who he was taking to final two right before he was going to be nominated this week.

6:50 PM BBT – Xavier tells Derek he's talking himself into a hole. He tells him to take a break.

6:51 PM BBT – Derek says he messed up. He thinks if Kyland wins veto, he takes Azah and if she wins veto, she takes Kyland. Xavier says they don't know what's going to happen and he thinks in either situation, they both still take Derek.

6:53 PM BBT – Derek says he's just going to be quiet because there's no way for him to save his game now.

7:40 PM BBT – Despite saying he wasn't going to discuss it, Derek brings things up to Kyland again. Kyland says he didn't like his trust being questioned when he had just shown him. Kyland says it was frustrating because Derek hasn't even been able to show him he can trust him (meaning he hasn't won any comps).

7:48 PM BBT – Derek tells Kyland he was being selfish and he shouldn't have asked him that when he did. Kyland tells Derek that Derek doesn't owe him anything and he has done enough for him as it is.

8:10 PM BBT – Derek tells Kyland that he is there of him and he wants them to just move on. He says they can't dwell on what anyone is going to do until the veto ceremony.

8:28 PM BBT – Azah and Xavier come out of the HOH room with pizza, wings, and mozzarella sticks. Xavier won a viewing of the CSI show for winning HOH and he picked Azah to join him. They got to keep and share the leftover food.

8:34 PM BBT – Derek tells Xavier he still doesn't feel good with Kyland and prays that Azah wins veto.

8:50 PM BBT – Derek says he hopes Kyland wins the veto. Kyland asks if Derek would mind if Xavier won it and used it on him so he could still make the decision. Derek says he wouldn't mind.

10:45 PM BBT – HGs are playing cards together.

11:00 PM BBT – Xavier and Azah hanging out downstairs and chatting about the day and what's been stressing her.

11:10 PM BBT – Kyland and Xavier meeting upstairs. Kyland says he had a good conversation with DF while X and Azah were watching the show. He says DF doesn't want to be voting so he's not the one to send out Azah. Xavier tells Kyland there are just one step away from their goal unless Azah wins Veto.

11:15 PM BBT – Kyland expecting Azah will be sent out next. He notes how she couldn't even control who went on her own HOH.

11:20 PM BBT – Xavier explains that DF's strategy seems to be try and get Azah mad at him (X) instead of DF for her going.

11:25 PM BBT – After Kyland leaves Xavier camtalks that DF needs to stop talking so much. X says he already promised Azah he wouldn't use the Veto so no changing things now.

11:27 PM BBT – Kyland comes back to the HOH room. He says DF doesn't want to be the one to do the voting and wants to be up instead. Xavier says DF needs to get his hands dirty.

11:30 PM BBT – Kyland says he'll win the Veto and take care of it.

11:45 PM BBT – Xavier is alone and pacing in the HOH room. He's stressed and says he can't let Kyland win the Veto.

12:05 AM BBT – Kyland is camtalking in the HN room. He is going over Jury votes and feels he can beat Xavier at F2. Kyland plans to say in his F2 speech that Xavier betrayed his word to the F4.

12:15 AM BBT – Kyland still going over his strategy for F2.

12:30 AM BBT – Lights out for HGs.
Lots hangs in the balance here with the Veto comp on Saturday. Kyland seems committed to the F3 with the men but everyone else seems ready to cut him. And now we can see Xavier's strategy in not putting DF on the Block. Xavier wants DF to have a turn here at making a cut. Good move.
You can watch all of these Big Brother events using the archives Flashback, the DVR-like feature of this year's Live Feeds which means it's always live, even when you missed it! Sign-up now to get the free trial to watch it all live & uncensored.


Gallery: Live Feeds Highlights
Download our Big Brother App, join us on Facebook & Twitter, and get our Email Updates for more!