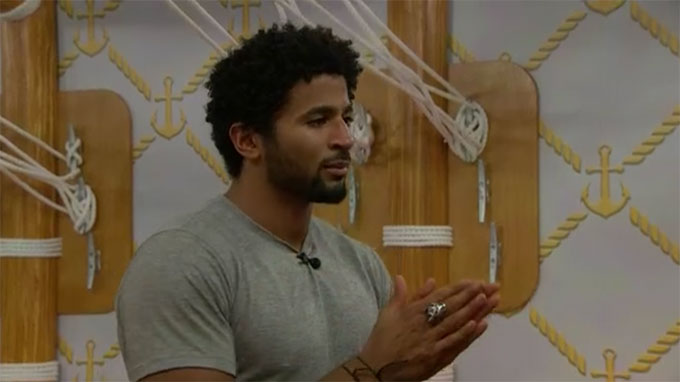 The Cookout Alliance has officially made it to Big Brother 23 Week 10, and the final six, just as they planned. And so now, they start playing the game amongst themselves. And with a brand new HOH crowned late Thursday night, the first targets among them have emerged.
Try Live Feeds 1 Week Free! Sign-up now!
If you've got the Live Feeds (Free Trial) then you can watch all of these moments with the Flashback feature to go back and watch those important conversations or funny scenes you may have missed.
Big Brother 23 Live Feed Highlights – Thursday, September 9, 2021:
6:04 PM BBT – Feeds return after the live show. Kyland and Derek appear to be having a disagreement over Derek wanting to give Alyssa a pity vote, which would have caused a tie.

6:12 PM BBT – Hannah is apologizing to Xavier. He tells her to stop apologizing and said what she did was what needed to happen. He says he's proud of her and she handled her HOH the right way.

6:20 PM BBT – Tiffany tells Kyland that she's sorry he had to volunteer to go on the block. She said she tried to tell Hannah not to put him up. Kyland says he expected it and thought it was fine until Derek said he wanted to throw a vote to Alyssa. Kyland says that really set him off.

6:27 PM BBT – Derek tells Hannah that he hasn't given one jury member a sympathy vote and he was wanting to give Alyssa one. Derek says he is now looking good for people to sit next to at the end since he didn't vote for any of the jurors to stay.

6:30 PM BBT – Derek says that Azah and Hannah are going for Kyland and that he is going for Tiffany. He says he doesn't; know what Tiffany is doing but thinks she'd probably go after Kyland or Xavier.

6:31 PM BBT – Hannah asks Derek if he wins is she going up next to Tiffany as a pawn. He says yes. He tells her not to worry, though, because if Tiffany wins veto, he'll put up Kyland.

6:33 PM BBT – Kyland tells Hannah he was expecting to go up if X won veto, and says he was only upset after Derek wanted to mess around with the vote and give Alyssa an extra sympathy vote.

6:44 PM BBT – Derek tells Xavier that he still wants Tiffany out and suggests X throw the HOH to him if he can. Derek says he will nominate Tiffany and Hannah and if Hannah comes down, he'll put up Kyland. He says they should have the votes to keep Kyland.

6:45 PM BBT – Derek says after they take out Tiffany, then they should take out Kyland. Xavier agrees. Xavier says he might nominate Tiffany and Kyland together.

6:49 PM BBT – Xavier tells the cameras that he really wants this HOH. He says there is no more throwing competitions.

6:52 PM BBT – Hannah tells Azah that she cannot believe they were able to pull this off. She sys a week 1 alliance making it all the way to the end without being outed. Hannah says "We are here. Three black women, three black men. Top 6. A black person is going to win Big Brother US for the first time."

7:26 PM BBT – Tiffany tells the others that she was one of those votes to evict Alyssa week 1 per Frenchie's urging. Hannah says no one suspected her. Tiffany says that's why she really wanted Frenchie to go.

7:52 PM BBT – Hannah tells Tiffany that Azah said she'll nominate Kyland and Xaiver if she wins HOH but she doesn't believe her. She tells her that Derek straight up told her he was putting up Hannah and Tiffany.

8:05 PM BBT – Feeds have cut for the HOH competition.

10:00 PM BBT – Feeds are back. Kyland is wearing the key. Derek is crying alone that he was close. Kyland is already asking to schedule 5-10 minute meetings with every HG.

10:05 PM BBT – Derek is upset because he feels he was close to winning the comp. Kyland is there with him and feels guilty for snuffing out DF's chances in the comps. DF asks Kyland to reaffirm they are good to F2.

10:10 PM BBT – DF asks Kyland if he has anything to worry about. Kyland says DF will be okay. DF says there are just two people who haven't been on the Block yet (Azah and Tiffany) and Tiffany has already threatened them, claims DF.

10:15 PM BBT – Kyland tells DF he knows what he has to do, he just doesn't want to do it.

10:25 PM BBT – DF promises Kyland he'd keep him over Xavier while Kyland promises to keep him over Azah. They plan to get Tiffany out this week unless she wins Veto.

10:35 PM BBT – Kyland camtalks that he didn't intend to win this HOH and didn't think he needed to make this move against Tiffany. He wishes DF had won the comp then he would have put up Hannah and Tiffany for him. Kyland thinks this week could lead to him losing at F2 if he got there. Kyland says he's tempted to do something crazy like putting up Xavier versus Tiffany and let them fight it out.

10:45 PM BBT – Kyland says his goal in this game is to reach F2 against the strongest player, preferably Xavier. (Oh, hello there Cody.)

10:55 PM BBT – Azah asks Kyland if he's going to nominate her. He says he doesn't want to.

11:15 PM BBT – Kyland tells Tiffany that when he saw DF so close to winning HOH he knew DF would nominate her (T) and Hannah.

12:10 AM BBT – Kyland promises Xavier he wants to sit with him at F2. He says he only promised DF safety this week so far.

12:15 AM BBT – Kyland tells Xavier that the scenario that makes the most sense to him is putting up Tiffany and Hannah together with Azah as a renom. Kyland is only worried about Tiffany winning Veto.

12:20 AM BBT – DF talks to Xavier about trying to get to the end together and he'll be happy with second place.

12:40 AM BBT – HGs chatting about how the Cookout is received by fans and if they're being talked about. Kyland thinks DX has to have figured out their alliance.
Looks like we have the new HOH's plans there. Tiffany and Hannah are headed for the Block on Friday but that won't stop Kyland from having meetings, meetings, and then maybe some meetings to go with a side of meetings.
You can watch all of these Big Brother events using the archives Flashback, the DVR-like feature of this year's Live Feeds which means it's always live, even when you missed it! Sign-up now to get the free trial to watch it all live & uncensored.


Gallery: Live Feeds Highlights
Download our Big Brother App, join us on Facebook & Twitter, and get our Email Updates for more!