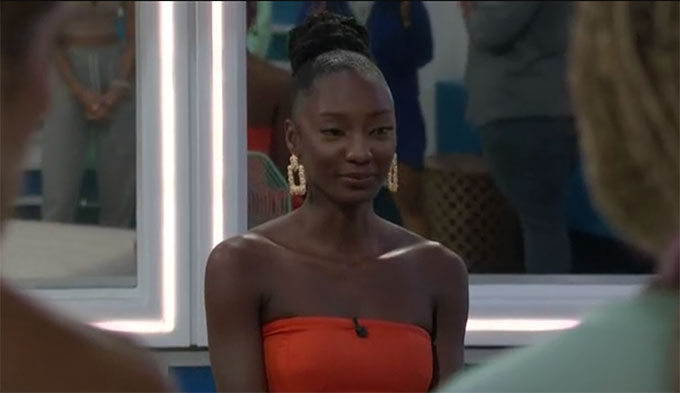 It was a pretty relaxed evening in the Big Brother 23 house, as the Cookout alliance are just kind of idling, waiting on the next two evictions to come and go so they can start playing the game amongst themselves. But with Alyssa as the last obstacle, they are beginning to hatch plans in case she intervenes and wins that next HOH competition. Read on to find out what some of the members are thinking if that comes up.
Try Live Feeds 1 Week Free! Sign-up now!
If you've got the Live Feeds (Free Trial) then you can watch all of these moments with the Flashback feature to go back and watch those important conversations or funny scenes you may have missed.
Big Brother 23 Live Feed Highlights – Tuesday, September 7, 2021:
4:35 PM BBT – Claire makes her pitch to Azah. She talks about what jury votes she would have against her versus Xavier.

5:37 PM BBT – Claire says to Tiffany that everyone should take the shot at Xavier while they can because there might not be many more opportunities. Tiffany says he may never touch the block again if they keep him.

5:38 PM BBT – Claire mentions there's a good argument for Derek to go because everyone is going to want to drag him to the end because he'll be easy to beat in the final 3 competitions.

5:40 PM BBT – Tiffany asks Claire what she does if she stays and wins HOH. Claire says she would put up Derek and Alyssa.

5:45 PM BBT – Hannah is worried about the HOH/double eviction. Everyone is figuring out that there will be a DE. Azah says no one is coming for Hannah, but Hannah says she could still end up on the block. She says she's afraid that if Xavier and Kyland both don't want to win HOH, and since Tiffany can't play, Alyssa could end up winning.

5:46 PM BBT – Azah says Alyssa would probably put up Kyland. And Hannah adds and Tiffany. Then Hannah says if Kyland comes off the block, Alyssa will put up one of them, not Derek. Azah agrees.

5:47 PM BBT – Hannah asks Azah if she's confined the guys don't have an agreement where they won't vote each other out. Azah says she doesn't think that they do.

6:15 PM BBT – Azah and Derek discuss targets at Final 6. They don't agree on who they want to be in the final 5 with them. Derek says he doesn't care for Hannah, Kyland or Tiffany. Derek still wants Tiffany out first, but would be OK going for Kyland or Hannah, he says. And that is also the case if Alyssa wins HOH.

6:26 PM BBT – Hannah asks Kyland if he's set on not winning this HOH. He says he's set on being able to compete in the Final 6 HOH. He says he doesn't want to win this if she doesn't have to. Hannah says she would like to win but she needs to figure out what to tell Alyssa about why she would be putting her on the block.

6:30 PM BBT – Kyland asks who Hannah would she put up next to Alyssa. She says Xavier.

6:32 PM BBT – Tiffany tells Hannah that if she puts up X and Alyssa and Alyssa wins veto, but Derek up. Hannah says and you guys send home whoever you want between Derek and Xavier.

6:45 PM BBT – HGs getting called in for Covid-19 testing.

7:30 PM BBT – HGs are playing the dating game. Azah and Xavier are going on a date.

7:44 PM BBT – Hannah is teaching the HGs Tik-Tok dances.

8:20 PM BBT – Xavier's and Azah's date is starting in the HOH room. Alyssa is their server.

8:35 PM BBT – Kyland says to the camera that he has played so much ignoring jury votes because of the Cookout mission. He says he needs to start thinking about jury votes and needs to act accordingly.

9:00 PM BBT – Now it's time for Kyland and Azah's date.

9:30 PM BBT – The dating game is over and Azah picked Xavier as her winner.

10:30 PM BBT – Claire is campaigning to Kyland. She's detailing how good Xavier is in this game and she suspects Tiffany and X might have a deal. She's going through the votes to show Kyland that X would beat him at the end.

11:00 PM BBT – Claire tells Kyland if she stays and wins the DE she'll nom Alyssa and DF then renom Azah if she has to.

11:10 PM BBT – Claire admits to Kyland that she thinks the odds are very high she'll be evicted this week so she's trying everything she can to campaign against it.

12:55 AM BBT – Tiffany and Hannah talking game. Hannah notes that Xavier is never throwing out Azah or DF's names so she suspects that's his dream F3. Tiffany mentions that Kyland studies with DF, but not with them.

1:00 AM BBT – Tiffany wishes they could get Azah to side with them so they had all three women together. Hannah thinks Xavier and Kyland are planning to win the final HOH and take Derek with them to the end. They want to make sure they get to the end with Azah for a F3. Hannah thinks they need to keep Kyland to help make that happen.

1:25 AM BBT – Xavier asks Kyland about his talk with Claire. Kyland says she makes some good points but she's seeing the game the way they intended her to see it (Cookout hidden) and that he's staying true to the Six.

1:40 AM BBT – Xavier complains that he doesn't like how some of the CO members have made moves against him. He sees varying levels of commitment to the Six and seems to be ready to hold that grudge.

2:15 AM BBT – Claire is upstairs working on Hannah's vote. Hannah tells her she's leaning toward keeping her.

2:35 AM BBT – Tiffany and Hannah are upstairs getting ready for bed. Downstairs Kyland and Xavier are still up and chatting.

3:30 AM BBT – Lights out.
The Cookout is ready to turn on its on very soon here but for now they're committed to keep it together. Claire will be out the door but she's still fighting the good fight to keep her game alive. Next up, the Double Eviction on Thursday!
You can watch all of these Big Brother events using the archives Flashback, the DVR-like feature of this year's Live Feeds which means it's always live, even when you missed it! Sign-up now to get the free trial to watch it all live & uncensored.


Gallery: Live Feeds Highlights
Download our Big Brother App, join us on Facebook & Twitter, and get our Email Updates for more!