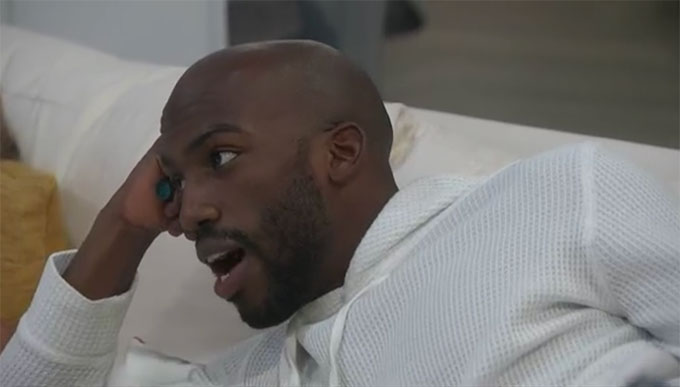 It was a surprisingly quiet eviction eve in the Big Brother 23 house, mostly because the houseguests know the vote to evict is going to be in Kyland's favor this week. But that didn't stop him from having his one-on-ones, because that man just really loves to talk. While Kyland's talks went on throughout the evening, the other houseguests started talking about possible next targets.
Try Live Feeds 1 Week Free! Sign-up now!
If you've got the Live Feeds (Free Trial) then you can watch all of these moments with the Flashback feature to go back and watch those important conversations or funny scenes you may have missed.
Big Brother 23 Live Feed Highlights – Wednesday, September 1, 2021:
3:28 PM BBT – Kyland tells Derek that he wants Xavier or Tiffany to give Sarah Beth a sympathy vote. He isn't sure which one should, but thinks it would be the nice thing for one of them to do.

4:30 PM BBT – Kyland having his one-on-ones. He is now talking with Hannah.

4:54 PM  BBT – Azah is cooking dinner.

6:05 PM BBT – HGs hanging out getting ready to have some dinner.

6:40 PM BBT – It's Tiffany's turn for Kyland's one-on-one.

6:42 PM BBT – Dinner is ready.

6:50 PM BBT – Tiffany tells Kyland that everyone feels like they know Sarah Beth the least out of all 16 houseguests this season. She says most people think she has lied a lot about who she is.

7:12 PM BBT – Alyssa says to Xavier that she thinks people seem to be trying to find a way to come after the two of them, but she thinks the women will want her out over him.

7:18 PM BBT – Alyssa tells Xavier that she thinks they could beat Kyland, Derek F, and Azah, but she doesn't feel like they could win next to Tiffany, Claire, and maybe not even Hannah.

7:18 PM BBT – Xavier asks so what do they do if they win HOH. Alyssa says they should still go with the Kyland and Claire scenario, while acting like Kyland is the target, but really target Claire.

7:32 PM BBT – Tiffany tells Kyland she wouldn't mind Claire getting to Final 7, but she worries that if Claire doesn't go next before Alyssa, and then it's Claire and Tiffany on the block and Claire wins veto, there's no one left to put up.

7:35 PM BBT – Kyland tells Tiffany that it seems as long as people think she wants Claire to stay, the more they're going to push for her to go. He thinks the only people who would have trouble going after Claire are Hannah and Azah.

8:00 PM BBT – Houseguests are all sitting in the living room, other than Kyland and Tiffany, so they decide to play Big Blue Couch.

8:05 PM BBT – Kyland's one-on-one with Tiffany finally wrapped up. Kyland is upset no one told them dinner was ready.

8:35 PM BBT – Claire tags in for her one-on-one with Kyland.

9:40 PM BBT – Kyland moves on to talk with Azah for her turn.

11:10 PM BBT – Hannah says she got lucky that her talk with Kyland only lasted 35 minutes because he got called to DR.

11:15 PM BBT – Tiffany and Hannah discuss making a F4 with Alyssa in case she wins F7 HOH so that she'd put up Kyland and Azah instead of them.

11:25 PM BBT – Hannah wants to get Alyssa out next before Claire. She says she'll throw it to Azah once Alyssa is out. Hannah wants DF out first from the Six, not Kyland. Then she hopes Xavier will take out Kyland so it'll be the women left to win HOH and take him out.

11:50 PM BBT – HGs hanging out and chatting with Sarah after she was sitting alone.

11:55 PM BBT – Sarah trying again to get a feel for if Tiffany and Claire will vote to keep her or not. She says only Azah has been clear with her and seems willing to vote to keep her so she might be able to get DF too.

12:05 AM BBT – Sarah and Kyland go upstairs to chat. She tells him she's not sure what's going on with the votes. She worries she just played too sloppily.

12:10 AM BBT – Sarah blames her situation on DX and that he was a manipulative liar.

12:25 AM BBT – Kyland lets Sarah know that she won't have the votes. Sarah continues to be upset and disappointed in herself, saying she's played a terrible game.

1:00 AM BBT – Kyland again suggesting there's a secret alliance like he tried to tell her the night before. He says if Claire goes out next then that's the proof he's right. Sarah questions why he'd be safe then if there's some other alliance that he's not part of.

2:00 AM BBT – Sarah and Kyland have still been up and talking. Now they're getting ready for bed, but have not yet stopped talking. It's been chatter about things back home, personal things in the game, and just rehashing past events.

2:40 AM BBT – Sarah says she'll let Kyland go to sleep now and they fade out.
Well that was the last night of that we'll have to watch on the Feeds. Sarah is marching to her eviction on Thursday night and the HGs are preparing for an endurance battle that we should be watching on the Feeds too. Good times ahead!
You can watch all of these Big Brother events using the archives Flashback, the DVR-like feature of this year's Live Feeds which means it's always live, even when you missed it! Sign-up now to get the free trial to watch it all live & uncensored.


Gallery: Live Feeds Highlights
Download our Big Brother App, join us on Facebook & Twitter, and get our Email Updates for more!