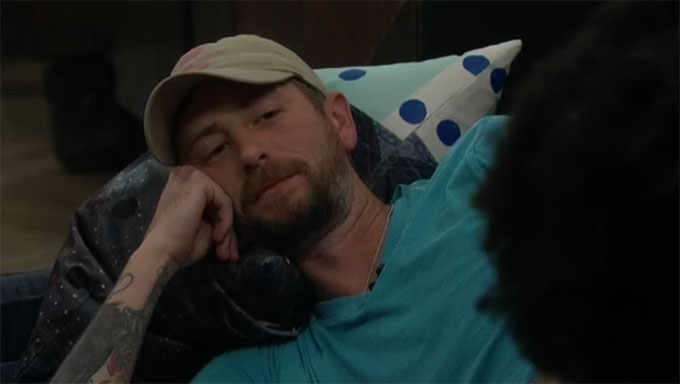 It was the night before eviction in the Big Brother 23 house, and the nominees didn't seem to be too concerned. Britini realizes she's not going anywhere, and Frenchie didn't want to work too hard against Britini. I think he also knows there's little to no hope for him. The main topic was who should win HOH next and who the target should be. The target shifted throughout the night, depending on which group was talking, but it seems to be narrowed down. Also, read on to find out what two new alliances formed.
Try Live Feeds 1 Week Free! Sign-up now!
If you've got the Live Feeds (Free Trial) then you can watch all of these moments with the Flashback feature to go back and watch those important conversations or funny scenes you may have missed.
Big Brother 23 Live Feed Highlights – Wednesday, July 21, 2021:
3:04 PM BBT – Britini tells Azah that Brent cannot win this HOH because he has thrown out her name and Claire's name and has been telling people things against Azah to try to turn them against her. She says Brent wants the girls gone.

3:05 PM BBT – Britini says Whitey, Derek X and Hannah had a team meeting without Brent to discuss throwing the HOH so that Brent won't be safe. She says they want him gone.

3:11 PM BBT – Azah says she wouldn't even backdoor Brent. She says she would make it clear from Day 1 that he is the target.

3:15 PM BBT – Frenchie tells Derek K if he can get the Slaughterhouse together to vote for him to stay it's possible.

4:15 PM BBT – Tiffany and Britini talk about throwing the HOH to Azah so she can go after Brent.

4:33 PM BBT – Britini tells Tiffany that she doesn't think Whitney and Brent are solid because she heard Whitney call Brent sexist.

5:04 PM BBT – Frenchie tells Azah that he wants to stay but he just can't campaign against Britini. Azah tells him that she wants him to stay because that would be best for her game.

5:10 PM BBT – Azah explains to Frenchie that she was kind of mad at him Week 1. He says he understands.

5:20 PM BBT – Hannah is still stuck on Alyssa going home next. She tells Claire that she thinks Alyssa is the bigger threat.

5:30 PM BBT – Tiffany tells Kyland that Britini is nervous about Xaiver because he hasn't told her she has his vote.

5:31 PM BBT – Tiffany and Claire agree that if Brent is on the block they're voting him out. Talk turns to Brent's loyalty. Tiffany tells Kyland and Claire that Brent was very loyal to Frenchie so he could be loyal to them. So talk target talk turns to Whitney.

5:53 PM BBT – Claire tells Tiffany that if Whitney goes this week Brent will follow closer behind. But if Brent goes next, Whitney could stick around. So maybe Whitney needs to go first. They talk about striking a deal with Brent, then that turns into a fake deal with Brent's team.

6:34 PM BBT – Brent tells his team about the Queens wanting to meet with them. He says he knows they want to propose an alliance with them, but if they align with them who would they target. Hannah says they could target Britini.

6:46 PM BBT – Tiffany asks Claire who they should send home between Whitney and Brent. Claire says Whitney. Tiffany says she's down with that.

6:54 PM BBT – The Queens and The Aces meet and discuss an alliance. They all agree to protect each other and they name their alliance The Mafia.

7:05 PM BBT – Brent tells the group that he thinks Britini may have been one of the rogue votes that Frenchie knew about against Alyssa.

7:29 PM BBT – Derek X tells Whitney and Hannah that if Brent does win HOH he's going to try to get him to turn on Christian. Derek X says Britini is not a threat and isn't a good target.

7:30 PM BBT – Whitney says it would almost be smarter to get out Alyssa because she's close with so many people. Hannah says she thought of that too. Hannah asks if they are thinking about going after Brent this week and then Alyssa the next. Whitney says she wants Brent out as soon as possible.

7:46 PM BBT – The Queens let the Kings know about their deal they made with the Aces.

7:47 PM BBT – The Kings and Queens decide their alliance name will be The Royal Family.

8:35 PM BBT – Xaiver asks Alyssa who she thinks should go if it's Brent and Whitney on the block. Alyssa says for her game, she wold want Brent to go.

8:43 PM BBT – Derek X tells Azah that he really wants her to win HOH and says he's heard her name thrown out there. He said he wants her team to win HOH and shake things up a bit. She says she's going to gun for it. He tells her not to let anyone convince her to throw it. She says she won't.

8:50 PM BBT Derek X asks Azah if she thinks it's safe for him to throw the HOH to anyone on her team. She says yes he would be safe with them. He says he just wants to make sure they're looking at the right person (Brent).

9:30 PM BBT – Tiffany doing a good job of listening to Frenchie as he talks to her about the end of his game and his initial alliances. She tells him he showed such a strong performance in the first week that the HGs knew he'd be tough.

9:45 PM BBT – Derek X talks with Azah and encourages her to not throw the HOH comp. He knows about the RF alliance. She says she wants to go for it. He hopes she'll shake things up.

9:50 PM BBT – Christian and DX discuss throwing it to Sarah if possible. Christian says DX needs to stay in the game until all his teammates are out but that he can't win or else the house can't target Brent and Whitney.

10:10 PM BBT – Tiffany and Claire discuss Hannah and Britini. They like Hannah but don't tell her everything. They expect Britini would target Brent and Hannah if she got HOH.

10:15 PM BBT – Royal Family titles have been assigned with everyone getting a formal title like Queen Tiffany, King Kyland, Prince Christian, etc.

10:20 PM BBT – Tiffany asks Hannah what Whitney later said about the Mafia alliance they created tonight. Hannah says that Whitney questioned if it was fake. Tiffany asked Hannah not to confirm it's fake.

10:40 PM BBT – Claire, Azah, and Britini are discussing targets and Brent. Claire promises to throw the HOH to Azah.

10:55 PM BBT – Tiffany asks Xavier if he has a crush on any of the HGs. Signs point to Alyssa but he wants to wait until after the show.

11:15 PM BBT – Christian let Alyssa know that DX was asking him about Alyssa and he had to cover things by saying he was willing to cut Alyssa. She isn't happy.

11:30 PM BBT – Whitney joins DF and Britini in the bathroom. She's complaining about Brent complaining.

12:00 AM BBT – HNs have ended for the week.

1:10 AM BBT – Christian tells Hannah he's willing to take out Alyssa. Hannah says he can hang out with Alyssa just be careful of what HGs are seeing. She says when the teams are gone then showmances will become a target. He wonders if he should just stop things.

1:30 AM BBT – Hannah hopes for a Claire HOH. Whitney wants Sarah to get it. Whitney thinks Brent's top target is Britini then he'd go for Claire or Azah.

1:50 AM BBT – DX talks with Brent for HOH comp plans. They say DX needs to outlast Christian and the Jokers.

2:05 AM BBT – Brent says he will not give Frenchie a sympathy vote and expects if anyone does it could be DF and/or Azah.

2:30 AM BBT – Kyland is camtalking with his view on the game. His top targets are Brent, Whitney, and Britini in any order. He likes the Royal Family alliance and will stick with that.

2:50 AM BBT – Kyland suspects the two hinky votes last week were by either Britini, DF, or Tiffany.

2:55 AM BBT – Kyland, still camtalking, mentions how DF doesn't think the Cookout alliance will make it to the end and wants to keep that in mind.

3:05 AM BBT – Kyland wraps up his talk and lights off.
Lots of prep ahead of next week and the big targets seem to be Brent and Whitney which means DX can't win HOH if he is going along with that plan. Will he and Hannah take the risk? We'll find out tonight on the next live show!
You can watch all of these Big Brother events using the archives Flashback, the DVR-like feature of this year's Live Feeds which means it's always live, even when you missed it! Sign-up now to get the free trial to watch it all live & uncensored.

Gallery: Live Feeds Highlights
Download our Big Brother App, join us on Facebook & Twitter, and get our Email Updates for more!