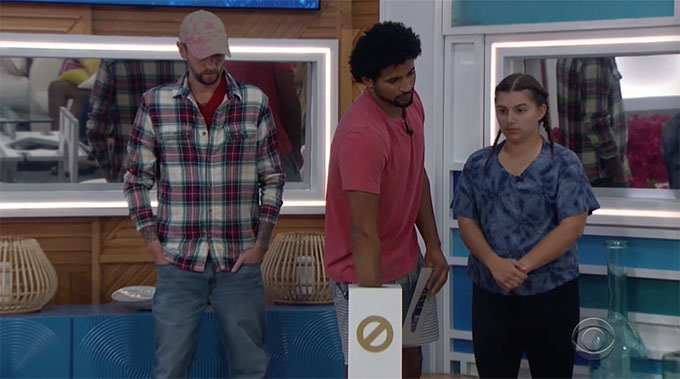 Love him or hate him, but the past two weeks of Big Brother 23 has been the Frenchie show. And in Wednesday night's episode, Frenchie's Big Brother fate was realized.
The Episode picks up right after the nomination ceremony where Kyland nominated Britini and Frenchie for eviction. Britini is having an extreme fit. Frenchie tells her that she's not even the target, it's him. That isn't very comforting to her, but the tears do stop when he tells her that if he wins the Power of Veto, he will use it on her.
Everyone else, however, is very pleased that Frenchie is on the block and they're ready for him to go home. Well, everyone but Derek F, Frenchie's ride or die.
Frenchie decides he should blow up some stuff even before veto, so he goes around telling everyone about the slaughterhouse alliance. And I mean everyone. He reveals who is in the alliance, but does leave out Derek F's name.
No one really seems to care or believe him, though, after all the deals and alliances he made and broke the past two weeks.
What Frenchie was telling everyone of course gets back to Kyland. What you didn't see in the episode was Kyland trying to maybe make the Slaughterhouse alliance work despite his nominations, but Frenchie went and told the whole house about it, so his chances of staying this week basically went out the door. Kyland is done. Brent is done. Whitney is done. And those were his closest allies next to Derek F.
Now it's time to pick players for the veto competition. Joining Kyland, Britini and Frenchie in the competition are Alyssa, Claire and Derek X.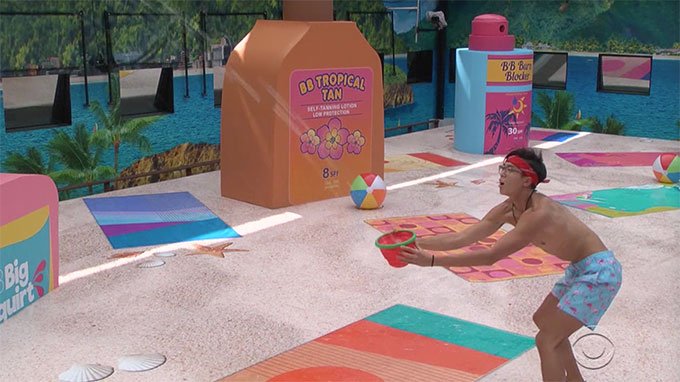 And then we head right into the veto competition. For this, the players have to collect some liquid and transfer it to another contraption to pull out a thing as it floats to the top. Sorry for that terrible description, but basically it's like the slip and slide HOH competition minus that slipping and sliding. OK, there's a little slipping. But nothing like that other competition.
The person who finishes the competition in the fastest time wins the Power of Veto.
Let's check out the times.
Claire 5:33
Kyland 4:54
Britini 5:08
Derek X 4:41
Alyssa 6:57
Frenchie 5:06
Derek X won the Power of Veto. For the second week in a row. And Frenchie knows he's in trouble. And immediately gives up. Derek F and Azah tell him to fight, but Frenchie says he's tired and just feeling defeated.
Derek F finally gets through to Frenchie and he says he's going to put up a fight. Will he be able to fight hard enough to stay this week? He gives it a shot with Kyland and Derek X. Frenchie makes his pitch, and the guys listen, but it is a bit too late for Frenchie.
At the veto ceremony, Derek X does not use the veto, so Frenchie is going to have to make that fight against Britini if he wants to stay this week. And that is most certainly not going to happen. Everyone is too set on Frenchie going. So Frenchie's fate has been sealed.