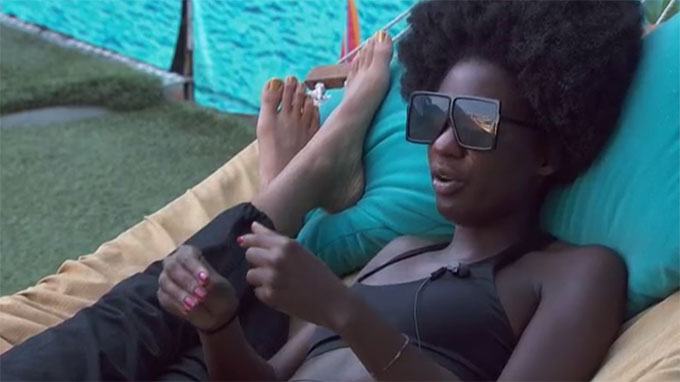 It was a very mild Monday in the Big Brother 23 house as the veto ceremony came and went without any changes. That means Frenchie's time is running out, and he is seemingly accepting his fate because he hasn't put up much of a fight yet. The houseguest spent much of the day relaxing and resting up for the events coming up later this week.
Try Live Feeds 1 Week Free! Sign-up now!
If you've got the Live Feeds (Free Trial) then you can watch all of these moments with the Flashback feature to go back and watch those important conversations or funny scenes you may have missed.
Big Brother 23 Live Feed Highlights – Monday, July 19, 2021:
4:03 PM BBT – Frenchie is in the storage room talking to the cams. He's telling people to go after their goals, etc. He also says he probably won't be watching the episodes right away.

4:15 PM BBT – HGs not doing much but hanging out right now. They're talking about planning a BB prom.

4:55 PM BBT – Brent tells Derek X that he wants to be more than friends with Alyssa even though all she offered him was to be best friends. He says he doesn't want that kind of relationship with her. Then says he likes Hannah too. Brent says Christian is all over Alyssa and he's not one to compete. He says he lets the women decide. Then adds that he isn't Hannah's type. DX asks him what about Whitney and Brent says he could never with Whitney.

5:50 PM BBT – HGs are all just hanging out in the backyard talking about their likes, dislikes, and what was going on in their lives before Big Brother.

6:45 PM BBT – Hannah tells Claire that she thinks Brent is funny and all, but she doesn't see them being friends outside the house. She also says she doesn't see any of the women this season giving him the time of day as far as dating goes.

7:24 PM BBT – Sarah Beth tells Britini she loved her veto speech and hopes Zach Rance sees it (she mentioned him during her speech at the veto ceremony).

7:28 PM BBT – Britini says she just wants to make it to jury.

7:30 PM BBT – Christian tells Alyssa he is so much happier about the Kings and Queens teaming up because he thought the Slaughterhouse alliance sucked. They talk about how they were in an alliance with Frenchie who was targeting both of them.

7:45 PM BBT – Brent talking to both Dereks says if Frenchie wants to keep lying while saying he's telling the truth, then he's getting a terrible reputation in the game. He says he knows he's going home and could have used this opportunity to come clean. Derek F mentions someone could be playing for America. Brent says it was probably Frenchie with the way he played.

7:47 PM BBT – Brent says Frenchie went from a hero to a villain.

7:48 PM BBT – Derek F mentions them not having had a woman in charge yet and he's worried for the guys when that happens. Brent mentions that Whitney and Hannah will be with them over the other women.

8:25 PM BBT – HGs talking about their lives growing up, and families and relationships.

8:41 PM BBT – Christian says he was going to be on Love Island if not BB23.

9:15 PM BBT – Frenchie says everyone is going to hate the white guys this season and says he thinks Sarah Beth and Derek F will be America's sweethearts.

9:20 PM BBT – Christian and Alyssa talk about sleeping by each other last night. She wants them to be more secretive so they aren't noticed.

9:45 PM BBT – Frenchie wishes Julie would eliminate the vote count reveal to avoid people "voting with the House."

10:30 PM BBT – Whitney and Xavier are cuddled up on the hammock.

10:55 PM BBT – Derek F is doing another round of his fake talk show and Claire is the guest tonight with the story of an identical twin.

11:10 PM BBT – Derek F is frustrated that they won't get to watch or listen to the Olympics.

11:45 PM BBT – HGs can't believe it's only Day 13 when it feels like they've been there for a month.

12:30 AM BBT – Small talk continues around the house. Frenchie sits around chatting with Azah and Tiffany.

12:50 AM BBT – Christian and Alyssa are curled up together in the hammock.

1:15 AM BBT – HGs are tired and calling it a night.
With the Veto meeting out of the way the HGs are settled into their plans for voting on Thursday and Frenchie is done. He'll probably have a few more tries before it's over but don't expect any shifts in the house. They're happy to have that stress out of the way. Meanwhile, it looked like Christian and Alyssa were getting pretty friendly and what's going on there with Whitney and Xavier?
You can watch all of these Big Brother events using the archives Flashback, the DVR-like feature of this year's Live Feeds which means it's always live, even when you missed it! Sign-up now to get the free trial to watch it all live & uncensored.

Gallery: Live Feeds Highlights
Download our Big Brother App, join us on Facebook & Twitter, and get our Email Updates for more!