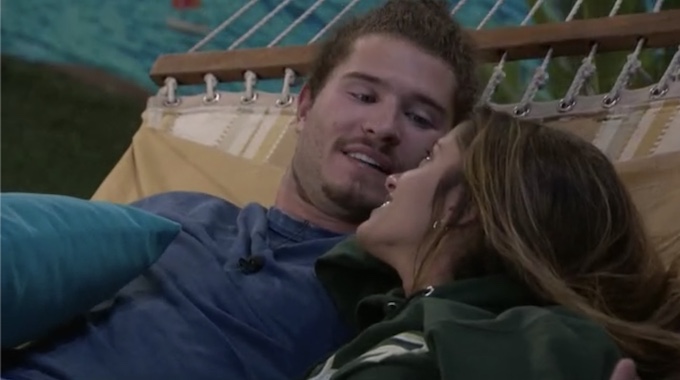 Christian and Alyssa had planned to keep their distance after a non-existent showmance got Alyssa wrongfully targeted last week on Big Brother 23. However, it doesn't look like the two Big Brother houseguests followed through with this going into week 2, in fact, all signs point to a budding romance. Read on to find out what's been going on between these two inside the Big Brother house!
Last week was a high-stress week for Alyssa when she found herself nominated because of Frenchie's perception of her relationship with Christian. Couple that with information that Frenchie got from various houseguests and even Alyssa said that Frenchie assuming that she and Christian were more than just teammates made sense. However, they both adamantly denied being anything beyond a forced alliance.
Christian told Alyssa on Sunday that he felt that America wanted them to be in a showmance and that they would even love them and maybe reward them because they are underdogs. On the Big Brother live feeds Monday, Alyssa and Christian were seen cuddling and hanging out together most of the day. They also talked about how they slept near each other the night before and Alyssa told him that they need to be more secretive so that no one notices them. They then spent about an hour on the hammock talking before heading inside to go to bed last night.
When they got inside, Christian had a conversation with Tiffany about how he was a target last week and that he needed to chill out. He said is pretty sure that Xavier, Brent, and Derek X all have a crush on Alyssa. Tiffany mentions that jealousy can cause people to target people and how one of them might feel like they have a chance with her as long as he isn't in the house. Christian mentions that he thinks he should be avoiding her, but Tiffany tells him that isn't realistic. She reminds him that he just needs to make sure he is building relationships outside of his relationship with Alyssa. He then joined
Do you think that Christian's paranoia about becoming a target will stop him from pursuing a showmance with Alyssa or has it gone too far already?
Download our Big Brother App, join us on Facebook & Twitter, and get our Email Updates for more!