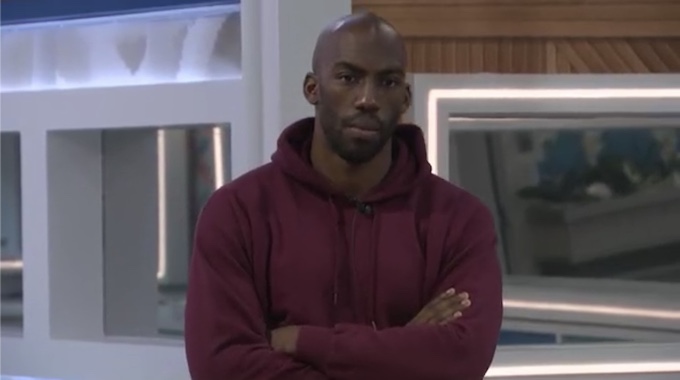 It is Nomination Day inside the Big Brother 23 house and the houseguests are still going through their one-on-ones with this week's Head of Household. If you have checked out our HOH spoilers, then you know that there are probably going to be a lot of these meetings this week because Kyland is HOH for Week 10 of Big Brother 2021. Read on to find out what each HG had to say to Kyland during their chats right here.
If you've got the Live Feeds (Free Trial) then you can watch all of these moments with the Flashback feature to go back and watch those important conversations or funny scenes you may have missed.
Big Brother 23 Live Feed Highlights – Friday, September 10, 2021:
8:50 AM BBT – HGs are waking up.

9:10 AM BBT – Derek is telling Azah that he isn't mad at Kyland, but Kyland didn't need the win especially with Derek being so close. Derek also mentioned that Kyland's tone yesterday wasn't needed.

9:15 AM BBT – Hannah tells Tiffany it doesn't make sense for Kyland to put them (H&T) up because he can control the way that they vote. Hannah goes over scenarios and says that Derek can't be on the block.

9:55 AM BBT – Xavier and Kyland talk about the possibility of taking Hannah off the block if one of them win POV to show that they aren't coming after her and if she wins the next HOH she would target Azah and Derek instead. Xavier then worries that she might vote for Tiffany to stay though. They both agree that it would be more dangerous to go against Tiffany next week.

10:02 AM BBT – Xavier tells Kyland that going the Tiffany and Hannah route, Azah won't have an incentive to go after Kyland because she isn't hitting the block.

10:42 AM BBT – Kyland tells Azah that he isn't targeting her and is planning to handle it the same way he did in Week 2 and be more upfront with his noms and speech.

10:51 AM BBT – Tiffany tells Kyland that she needs both him and Hannah, but she needs him more. She says that she has been doing a lot of thinking about their relationship and there has been some disconnect. She tells him he has made it clear that he has his doubts and they are legitament. She tells him that she feels like she has not done a lot to remove that doubt.

10:55 AM BBT – Tiffany tells Kyland that Xavier did insinuate that he wanted Kyland out first, but she also knows that this is a game and he could have been telling her something to relax her defenses. She tells Kyland that she didn't go and tell him that because of that and she was worried that Kyland's relationship with him would have caused Kyland not to believe her.

11:05 AM BBT – Tiffany tells Kyland that she is not trying to move forwards with Xavier. She can't beat him and she doesn't want to sit next to him in F2.

11:10 AM BBT – Tiffany tells Kyland that she is still commited to their deal and still wants to see them in F2 together.

11:31 AM BBT – Tiffany says that Kyland wants to take a competitor to the end, but the only one she would take to the end is Kyland. She tells him she will lose, but she would love to compete against him in the end.

12:30 PM BBT – The HGs are all hanging out in the living room waiting for the nominations to happen.

1:18 PM BBT – Hannah is getting her one-on-one with Kyland and he tells her that this week feels extra difficult for him. She says that winning last night must have been bittersweet because now he is going to responsible for sending one of them home.

1:20 PM BBT – Hannah tells Kyland that if it were her in the HOH, Xavier would be her target because she knows that she will lose to him. She also reminds him that he only needs two votes to send his target out this week and she offers to vote however he wants her to. She says that she isn't sure if he still wants to go to the end with her and Tiffany, but she would do anything in her power to make that happen if he did.

1:23 PM BBT – Kyland asks Hannah what scenario would she feel safest if he put her on the block? Hannah says that she thinks that if she were on the block next to Tiffany, she thinks she would have the votes, but if Tiffany wins Veto, then Hannah goes. Hannah says that if she is on the block and he uses the veto on her this week, she promises she will not put him up if she is HOH or if someone else wins HOH and puts him up, she will use the veto if she wins it.

1:53 PM BBT – Hannah asks Kyland if there was a reason why Kyland decided not to throw the HOH to Derek? He tells her if he knows what he should do then it's easier for him to let other people make those decisions. However, if he isn't sure then he would rather be the one in control of making those decisions.

2:03 PM BBT – Kyland asks Hannah if there was anything she might have said that could build stress between the two of them? She tells him that she told Azah, Derek, and Xavier that Kyland was her target if she won HOH but that was because everyone else was saying that also.

2:08 PM BBT – Kyland asks Hannah if there is anything else she can offer and she tells him that Xavier seems to be protecting Derek and Azah in this game. She also mentions that Xavier, Tiffany, and Hannah all had a "we'll look out for each other" type deal. She also adds that Derek has a F2 with almost everyone in the house too.

2:15 PM BBT – Azah tells Xavier that going forward you want to keep people in the game that can compete for you and that could be a good reason for her to go up.

2:30 PM BBT – Derek tells Kyland that he has been working on easing Azah's mind about Kyland targeting her. Kyland says that he doesn't want to target Tiffany though if Azah doesn't want him to.

2:55 PM BBT – Tiffany comes up to the HOH room to see if there was anything else they needed to talk about (their first one-on-one was cut short by a DR call).

3:05 PM BBT – Tiffany tells Kyland that if Xavier was HOH right now, she would not feel comfortable for him right now. However, Kyland doesn't seem to be bothered. She also mentions that she doesn't see why he would take her out over Kyland because he can easily beat Tiffany. Tiffany says that she doesn't see anyone looking at Xavier.
Kyland is still leaning towards putting Tiffany and Hannah on the block this week, but Hannah and Tiffany haven't really given him much of a reason to in their chats. They have given him plenty of reasons as to why they feel Xavier should be the target, but I wouldn't get too excited because the chances of Xavier hitting the block are not very good. Be on the lookout for our Nomination Ceremony spoilers coming up a little later.
You can watch all of these Big Brother events using the archives Flashback, the DVR-like feature of this year's Live Feeds which means it's always live, even when you missed it! Sign-up now to get the free trial to watch it all live & uncensored.


Gallery: Live Feeds Highlights
Download our Big Brother App, join us on Facebook & Twitter, and get our Email Updates for more!