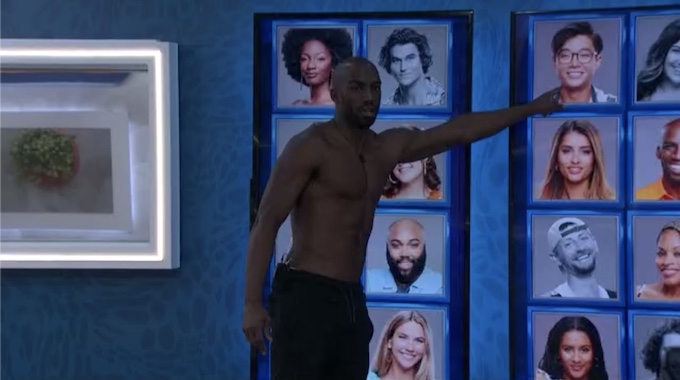 Now that the two nominees for Week 7 of Big Brother 23 have been locked in, it's time for them to start coming up with arguments as to why they should stay in the house. This week's target has some unexpected allies inside the Big Brother house with Tiffany offering advice to Derek X to try and help him make his campaigns more efficient. Read on to find out what's been going on inside the Big Brother house on Tuesday.
If you've got the Live Feeds (Free Trial) then you can watch all of these moments with the Flashback feature to go back and watch those important conversations or funny scenes you may have missed.
Big Brother 23 Live Feed Highlights – Tuesday, August 24, 2021:
10:15 AM BBT – HGs are waking up.

10:40 AM BBT – Sarah Beth tells Xavier that she thinks that the vote is going to be 6-1. She says that she is going to talk to everyone today to see and Xavier says that he is doing his one-on-ones today since he will be in solitary tomorrow.

10:45 AM BBT – Xavier tells SB that he thinks that this week's HOH is going to be some kind of luck comp since the backyard is still open.

10:55 AM BBT – Xavier tells Hannah that he hopes that Hannah gets the 100 BB Bucks after DX leaves. Hannah tells him that she has to get 100 in order to be able to play. She says that DF is the only one with enough to play right now.

11:10 AM BBT – Xavier tells DF if Kyland, Alyssa or Xavier wins HOH next week, Tiffany and Claire will go up, but if things go south they know that Tiffany won the Coin of Destiny. Xavier says that if DF wanted to take a shot at SB though, they would think that it was Tiffany that did it.

12:06 PM BBT – Tiffany camtalks about how she is going to try and convince some people to keep DX this week.

12:15 PM BBT – Kyland tells Xavier about Tiffany asking him if there is anyway they would reconsider keeping DX this week and he told her not that he can think of. He adds that Tiffany had a thought about it but said that she would tell him about it later.

12:35 PM BBT – Xavier is telling DF that the reason Tiffany wants DX to stay in the house is because she is very adamant about not seeing the block. To ensure she doesn't see the block, she has to keep the big target (DX) in the house.

1:11 PM BBT – DF and Xavier are talking about how it doesn't make sense to keep DX around regarless of what Tiffany has to say about it. DF says that if she wanted to make deals with DX and take them out (the rest of the CO) she should have, but she made deals with us.

1:20 PM BBT – Tiffany tells Kyland that she wasn't expecting everyone to be mad at her for what she said. He tells her that if she really wants the vote, she can give it to him, but he was the one that made this happen and the one who has been in the room with him all week. Kyland also mentions that he doesn't think it's fair that Hannah keeps having to talk to people about why DX has to go when that's her person.

1:25 PM BBT – Xavier says that since he is going into solitary, he would like to talk to the whole group and see what everyone in the Cookout thinks about this vote and make sure everyone is on the same page. DF says that it doesn't matter to him, but he would vote out DX because he can't beat him.

1:30 PM BBT – Tiffany tells them that she doesn't have anything left to say about the DX thing anymore because she doesn't want them to see her as the flipper, the troublemaker, or whatever. She says that she hasn't done anything so she isn't in a position to call any shots.

1:36 PM BBT – Tiffany tells Xavier that she would be willing to let Claire go this week. She adds that SB being able to make this move proves that DX isn't untouchable. Tiffany says that she just doesn't want them to make a mistake in this vote because she doesn't know all of Claire's thoughts right now which Xavier says is unsettling.

2:13 PM BBT – Tiffany tells DX that he has to go to Kyland and Xavier and tell them that he knows they are close with SB and Alyssa but sooner or later they are going to have to take a shot at them and he can help them do that.

2:17 PM BBT – Tiffany camtalks about how she told Kyland and Xavier that she wouldn't say anything to them about keeping DX and she won't. To them anyways. She didn't say that she wouldn't help DX build his campaign.

2:25 PM BBT – Alyssa tells DX that she heard he knew from the beginning that he was going to BD Christian, but a couple of days ago he told her that wasn't case. He tells her that he didn't want to dig up the past. She tells him that the only reason he regrets going after Christian is because he didn't beat SB in the HOH and is in this position.

2:28 PM BBT – Alyssa asks DX why he decided to go against the Royal Flush so early and he tells her that he was pressured to take out the Kings. He added that he felt like he was on the bottom of the totem pole too and she says that she thinks that he was probably in the middle. He says that he wasn't even there when the alliance was made and she says that she can see it now.

2:48 PM BBT – Hannah tells Xavier that Tiffany might be mad at her because she vented to Kyland about how Hannah was upset that she had to justify her person leaving this week to mulitple people in the house. She says that she isn't sure how Kyland retold that but Tiffany stopped her in the kitchen and apologized for burdening Hannah with her emotions.

2:50 PM BBT – DX tells Alyssa that he regrets putting his trust in the wrong people.

2:55 PM BBT – DX tells Alyssa that SB told DX that he wasn't a target for her this week, but yet here he is because she saw an opportunity to take him out. He asks Alyssa if she thinks that with Xavier on the block next week, that SB won't take that as a chance to take him out? She says that she doesn't think so because SB trusts him, she doesn't trust Alyssa.

3:00 PM BBT – Alyssa tells DX that she doesn't know what she would do if she were in power because she can't trust anything anyone says to her at this point. Meanwhile, Kyland tells Azah why he feels like he should be able to throw a vote to DX this week rather than Tiffany. His biggest reason is because he was the one who made this all happen and since none of the CO are on the block, he feels he deserves it.
Tiffany is clearly annoyed with Kyland coming at her the way that he did about her wanting to talk about keeping DX this week. So instead of helping DX by campaigning to Kyland and Xavier for him, she has offered to help him with points he can bring up to them himself. Derek X won't be going out without a fight, but the question is, will the fight be worth it in the end?
You can watch all of these Big Brother events using the archives Flashback, the DVR-like feature of this year's Live Feeds which means it's always live, even when you missed it! Sign-up now to get the free trial to watch it all live & uncensored.


Gallery: Live Feeds Highlights
Download our Big Brother App, join us on Facebook & Twitter, and get our Email Updates for more!