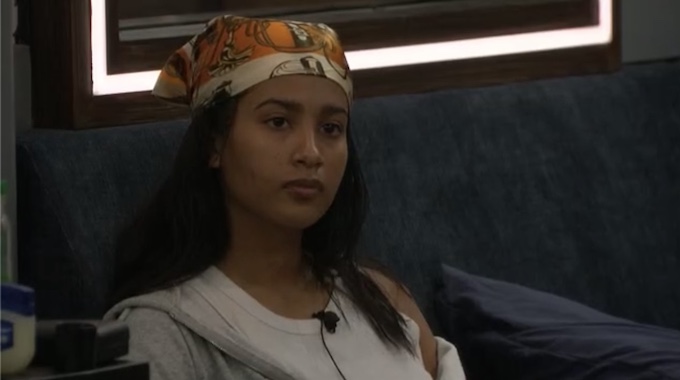 It is Eviction Eve inside the Big Brother house and the nominees for week 2 have spent a lot of time campaigning to their fellow houseguests. Did the campaigns make a difference as to how anyone is voting tomorrow night on Big Brother? Read on to find out what the Big Brother 2021 houseguests are thinking!
If you've got the Live Feeds (Free Trial) then you can watch all of these moments with the Flashback feature to go back and watch those important conversations or funny scenes you may have missed.
Big Brother 23 Live Feed Highlights – Wednesday, July 21, 2021:
9:30 AM BBT – HGs are waking up.

9:48 AM BBT – Azah tells Claire that she is nervous about this week's HOH because she feels like people want to just finish off the Jokers. Azah hopes that it isn't an endurance comp because she hasn't worked out since getting to the house.

9:55 AM BBT – Azah tells Derek F that she heard Xavier likes Alyssa. DF seems surprised by this and the conversation stops when Frenchie walks in.

10:57 AM BBT – Frenchie tells DF that he hopes that they don't target DF next. DF says that he is just going to keep making them think that he is working with them and he will be fine.

11:30 AM BBT – Britini tells Tiffany and SB that she hasn't even thought about next week yet because this week isn't over yet. She tells them that she is still wavering as to whether or not she thinks she should win HOH, but she will be gunning for it.

11:31 AM BBT – After Britini leaves the room, Tiffany tells SB that Britini told her that she would put Hannah next to Brent if she won HOH. SB says that makes sense because she is close to Whitney.

11:35 AM BBT – SB says the only reason she might be a little safe with Brent is because he has a crush on Alyssa and Alyssa would be mad at him for putting SB up. They both agree that Brent has to go.

11:45 AM BBT – Brent tells Hannah that next week a girl has to go home and he feels like Britini should be the target.

11:50 AM BBT – Britini has her one-on-one with Hannah and they talk about how interesting these last two weeks have been.

11:55 AM BBT – Hannah tells Britini that she 100% has her vote

12:06 PM BBT – Alyssa tells Britini that she is worried because people are going to want a girl to go next because they have sent two guys home already. Alyssa says that the two of them need to stick together and watch out for each other.

12:09 PM BBT – Alyssa asks Britini who she trusts the most on Alyssa's team and Britini says Christian because she has talked the most to him and Alyssa.

12:11 PM BBT – Frenchie walks in and asks if he can quickly do his one-on-one with Alyssa and Britini can be in the room. He tells her that he doesn't want to leave, but he won't campaign against Britini. Alyssa tells him not to think she isn't putting the fact that he had her back last week into consideration. He leaves the room and Alyssa tells Britini that she isn't going against the house.

12:20 PM BBT – Britini tells SB that she is gunning for HOH, but if it's just her and SB left, she is going to give it to her because she trusts her. She also thinks that it would be a good idea for SB to be HOH so that she (B) can lay low. Britini asks her how she is feeling and she said she feels good with everyone except Brent and Whitney.

12:25 PM BBT – Britini asks SB who she would target if she won HOH and she says she wants Brent gone. Britini says that if she is going to put someone from Brent's team up, she wouldn't put Derek X up because he's play in the veto.

12:30 PM BBT – Frenchie is doing his one-on-one with Brent and he says that it sucks because he is knowing he is going home. He made a mistake and he learned from it and hopes that there might be a second chance for him.

12:36 PM BBT – DX tells Britini that this vote should be close to unanimous with Britini staying and that's why he didn't use the veto on her.

12:40 PM BBT – Frenchie tells Alyssa that he had heard everyone was coming for him except for Xavier. Alyssa tells him that was never the case.

12:45 PM BBT – Alyssa tells Frenchie that she would love for him to stay, but she is worried about going against the house. Frenchie tells her that he has had a lot of people tell him that they said they would vote for him if he could get the numbers.

12:55 PM BBT – Britini and Claire are talking and Britini tells her that if she wins HOH, she's putting up Brent and Hannah with Brent as her target. She also thinks that if anyone from their team wins HOH, they are screwed.

1:04 PM BBT – Britini, Claire, and Azah all agree that they are good with SB winning HOH. Britini tells them that she knows SB's plan and if she wants to take the shot for them, let her.

1:20 PM BBT – Brent is telling Britini about his one-on-one with Frenchie meanwhile, Frenchie is in the HOH talking to Xavier. Frenchie is telling Xavier that if he stays this week his game will move in silence going forward.

1:28 PM BBT – Frenchie tells Xavier that if he stays then he will act as a shield next week. He says that everyone has to vote for who is going to better their game.

1:32 PM BBT – Brent asks Britini if she knows who the two votes were and she says no and Brent mentions that he thought it was sketchy that Frenchie made a comment about knowing who they were but had no intentions of telling anyone who it was.

1:37 PM BBT – Frenchie tells Christian that everyone in the house thinks they are arguing and that there is no more alliance. Christian says that it's the perfect situation to keep it together. Frenchie says that he doesn't want to campaign against Britini but he also wants to stay in the house. Frenchie tells him that he was hurt when everyone threw under the bus this week.

1:41 PM BBT – Whitney tells Britini that everyone on her team is voting for her to stay this week. In fact, as far as she knows everyone in the house is voting for her to stay.

1:45 PM BBT Whitney tells Britini that if there is a girls alliance, she supports them and hopes that they take out some of the big male competitors in the house. Britini looks at her and says she has absolutely no idea what she is talking about. Whitney is surprised by this. Britini asks her if Frenchie told her about the alliance and she says yes and then tells Britini that Frenchie was the one that told Whitney and Brent that Britini created it. Britini tells her that she wasn't even there for the creation.

1:49 PM BBT – Britini tells Whitney about how she is worried if Brent wins that she will go up. Whitney tells her that as her friend in the house, that is true. She tells her that Brent wants Britini, Claire, or Azah. Whitney tells Britini that Brent has made up this huge elaborate lie about Azah so that he can target her. Whitney tells her that if it's her and Britini at the end, she is throwing it to Britini so that she is safe.

1:53 PM BBT – Whitney tells Britini that she doesn't trust Brent at all because he has even been talking about getting out Christian this week so that he can get closer to Alyssa and because he is worried about Christian targeting him. Whitney tells Britini that no one on her team wants to win the HOH this week because they want someone to target and take out Brent.

1:55 PM BBT – Frenchie gives DX his pitch and asks DX just to do what's best for his game. DX tells him that keeping Britini isn't necessarily best for his game, but going against the house isn't good for his game either.

2:06 PM BBT – Frenchie tells Whitney that he knows that his talks today are pointless and that he is going home, but he just asks that everyone votes with their own games in mind.

2:08 PM BBT – Christian tells Britini that he thought Frenchie was just going to give him a goodbye speech, but he's definitely campaigning. Not against Britini, but he's campaigning.

2:15 PM BBT – Britini tells Christian that she wasn't even there when French Kisses was created. Christian tells her that Frenchie said that he always wanted to be in a girls alliance and admitted that he created it.

2:33 PM BBT – Britini and Christian agree that Hannah is the most knowledgeable person in the house with Frenchie not far behind.

2:55 PM BBT – A lot of the HGs are sitting in the living room talking about other CBS shows they would like to be on.

3:00 PM BBT – Frenchie campaigns to SB and tells her that it really sucks that he is up against Britini because if it was anyone else he would be campaigning hard to stay.
The short answer to the question I asked above is no, Frenchie's campaigning isn't making a difference in tomorrow night's vote and he knows that. Britini knows that she is Brent's target going into next week, but she is making it known that she had nothing to do with the all-girls alliance that Frenchie created. That might work in her favor if Brent wins tomorrow night's HOH competition.
You can watch all of these Big Brother events using the archives Flashback, the DVR-like feature of this year's Live Feeds which means it's always live, even when you missed it! Sign-up now to get the free trial to watch it all live & uncensored.


Gallery: Live Feeds Highlights
Download our Big Brother App, join us on Facebook & Twitter, and get our Email Updates for more!