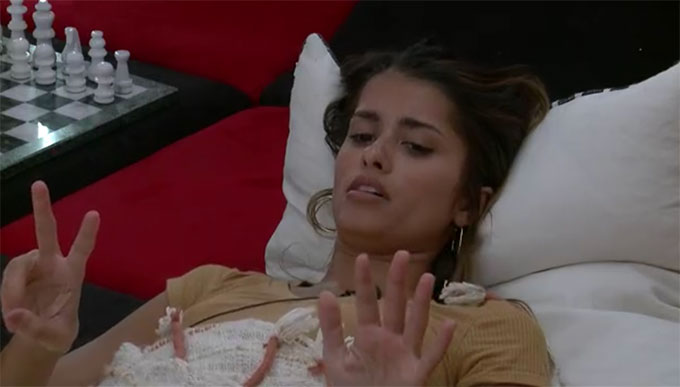 The second eviction of Big Brother 23 is only a day away, and it will be either Britini or Frenchie walking out the door to meet Julie. And as of now, it is looking really strongly in Britini's favor, as Frenchie has all but given up. But let's count the votes.
Frenchie has done virtually no campaigning to stay so far. Maybe he's waiting until tonight, but I'm not sure it would do any good, and I think he knows that. Earlier in the week, he seemed to hang all his hopes on some kind of power from America or a production intervention. None of that has happened, of course. So it would be all up to him to save himself. But as any viewer would know, he really tanked his game and it would take a miracle to save him at this point. So maybe be knows that. But as a "superfan," he should at least give it a try.
It's sounding like only Derek F is planning to give Frenchie a vote to stay. I guess it's possible that his other teammate Azah could as well, but she hasn't really stated substantially that she plans to. And unless someone wants to get hinky, that is probably how the votes will fall. There's no real reason to even look at multiple scenarios this week, because that's just not going to happen. But we have to keep with formality, so let's take a look at the votes.
Votes to evict Britini: Derek F
Votes to evict Frenchie: Brent, Whitney, Alyssa, Christian, Derek X, Tiffany, Claire, Azah, Xaiver, Sarah Beth, Hannah
So as math would have it, that would be an 11-1 vote.
It's not exactly been  a suspenseful two week as far as the votes go, but at least it hasn't been unanimous so far.
Who do you think will be evicted from the Big Brother 23 house, Britini or Frenchie? Let us know in our poll below.