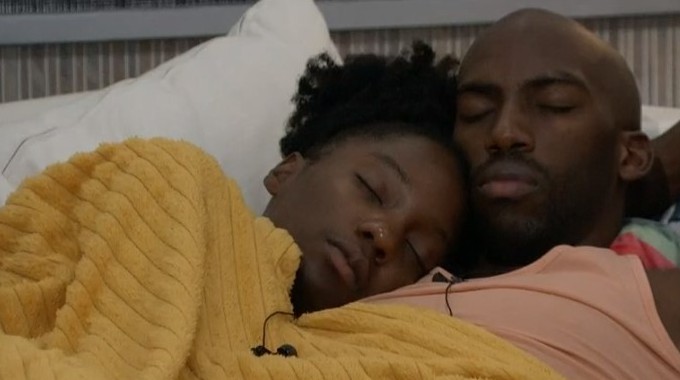 It was a lazy Sunday just days before the Big Brother 23 finale so these F3 HGs are about to have a day of absolutely nothing. They finished Round 2 on Saturday (spoilers for that here) and there isn't a thing to do but pack between now and Wednesday's Big Brother finale. So settle in and wait it out with them. Here's a quick run-through of the few things these HGs did on Sunday.
Try Live Feeds 1 Week Free! Sign-up now!
If you've got the Live Feeds (Free Trial) then you can watch all of these moments with the Flashback feature to go back and watch those important conversations or funny scenes you may have missed.
Big Brother 23 Live Feed Highlights – Sunday, September 26, 2021:
7:45 AM BBT – Xavier is up a little earlier than the rest and is studying the Memwall.

8:10 AM BBT – HGs are getting up for the day. Kinda, maybe.

9:00 AM BBT – Nope. HGs are back to bed.

10:15 AM BBT – HGs are slowly getting up.

10:50 AM BBT – Xavier is back to the wall and is studying.

12:00 PM BBT – Derek and Xavier are playing cards in the kitchen.

1:10 PM BBT – Xavier tells Azah that Derek has been talking down about her to him, but he's not going to do that back to Derek with her.

2:30 PM BBT – HGs are napping on the couch.

3:10 PM BBT – Derek is practicing his F2 speech.

3:30 PM BBT – HGs got supplies to make tie-dye shirts and Jenga.

3:45 PM BBT – HGs are playing Jenga.

5:15 PM BBT – Xavier and Azah are cuddling again.

6:00 PM BBT – Azah and Xavier are still cuddling on the couch while Derek cooks dinner.

6:30 PM BBT – Azah joins Derek for dinner.

7:00 PM BBT – Derek and Azah lounge and talk about life back home.

8:00 PM BBT – HGs talk about what it's been like to live disconnected from everything. Xavier hasn't minded it. DF is ready to get back.

9:20 PM BBT – DF is napping while Xavier and Azah play cards.

10:00 PM BBT – Everyone is napping.

10:30 PM BBT – Azah and Xavier chatting on the couch. She's retelling when Christian came by and accidentally put his hand on her thinking it was Alyssa.

11:00 PM BBT – Derek is back up and camtalking about Azah throwing herself at Xavier. He doesn't like that she's doing this now because Xavier won't push her away in case she wins Round 3 and hopes she'll still take him to F2.

12:15 AM BBT – All HGs are gathered in the boat room and getting ready for bed. Azah and DF are debating how to make the decision of who is cut at the end. DF wants to sit and close his mouth because he has no power over the outcome anymore.

12:45 AM BBT – DF went out to the living room. Xavier comes to check on him. DF is frustrated about the situation and wonders if he should have kept Kyland.

1:00 AM BBT – Xavier goes back to the boat room. He tells Azah to avoid game talk with DF because it won't go well.

1:15 AM BBT – Lights out.
Just two and a half more days for the HGs to burn through as they await Wednesday's season finale. We'll see what happens then and Xavier is right, talking about this situation with Derek isn't going to fix anything. DF is frustrated to yet again be watching the game from the sidelines and he'll have to hope for the best, but really, who wouldn't want to take him to the F2?
You can watch all of these Big Brother events using the archives Flashback, the DVR-like feature of this year's Live Feeds which means it's always live, even when you missed it! Sign-up now to get the free trial to watch it all live & uncensored.


Gallery: Live Feeds Highlights
Download our Big Brother App, join us on Facebook & Twitter, and get our Email Updates for more!