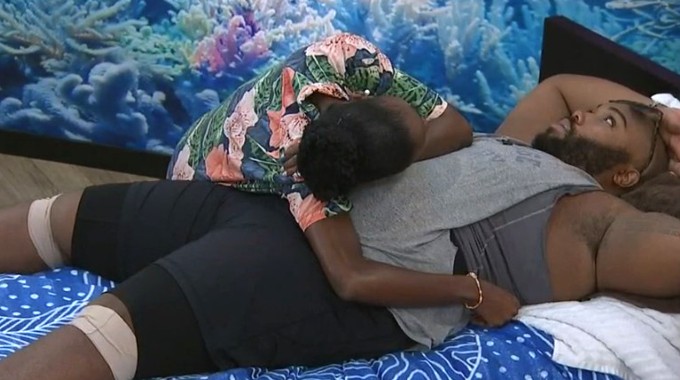 Well Saturday came and went without a Veto competition on Big Brother 23 but we did have something even better with Round 2 of the Final HOH. The last three Houseguests are just days away from the Big Brother finale and now we've got our face-off HGs identified for the third and final round. Read on to find out who won on Saturday and the plans so far for who will reach the Final 2 seats on Wednesday night.
Try Live Feeds 1 Week Free! Sign-up now!
If you've got the Live Feeds (Free Trial) then you can watch all of these moments with the Flashback feature to go back and watch those important conversations or funny scenes you may have missed.
Big Brother 23 Live Feed Highlights – Saturday, September 25, 2021:
8:45 AM BBT – HGs got their wake up call.

9:35 AM BBT – Azah and Xavier are talking about the upcoming Round Table and when it'll happen. They debate who will lead the discussion from within the group, expecting it will be either Tiffany or DX.

11:55 AM BBT – Feeds cut for the competition.

3:15 PM BBT – Feeds are back. DF is laying on his bed in silence.

3:25 PM BBT – Xavier comes to see DF and they discuss Azah winning Round 2. Xavier assures DF that either way he (DF) will be taken to the F2 because Azah won't take X with her if she wins R3.

3:30 PM BBT – Azah is consoling Derek on his loss as he ends the season without a single competition victory. He's sad to have no control at this stage.

3:35 PM BBT – Xavier talks to himself about the third round and how hard it will be as a subjective topic competition about Jurors' thoughts.

4:00 PM BBT – HGs hanging out in the kitchen. Xavier and Azah are playing cards. Derek is cooking.

5:00 PM BBT – Azah and Xavier are cuddled up together on the couch.

5:30 PM BBT – DF laments to himself that he's destined for third place now.

6:30 PM BBT – HGs discussing the competition. It had a treadmill and they had to put HG faces in order.

6:55 PM BBT – Xavier says he would not come back next year or the following. He's burned out by the experience. And he definitely would not come back if one particular Cookout member was there.

7:05 PM BBT – DF continues to talk to himself about feeling bad about his performance and not winning anything. He says he'll pick himself up and keep going.

8:55 PM BBT – Derek claims credit for Tiffany's eviction. He says he worked on Kyland for weeks to make Tiffany a target and get her out the door. Azah says Kyland's ego got the best of him.

9:00 PM BBT – HGs get a bottle of wine in the storage room.

10:55 PM BBT – Azah and Xavier discuss how they weren't afraid of the Block or going home. X notes he was on the Block for both Doubles and things can go unexpectedly wrong but he was okay. X wonders if he holds the record this season for most nominations with his four times.

11:00 PM BBT – Xavier says it was like no one noticed him in the game until he got the roulette nomination and then he had to start winning.

11:05 PM BBT – Azah admits that she and DF were top picks to keep for F3 since they'd be easier to beat once the Cookout made F6.

11:10 PM BBT – Xavier worries that if the Jury is bitter then they will vote against him since DF and Azah were honest.

11:15 PM BBT – X and Azah go through the votes. She thinks he'll win over either of them.

11:25 PM BBT – Xavier telling Azah how he did not want Kyland to win the season. He says it would have been hard to decide between keeping Kyland or Tiffany but it was easy to pick between Azah and Kyland.

11:35 PM BBT – Xavier camtalking there is just one comp left between him and winning. He plans to take Derek to F2 and expects Azah will cut him (X) if she wins the next comp. Xavier thinks Azah could beat him at the end because of her comp wins.

11:45 PM BBT – Derek is finally taking a shower after the comp. He was worried about the pain due to his skin abrasions from the comp. Derek is shouting and cursing from the pain.

12:15 AM BBT – Xavier and Derek are talking about Cody and Derek's season when they knocked out Victoria to go to the end together.

12:50 AM BBT – Azah and Derek are still up playing cards while Xavier is asleep in the boat room.

1:05 AM BBT – Lights out and HGs are all in bed.
I believe Xavier when he says he wants to take Derek to the end and given Azah's excitement and willingness to evict Kyland I think it's not a stretch to imagine she will be ready to cut Xavier if she wins the third round on Wednesday night. Wow, that'd be a wild outcome if Xavier gets cut in the final moments of the season and we see a F2 with Azah and Derek.
You can watch all of these Big Brother events using the archives Flashback, the DVR-like feature of this year's Live Feeds which means it's always live, even when you missed it! Sign-up now to get the free trial to watch it all live & uncensored.


Gallery: Live Feeds Highlights
Download our Big Brother App, join us on Facebook & Twitter, and get our Email Updates for more!