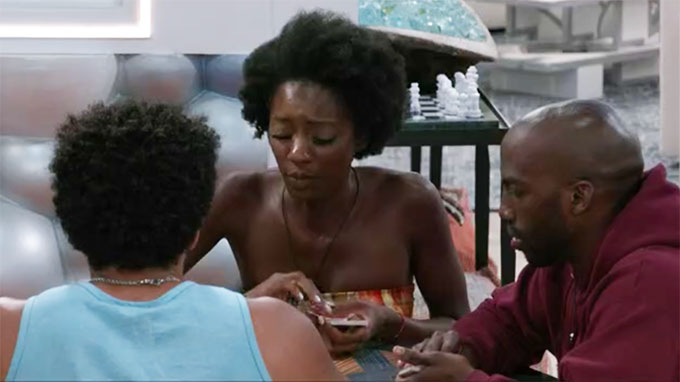 It was final eviction eve in the Big Brother 23 house, and Kyland's fate became more and more sealed as the day went on and Derek's frustrations with him grew. All the while, Kyland's confidence seemed to grow as well, so Xavier and Derek discussed making sure their plan to send Kyland out at the veto meeting is a complete blindside.
Try Live Feeds 1 Week Free! Sign-up now!
If you've got the Live Feeds (Free Trial) then you can watch all of these moments with the Flashback feature to go back and watch those important conversations or funny scenes you may have missed.
Big Brother 23 Live Feed Highlights – Wednesday, September 22, 2021:
10:15 AM BBT – HGs are waking up.

11:15 AM BBT – Azah and Derek are talking about finale night and trying to figure out what day of the week it falls on. They are convinced that it's on a Thursday, but admit they don't even know what the date is anymore.

11:37 AM BBT – Kyland tells Xavier that Hannah told him finale is always on a Wednesday. Xavier says that he didn't know that.

11:47 AM BBT – Azah and Derek are talking about Real Housewives of Atlanta in the Yacht Room while Kyland and Xavier are in the kitchen prepping breakfast.

12:25 PM BBT – Derek and Xavier are playing Go Fish.

1:10 PM BBT – The Final Four are sitting down to eat. General chit-chat going on.

1:30 PM BBT – Derek, Azah, and Xavier have moved to the living room and Kyland is in the kitchen cleaning up.

2:45 PM BBT – Kyland tells Derek he should try to be more positive, complain less and say less negative things today. Kyland says he's heard him say a lot of negative things today. Derek says he didn't know he was complaining too much. Kyland says he loves him and just wants him to be happier.

4:00 PM BBT – Azah and Derek are beginning to prep dinner.

4:40 PM BBT – Kyland is packing and asks Xavier if he should be more thorough. Xavier says you'll be good, implying he won't be going home.

6:00 PM BBT – Azah is still working on dinner while the guys play cards.

6:37 PM BBT – Derek says to himself he can't wait to send Kyland packing.

6:40 PM BBT – Derek is annoyed with Kyland again. He tells Xavier that Kyland said he (Derek) was cocky because Derek said that he (Derek) is responsible for their success this summer. Derek says he played a part in every week this summer.

6:40 PM BBT – Xavier tells Derek that Kyland asked him if he should pack thoroughly. Xavier said he's packed and he's not even nominated. He talks about how arrogant that was of Kyland to ask.

6:42 PM BBT – Azah, Kyland, and Xavier having dinner. Derek is still in the HOH room talking to cameras.

6:43 PM BBT – Derek talking to cameras again about Kyland. "You going to tell me that I'm cocky because I made a true statement?" He says everything that has happened so far this season he played a part in. He says that's not being cock, that's him stating facts. He says he made it clear that he's running the house but he's not cocky. He says he'll show him cocky when he sends Kyland home this week.

6:45 PM BBT – Derek says Kyland always has an arrogant tone and he tries to manipulate you and make you feel like you said something you didn't.

6:47 PM BBT – Derek keeps saying over and over that he's been running the show this season.

6:51 PM BBT – Derek says Kyland is in his way of the $750K. He says he let Kyland get this far but this is it.

6:55 PM BBT – Derek says he thinks he can beat Xavier or Azah so it doesn't matter which one he's sitting next to.

7:14 PM BBT – Xavier tells Derek that with Kyland going this week, they have to be sure they cut Azah at Final 2 because she will have the jury votes to win sitting next to either of them.

7:15 PM BBT – Xavier says Kyland is going to be blindsided. He says they can't let him know until the vote comes.

7:20 PM BBT – Derek says he thought Kyland deserved to be in the Top 3 until this week.

7:22 PM BBT – Derek says Kyland is treating him awful but is treating Azah amazingly. Xavier says Kyland probably thinks he's using the veto on Kyland, so to him Derek isn't even a factor, so he has no reason to treat him nice.

7:40 PM BBT – Xavier says again to Derek that the Kyland eviction has to be a blindside because it's something that is going to happen in the moment. Derek says it has to be in the moment, and he hopes it's fast.

8:18 PM BBT – Xavier is listening to music by himself in the HOH room.

9:04 PM BBT – All four HGs are playing cards now.

10:00 PM BBT – HGs all hanging out in the living room and chatting.

11:10 PM BBT – DF and Azah discussing how well they've done to survive this season. DF says he had just hoped to make Jury. Azah says she focused on her social game and it brought her this far.

11:35 PM BBT – DF says he would have played the same game even without the cookout. He tells Azah he targeted everyone by telling them they were not safe. DF claims he got all his targets out.

11:40 PM BBT – DF questions Azah if she's trying to take her showmance (Xavier) to F2. She says they're not a showmance, just friends. DF tells Azah that Xavier would beat her but it'd be close against him (DF). DF claims it could go either way between him and Xavier because they've both been on the Block.

11:45 PM BBT – Azah asks DF why/how he thinks he can beat Xavier. DF explains they both started the Cookout, they both made moves and manipulated, and both of them were on the Block. He adds that while Xavier won comps, he (DF) made sure things happened.

12:00 AM BBT – DF tells Azah he is not sending her home.

12:05 AM BBT – Kyland is alone in the HN room and camtalks about how Alyssa thought she was responsible for Tiffany deciding to put up Claire for the renom. He doesn't understand why Alyssa would have thought she made that happen.

12:15 AM BBT – DF explains to Azah how he has masterminded the F4. He says he convinced Kyland to use the Veto. Azah is surprised by this idea and says she hadn't heard anything about it not had Kyland mentioned anything of DF's influence.

12:45 AM BBT – Azah and DF talk about Xavier and if Azah has a chance to date him after the show.

1:00 AM BBT – Lights out for the HGs.
Derek has moved out of the Big Brother house and into his manor in Fantasy Land. It's going to be a rude awakening when/if he gets to the end. "But first," it's still looking like Kyland's heading out the door next to join the Jury.
You can watch all of these Big Brother events using the archives Flashback, the DVR-like feature of this year's Live Feeds which means it's always live, even when you missed it! Sign-up now to get the free trial to watch it all live & uncensored.


Gallery: Live Feeds Highlights
Download our Big Brother App, join us on Facebook & Twitter, and get our Email Updates for more!