Derek F hasn't played a lot of Big Brother 23, but this week he's being forced to. As the person currently with the power of the sole vote to evict, he has to choose between two of his closest friends in the house, Azah and Kyland.
And Derek was pretty much always on board with keeping Kyland until this week, for a couple of reasons, which we learned in Wednesday night's episode.
The episode picks up after Xavier nominated Kyland and Azah. Xavier reminds us that the veto competition is the really important thing this week.
And Kyland remembers that, too. He tells us it's essentially "win the veto or lose the game."
Azah realizes she can no longer just lay in that back bedroom, so she gets to work finding out what's going on with Derek and his plans. She asks if he has a Final 3 with the guys, and he says now. But then he goes on to tell her that he has deals with the two guys separately wince the beginning.
She tells him that is essentially a Final 3 with the guys. Azah tells Derek that she should have kept Hannah and sent a guy home (that's what we were all screaming to you at the TV).
Now Derek is afraid that he shot himself in the foot for dropping that bomb on Azah before the veto competition. And he shoots himself in the other foot by pressing Kyland on taking him to the Final 2 when Kyland isn't even in the Final 3 yet. Kyland isn't happy with how that played out.
Xavier gets to work on Derek F, planting some seeds that maybe it would be best for the both of them to send Kyland home and keep Azah. So Xavier wants Kyland out, but Derek still has a thing for Kyland and isn't sure if he can make that move. Xavier backs off, but knows that's a topic he'll be revisiting later.
Derek then tries to patch things up with Azah but it seems to be only because he's worried she might win the veto and not take him to Final 3.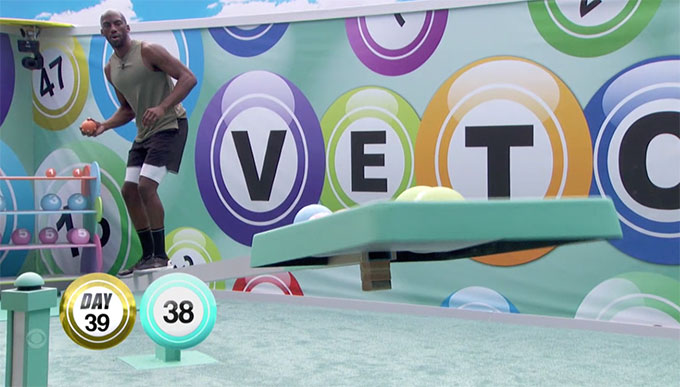 Let's get to the final Veto competition. For this competition, the final four will be given an event that occurred in the house. They have to figure out what day the event happened. Then they have to walk a see-saw to pick up the numbers and move them to balance the balls inside a cart. This is too hard to explain. Let's just get to the results.
Kyland is out first. Then Azah. It comes down to Xavier and Derek. And Xavier wins the Power of Veto!
So as of now, the power to decide who is in the Final 3 is in Derek's hands. And Xavier again gets in Derek's ear about sending Kyland out. And Derek understands the benefits, but keeps going back to the deal he has with Kyland. Xavier realizes Derek might not be the one to make this move, so he talks to Azah about it and she has no problem making this move. She's ready to come off the block, secure her spot in the Final 3 and evict Kyland.
Xavier is set on Kyland going, so he really has to decide if Derek will do it or not, and if not, he's ready to make the move so Azah can send Kyland out in fourth place.