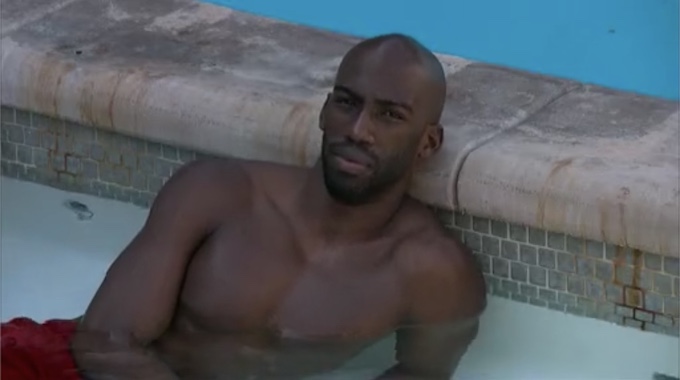 It was a fairly quiet day inside the Big Brother 23 house with the houseguests doing a lot of relaxing and talking about how the season has played out. Azah and Derek had a bit of a misunderstanding and it made Azah feel like Derek wasn't committed to bringing her to F3 for Big Brother 2021. Read on to find out what Xavier had to say to Azah about all of this.
Try Live Feeds 1 Week Free! Sign-up now!
If you've got the Live Feeds (Free Trial) then you can watch all of these moments with the Flashback feature to go back and watch those important conversations or funny scenes you may have missed.
Big Brother 23 Live Feed Highlights – Monday, September 20, 2021:
10:15 AM BBT – HGs are waking up.

10:45 AM BBT – Derek and Azah are talking about Derek's Storage Room fight with Tiffany and how they really felt about it. Derek says that if it weren't for the Cookout, Tiffany wouldn't have gotten an apology.

11:15 AM BBT – Xavier joins Azah and Derek in the Yacht Room and they are rehashing the season so far.

12:15 PM BBT – Azah and Xavier are giving Derek examples of things that Kyland did that went against the Cookout. Derek says that he had his own plans and those were selfish moves for sure.

1:10 PM BBT – Azah and Derek had an argument about him saying that he's done a lot to get her to the end. She feels like he is trying to tell her that she hasn't done anything to get herself there. He tells her that's not what he's trying to say and tells her he will leave her alone.

1:15 PM BBT – Azah is retelling the argument she had with Derek to Xavier in the Yacht Room and Derek is retelling it to Kyland outside.

1:30 PM BBT – Azah mentions that Derek is so worried about this decision. Xavier says that he isn't going to put it up to chance and he will tell Derek that he will pull Azah off and let her vote Kyland out if Derek isn't going to.

1:38 PM BBT – Azah mentions to Xavier that Kyland told Derek that he (K) deserves to be in the F2. Azah says that if Kyland won the Veto, he would have deserved to be there, but no one is entitled to be there.

1:45 PM BBT – Xavier tells Azah that he is asking Derek to do something that benefits him more than anyone and he is still hesitant. Xavier adds that he feels like he has to reevaluate his F2 with Derek and adds that it feels wrong to not consider Azah since she is the one on board with this and Derek is the one debating moves.

1:50 PM BBT – Xavier tells Azah that if he feels like Derek isn't going to pull the trigger, he will pull Azah down and have her do it and then they will have another conversation when they are on a level playing field.

2:45 PM BBT – Kyland and Derek are talking about Star Wars and Xavier and Azah are relaxing in the backyard.

3:24 PM BBT – Azah and Xavier are discussing Tiffany. Azah says that Tiffany was a good player. Xavier says Tiffany played the game but says she played too hard. Azah says maybe, but she played a game that she thinks would be fun to watch. Xavier says he's sure the fans enjoyed it.

3:25 PM BBT – Xavier tells Azah the top 3 people for America's favorite will be Derek F, Derek X and Tiffany. Azah agrees.

3:26 PM BBT – Azah thinks Kyland's biggest mistake was getting Tiffany out. Azah says that even though Tiffany talked smack on Kyland, she was still on his side.

4:37 PM BBT – The guys are talking about masturbation and how they tried to get some in during sequester in the hotel. Then Xavier quotes the "Wolf of Wall Street" and gets a "stop quoting movies" command. Xavier says he thought "hopefully this will last me 100 days." Derek says he didn't take advantage of his time in the sequester hotel.

5:10 PM BBT – Kyland is doing some weird stuff in the shower and notices the cameras zoomed in on him and he says "I'm not sure how I feel about that."

6:33 PM BBT – Derek wonders what America thinks of him. He wonders if fans of the show like him.

6:35 PM BBT – Azah and Kyland are prepping for dinner.

6:40 PM BBT – Derek says to himself that he has got to come up with a Final 2 speech in case he makes it to the end. He says he has to lay out why the jury should vote for him.

7:00 PM BBT – Derek is still talking to the cameras from the hammock.

7:47 PM BBT – Dinner is served. HGs grab food and sit down to have dinner together.

8:15 PM BBT – HGs still sitting at the dinner table, chit-chatting.

8:28 PM BBT – The final four have moved their discussion to the living room. Everyone is in there together, just laying around and talking.

8:55 PM BBT – DF talks with Kyland about maybe they'll bring him (K) back next year.

9:50 PM BBT – DF is frustrated that Azah is upset with him for saying he's done more in the game than she has. He complains about it to Xavier. DF says he wants credit for what he's done. Xavier reminds him that's not a productive mindset.

10:10 PM BBT – Azah and Kyland chatting in the hammock. Xavier and DF inside with DF continuing to complain about Azah.

10:30 PM BBT – Azah comes upstairs to HOH room to hang out with Xavier and play cards.

10:40 PM BBT – Xavier invites DF up to join them but he declines and stays downstairs alone.

11:25 PM BBT – Lights out for Xavier.

11:40 PM BBT – DF and Azah are sleeping with the lights on in their bedroom.

1:30 AM BBT – Kyland is hanging out in the hammock alone and camtalking.

1:45 AM BBT – Kyland camtalks that he's worked hard to be there. He says he studied a lot of interviews of past winners and strategies. He even adjusted his sleep schedule and diet in the months leading up to the season. Says he spent hundreds of hours doing brain puzzles to train. Kyland says he was devastated to be nominated first week because it felt like all that work for possibly nothing.

1:48 AM BBT – Kyland explains that he hopes the guy he kept also keeps him. He says Xavier hasn't given him any reason to doubt he'll keep him, but he's paranoid. Kyland wonders if he and Xavier will be up there with the Renegades as a F2, but also admits he could be hoping for F2 while Xavier is plotting to get him out this week.

2:30 AM BBT – Kyland heads upstairs for the night and lights out.
You can watch all of these Big Brother events using the archives Flashback, the DVR-like feature of this year's Live Feeds which means it's always live, even when you missed it! Sign-up now to get the free trial to watch it all live & uncensored.

Gallery: Live Feeds Highlights
Download our Big Brother App, join us on Facebook & Twitter, and get our Email Updates for more!