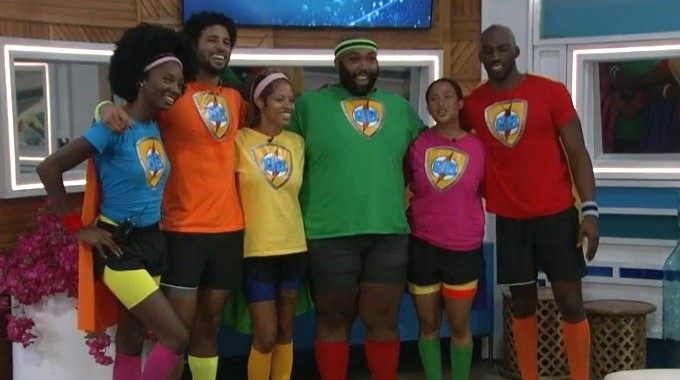 Veto Day returned for the Big Brother 23 Houseguests and for the first time this season there would be no need to draw players. We're down to the final six HGs and everyone has a spot in the comp this week which welcomes the return of the BB Comics challenge. These HGs will need to plot and plan today to secure their spot in the F5 and then be ready to grab that medallion for their own game. Read on to find out what happened Saturday in the house.
Try Live Feeds 1 Week Free! Sign-up now!
If you've got the Live Feeds (Free Trial) then you can watch all of these moments with the Flashback feature to go back and watch those important conversations or funny scenes you may have missed.
Big Brother 23 Live Feed Highlights – Saturday, September 11, 2021:
8:15 AM BBT – HGs are up and getting started for the day.

9:00 AM BBT – Tiffany camtalks and says it's her son's birthday. She mentions she knows she's in the same spot as DX was and she would have to win her way out now. Tiffany isn't worried and is okay with having to play the game with them seeing her as a threat. She wants to try and manifest a win for herself today.

9:15 AM BBT – Azah joins Tiffany. Tiffany asks her about Kyland and what he's said about the plan this week. Azah denies knowing anything and says he just asked which HGs she cared most about and she told him Tiff and BD.

9:20 AM BBT – Tiffany and Azah discuss why Kyland didn't put up Xavier since he's the biggest threat in the game. Tiffany says this means they're working together. Tiffany thinks if Xavier gets to the end then she will vote for him and no one in the Jury dislikes him.

9:30 AM BBT – Azah says Kyland will be her target if she gets HOH. Tiffany says it won't be that easy because she'll need to get the votes for that.

9:35 AM BBT – Azah asks Tiffany if she had a deal with Kyland. Tiffany says they've been working together a long time so she didn't think she needed a new deal. Azah questions why Tiffany didn't fall in the comp then and Tiff explains she didn't want him to have 3 HOHs and her to have just 1.

10:40 AM BBT – HGs gathering in the kitchen for breakfast and rehashing the HGs this season.

10:55 AM BBT – Tiffany tells the group how she explained the situation to Claire and how she had to be the renom. Claire understood and was okay with it Tiffany's stance which made it even more emotional for her.

11:40 AM BBT – HGs trying to guess who will get America's Fav. DF expects it could be DX or Tiffany.

12:37 PM BBT – Feeds cut to Pet Loops for the Veto comp.

6:37 PM BBT – Feeds return. Kyland is wearing the medallion. HGs are dressed in BB Comics gear.

6:45 PM BBT – HGs all excitedly discussing the competition. Tiffany doesn't know what she was missing in the differences between the comics.

7:30 PM BBT – HGs going over the various comic themes for each HG and trying to understand what they meant for each of them.

7:40 PM BBT – Tiffany camtalks that she lost the Veto but tells us, don't give up hope because she has another trick up her sleeve to play with Kyland.

7:50 PM BBT – Tiffany camtalks again that only Kyland has anything to offer her in the game right now and she can't be loyal to anybody.

7:55 PM BBT – Hannah asks DF if she's good this week. He moves on to talking about next week.

8:20 PM BBT – Dinner is ready and the HGs gather in the kitchen.

9:15 PM BBT – HGs going over the comp again and how they played it. Tiffany still doesn't understand what she did wrong.

9:50 PM BBT – Hannah camtalked that her plan is to pitch a F2 to Kyland and a F3 to Kyland + Xavier. She's going to throw Tiffany under the bus and blame her on game decisions so far. But ultimately her plan is to get Xavier and Kyland out.

10:10 PM BBT – DF and Hannah are upstairs discussing the plan. She asks why everyone wants Tiffany out this week. DF says he would have made the same nominations to get out Tiffany.

11:00 PM BBT – DF tells Hannah he plans to base his Jury vote on how well the HG represents their group and what they stand for.

11:15 PM BBT – Tiffany campaigning to Azah. She says she doesn't want to give up and is going to talk to Kyland. Tiffany apologizes for their differences during the game and says it was just her questioning the relationships she had in the house and she regrets that.

11:35 PM BBT – Tiffany tells Azah she owes her an apology. She thinks her game turned when she didn't trust Kyland.

11:45 PM BBT – Upstairs Hannah is still talking with Xavier and DF. DF was afraid that Kyland would win the Veto and use it on Tiffany. DF really wants Tiffany gone.

12:15 AM BBT – Hannah and Xavier laugh at DF's claims that he was an island this whole game and had no one. They point out he was close with Azah the entire game. He says that messes up his speech. Xavier suggests he has the wrong speech then.

12:30 AM BBT – Tiffany and Azah are trying to figure out Xavier. They don't believe his age or his claims of being a bartender.

12:40 AM BBT – Hannah assures DF there is no BD plan this week. Xavier says Tiffany would have to figure something out to get that to happen.

12:55 AM BBT – Xavier tells DF that he won't throw an HOH to him but he's okay with him winning one. DF wants X to win HOH and take Hannah out next so it's the three guys versus Azah.

1:25 AM BBT – Xavier says he feels pretty good with his game and thinks it's accurate that no one is targeting him.

2:00 AM BBT – Xavier proposes to Kyland that he (K) use the Veto on Hannah and then renom DF. X says he'll pitch this idea to Hannah like he's going to save her then she won't be after either of them. X admits the worst case then would be for Azah and Hannah to vote out DF and then they've got the three women coming for them.

2:30 AM BBT – Tiffany is campaigning to Kyland.

3:00 AM BBT – Tiffany tells Kyland she has no one else in this game to trust and work with but him. He says he has to consider the options and have more conversations.

3:20 AM BBT – Tiffany admits to Kyland that she put her personal needs ahead of the group by winning that HOH. She says keeping her will be beneficial to his game. She suggests that he doesn't have all the support that he thinks he does.

3:30 AM BBT – Kyland says he trusts Tiffany's support but she's just one person and that's not enough.

3:55 AM BBT – Tiffany is pushing Kyland that he has to take out Xavier if he wants to win the game. She says X will not take him to F2. Tiffany says even if she votes for him (K) he still needs a lot more votes to win it.

4:00 AM BBT – Tiffany encourages him to stop playing nice and instead keep HGs they can beat. DF arrives and Tiffany heads out.

4:10 AM BBT – DF asks how the talk went with Tiffany. Kyland says Tiffany gave into paranoia last week. DF shares that his plan is Tiffany, then Hannah, then Azah out.

4:15 AM BBT – DF says he has put in the effort this season and wants to be in F2 for his work but doesn't expect to win.

4:50 AM BBT – Lights finally out.
Tiffany is going to keep working on Kyland but he seems deeply rooted with Xavier and wants to get to the end with him. I don't see Kyland turning on Xavier even if it would be best for his game and chances. Meanwhile, DF continues his journey through Fantasyland as he's dragged to the end of the game.
You can watch all of these Big Brother events using the archives Flashback, the DVR-like feature of this year's Live Feeds which means it's always live, even when you missed it! Sign-up now to get the free trial to watch it all live & uncensored.

Gallery: Live Feeds Highlights
Download our Big Brother App, join us on Facebook & Twitter, and get our Email Updates for more!