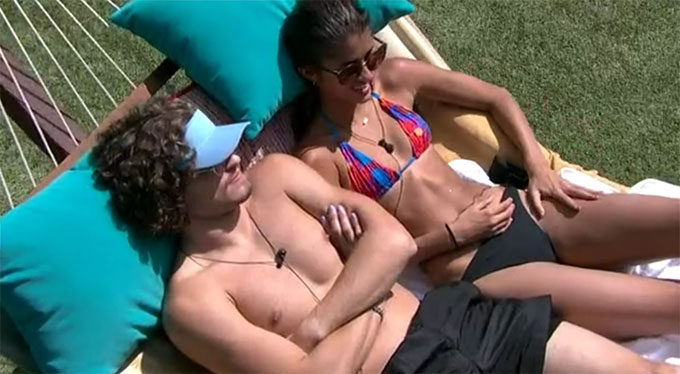 It was a relatively quiet Sunday in the Big Brother 23 house as Frenchie accepted his fate and the houseguests took advantage of the backyard being open and the drama being a bit lighter ahead of Monday's veto ceremony. Read on for Sunday's Feed Highlights from Big Brother.
Try Live Feeds 1 Week Free! Sign-up now!
If you've got the Live Feeds (Free Trial) then you can watch all of these moments with the Flashback feature to go back and watch those important conversations or funny scenes you may have missed.
Big Brother 23 Live Feed Highlights – Sunday, July 18, 2021:
10:15 AM BBT – Wake-up call time for the HGs.

10:30 AM BBT – HGs have been lounging around and chatting.

10:40 AM BBT – Azah tells DF she's planning to vote to keep Britini because they've been together since Day 1. DF says he's been being a friend to Frenchie even though he's going home because he cares about Frenchie as a person and is consoling a teammate.

10:45 AM BBT – Britini camtalks that she's going to avoid winning the next HOH and lay low for awhile.

11:00 AM BBT – Brent tells Tiffany that Frenchie is avoiding him because he knows he's going home.

11:10 AM BBT – DX tells Claire he'd throw an HOH to her or Tiffany. DX promises Claire that he's sticking with her, Tiffany, and Kyland. They both feel good about Kyland. DX is happy that Kyland told him about Slaughterhouse before it was wildly known.

11:15 AM BBT – Brent and Tiffany have continued their chat. She tells him she respects his game.

11:40 AM BBT – Azah, Tiffany, and DF discuss how if Frenchie had managed to quit last night then Kyland would have had to name another nom in his place. DF wants Frenchie to fight until the end.

12:40 PM BBT – Frenchie admits to Britini that he knows he's going home and is okay with it.

12:45 PM BBT – Azah and DX discuss how Brent will be a big threat when the teams are done and it is individual play. They think he's a real threat. Both note how he had his hands on Frenchie's HOH and is now trying the same with Kyland's.

12:55 PM BBT – Azah tells DX she feels like her team has been targeted. DX says he would have liked to save Britini but thinks the renom could have been another person from her team.

1:00 PM BBT – Britini has a rap prepared for her speech and is asking for support with clapping. Okay.

1:10 PM BBT – Kyland tells Xavier how Frenchie just can't stop lying. He congratulated Kyland on a big move and then rolling right into more lies.

1:30 PM BBT – Xavier recommends to DX that he lay low going forward and not win if he doesn't need to.

1:40 PM BBT – HGs have been playing a guessing game at the pool.

2:10 PM BBT – Azah talking with Tiffany and thinks Kyland might have put her (A) up on the Block if Britini came down. She worries she has a weak connection with Kyland. Azah had hoped to keep Frenchie around longer as a shield. Tiffany thinks it's risky. Azah says she still plans to vote out Frenchie.

2:35 PM BBT – Britini fell alseep in the sun on the lounger. Big Brother tries to wake her. Feeds cut.

3:10 PM BBT – DX mentions to Claire how the HNs have only been eating protein shakes, no Slop. She encourages him to try and eat Slop too.

3:50 PM BBT – HGs lounging around the pool and talking about favorite movies, etc.

4:45 PM BBT – Frenchie camtalks that he wants Thursday to hurry up and get here. He says he won't do a Battleback.

4:50 PM BBT – Kyland tells Azah how Frenchie was frequently contradicting himself. Kyland says he'll try to check in on Frenchie on a friendly level, but that's it.

4:55 PM BBT – Christian tells Hannah they should vote out Britini and keep Frenchie since he'll be a bigger target for them.

5:30 PM BBT – HGs are hanging out outside, just chilling and small talk. Nothing game-related is going on.

6:02 PM BBT – Christian and Alyssa talk about using Britini to their advantage since she kind of doesn't have anyone.

6:03 PM BBT – Alyssa says she doesn't think it's smart for them to win the next HOH.

6:18 PM BBT – Christian tells Alyssa that he thinks America is just waiting on them to start a showmance. They talk about what their ship name is. They come up with Chrisalyss. They also seem to think they're underdogs and think America would love them being a couple and could even reward them.

7:36 PM BBT – Frenchie says he's going to be so mad if the next HOH is the wall competition and he misses it. Sarah Beth says she thinks that's what the competition will be.

8:55 PM BBT – HGs are having dinner.

9:13 PM BBT – Frenchie talking to the cameras. He shouts out to his family and tells them that he tried to fix things but it didn't work so he will probably see them soon. Then he says to himself that the people in the house are so fake.

9:18 PM BBT – Frenchie tells Tiffany he will tell his son there are only three people he trusts in the house, her, Derek F, and Sarah Beth.

10:15 PM BBT – Frenchie asks DF and Tiffany to keep working together after he's gone.

10:20 PM BBT – Derek X is asking around about the penalty for breaking HNs. Hannah warns him it could be an entire extra week of HN.

10:25 PM BBT – HGs are happy to have received some beers in the storage room.

10:50 PM BBT – Derek F is hosting another of his "shows" on the big blue couch. More Maury-style revelations about Azah's "baby" and the true father is Claire. Much silliness.

11:30 PM BBT – HGs are playing games in the living room where they try to make each other smile.

12:10 AM BBT – Mafia gameplay is winding down.

12:30 AM BBT – Frenchie is trying again with Kyland. He promises Kyland he's been nothing but loyal to him. Claire interrupts and ends Frenchie's attempt. Kyland talks with Claire about how Frenchie must have forgotten all the things he's said.

12:40 AM BBT – Frenchie continues to hope for a special power in the DR. He really wants the Veto used so he's up against another guy and can feel like a man going out the door. Britini encourages Frenchie to go talk with Kyland but he says Kyland told him to wait until tomorrow.

12:55 AM BBT – Brent and DX discuss how much nicer the house will feel without Frenchie there.

1:00 AM BBT – Frenchie says the house won't be "fun" without him and the producers need to take action.

1:05 AM BBT – Frenchie is still talking with Britini. He says he's going to fight hard for HOH and go nuts if he stays and wins it.

1:35 AM BBT – Azah and Britini discuss DX and that they like him but don't talk much game. Britini says her plan is to lay low if she survives this week.

1:45 AM BBT – Britini tells DF and Azah that Frenchie is going to make another pitch that he wants to be up against a man if he's going to be the target.

2:30 AM BBT – Tiffany and Claire are upstairs with Kyland. Tiffany says she'll cry if there's any chance Frenchie could stay.

2:45 AM BBT – HGs are off to sleep.
No traction on Sunday for Frenchie as his fate seems sealed. Monday will bring the Veto meeting and we can safely expect it to go unused leaving Britini and Frenchie on the Block. Frenchie will probably keep up some light campaigning but there's just no chance he's staying as the house is very ready for him to be gone.
You can watch all of these Big Brother events using the archives Flashback, the DVR-like feature of this year's Live Feeds which means it's always live, even when you missed it! Sign-up now to get the free trial to watch it all live & uncensored.

Gallery: Live Feeds Highlights
Download our Big Brother App, join us on Facebook & Twitter, and get our Email Updates for more!