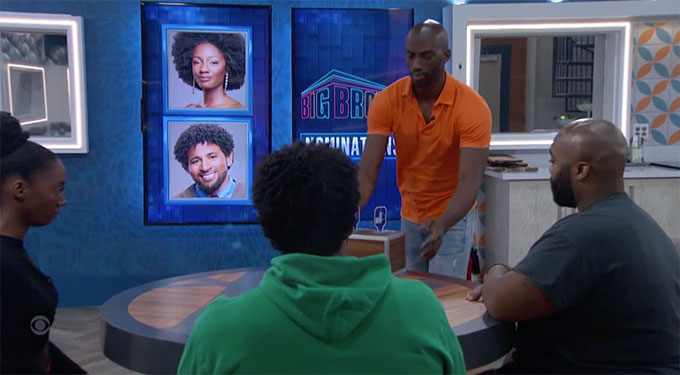 We normally do a counting the votes post every Wednesday, but since there's only one person voting in the Big Brother 23 house this week, that seemed silly. So since there's only one vote to count, how will it fall?
If you haven't caught up on the latest Big Brother spoilers, then stop reading now. As we will see on tonight's episode, Xavier won the final Power of Veto, and he has been talking to Derek F about evicting Kyland instead of Azah. The plan for awhile had been for the Cookout men to go to the Final 3, but Xavier has realized the path to the end would be easier without Kyland.
As of now, the plan is for Xavier to not use the veto, leaving the nominees of Azah and Kyland to stand. That gives Derek the sole vote to evict. Derek has been struggling with this, because he's been close to Kyland all season, and has had NO interest in letting any woman get even close to the end of the game (despite how close he and Azah have been). But he's also been pretty upset with Kyland and doesn't think Kyland will take him to Final 2. So it's really in Derek's best interest to evict Kyland. But keep in mind, it's Big D.
So now there's talk between Xavier and Azah that Derek might not be able to pull it off. So Xavier has floated the idea that he can remove Azah from the block and she can vote to evict Kyland. And Azah is more than willing to do so — as she should be. I would be ready to secure my spot in the Final 3 and never leave that fate up to Derek F.
And I don't think the would happen, but there's even a possible third scenario this week: What if Xavier takes Azah down and she evicts Derek? After how wishy-washy he's been with Azah this past week, that wouldn't be a total shock. I really don't see her doing that, but it's not completely out of the realm.
It's actually kind of crazy that we don't know for sure how this Final 3 will end up. We are usually a lot more certain at this time. I do think it will result in Kyland going home, but we won't know for sure until Thursday night when the veto meeting plays out live.
Who do you think will be evicted this week, Kyland or Azah? Vote now in our poll below.