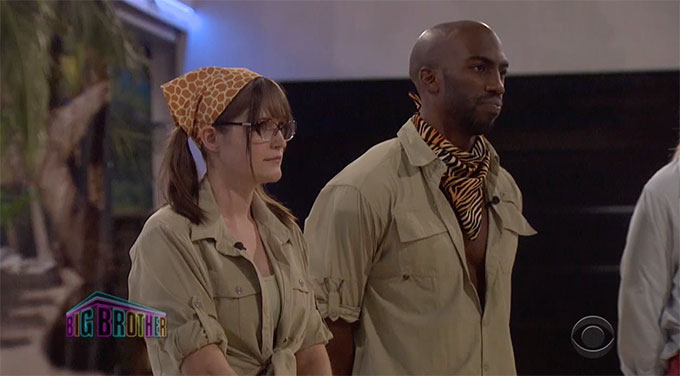 When Sarah Beth became the latest Big Brother 23 Head of Household, she let us know that she was going to do her own thing, and had her targets mapped out. But on Wednesday night she got one step closer to pulling off the backdoor plan given to her by Kyland, that benefits his majority alliance, and not Sarah Beth herself.
The episode Picks up after Alyssa's spin of the roulette wheel put Xavier on the block. And she's really upset that she did that to her closest ally.
Meanwhile Derek X lets us know that he feels good about Sarah Beth this week, and is glad he banked his bucks to play in next week's competition. But Claire lets him know that she has a feeling one of the two of them might be SB's target this week. So he starts to panic. As does Tiffany. She does not want Derek X to go home.
Derek X decides to go talk to Sarah Beth to see if he can get a hint of who her target is. And since she's not very good at Big Brother, she basically tells him he's going up based on her body language and the fact that she basically isn't saying anything to him.
Derek X has a talk with Hannah and they agree the only way DX can be sure this week is to play and win veto. But he has to be picked to play first. So let's get to the veto draw and see if luck is favoring Sarah Beth or DX.
Joining Sara Beth, Claire and Xavier in the competition are Azah, Derek F and Alyssa. All of those people would use the Power of Veto if they won, too. So it looks like Derek X might be in some trouble.
And then we jump right into the Power of Veto competition. This week's competition is a game of dominos. And some of the domino paths include punishments and prizes. If you knock down any of those they go to you if you get your dominos to fall in the shortest amount of time.
Alyssa is up first and she goes for the chance to win the veto, which could include some punishments. Derek F is up next, and since he's safe this week, he's going for prizes instead of the veto.
Azah is up next and she goes for the veto as well.
Sarah Beth follows Azah, and almost goes for the money, but decides to do what she should do and goes for the veto.
Xavier is up next, and since he's on the block, of course he goes for the veto and punishments. And he goes for the fastest route, which has the harshest punishments.
Claire is up last, and goes for the veto as well.
And since the times and attempts are private, we don't know how everyone stacked up, but we do know that one person (Derek F) went for prizes. He ended up with an extra 100 BB Bucks and $7,500.
And as for the veto itself, that win goes to Xavier with 3 minutes and 5 seconds In addition to the Power of Veto, he earns 3 punishments, he loses all his BB Bucks, will have to spend some time in solitary confinement and will be a third nominee the next time he is not HOH.
Tiffany wants to prevent DX from going up so she decides it would be a good idea for Hannah to go up so they can send Claire out instead. She knows that the Cookout would save Hannah over Claire. Tiffany says she's willing to lose Claire over DX. And what they failed to show us was that Tiffany knows that Claire is onto the Cookout, while DX is a bit more naive and is easier for her to suggest things to than Claire.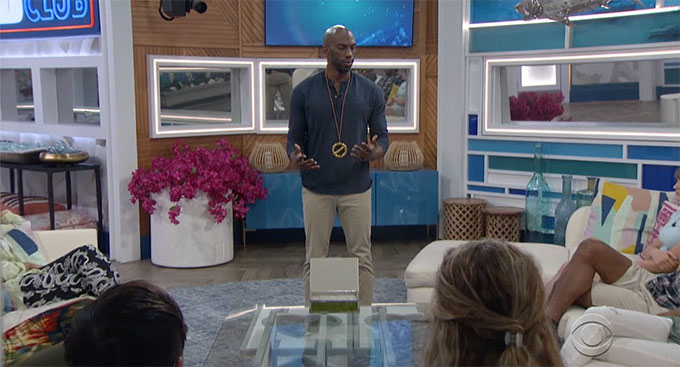 And this week we don't get a veto cliffhanger. Xavier decides to use the Power of Veto on himself, and Sarah Beth takes her shot at Derek X, naming him as the replacement nominee.