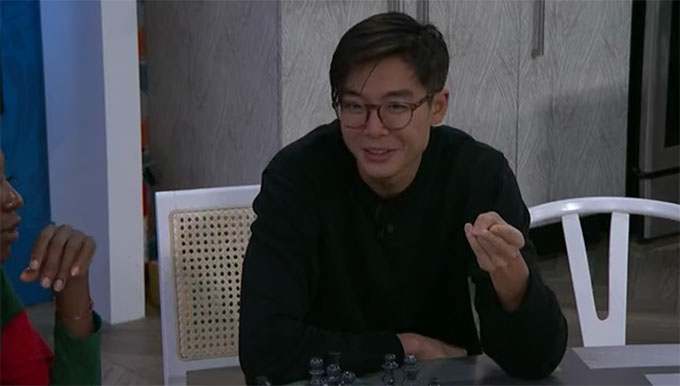 It was Eviction Eve in the Big Brother 23 house, and Derek X continued his fight to stay and not become the second juror. He made a lot of good pitches, and had several people sad that he is likely going to go, but were his efforts enough to get at least four people to keep him? Read on to find out. Meanwhile, Xavier began his solitary confinement punishment.
Try Live Feeds 1 Week Free! Sign-up now!
If you've got the Live Feeds (Free Trial) then you can watch all of these moments with the Flashback feature to go back and watch those important conversations or funny scenes you may have missed.
Big Brother 23 Live Feed Highlights – Wednesday, August 25, 2021:
3:32 PM BBT – Hannah tells Claire that she really wants her and DX both to stay. She says she also doesn't want DX to go unanimously so he will most likely get her vote. Claire says she understands that.

3:37 PM BBT – Hannah says if she wins HOH she is going after Sarah Beth. She says she would put up SB and Kyland. Claire says that's what she would do also.

3:40 PM BBT – Claire said Alyssa told her she would put up people who wouldn't use the veto on Xavier (as the third nominee).

3:47 PM BBT – Derek X asks Azah how she's feeling after their talk the day before. She says she's still struggling. She says she doesn't know if she just follow what SB wants or roll with DX and deal with the consequences later.

4:15 PM BBT – DX asks Azah why does keeping SB's trust matter. He says he did so much to earn her trust – he gave her the $5,000 and didn't spin the roulette wheel. He says he did so much and she till backdoors him.

4:17 PM BBT – Azah asks DX if he has the three votes other than her lined up. He says yes but can't say who. She guesses it would be Hannah, Tiffany and Kyland.

5:55 PM BBT – Xavier is officially in solitary confinement.

6:10 PM BBT – HGs are studying for the HOH competition. They were shown videos during feeds downtime.

6:45 PM BBT – Xavier is arranging this confinement room (the have-not room) into his own apartment. It has a makeshift living room and a kitchen and a bathroom).

7:05 PM BBT – Claire making her final pitch to Kyland. He tells her that DX staying isn't a good idea.

8:00 PM BBT – Sarah Beth tells Derek F that she thinks he's the only one going to be able to play the Coin of Destiny next week. DF tries to convince Sarah Beth that Hannah and Tiffany might be lying about how much money they have. He says he thinks Hannah didn't actually play last week. Sarah Beth says she feels like Hannah and Tiffany would have told someone if they had more BB Bucks.

8:05 PM BBT – DF says anyone who ends up on the block are going to think he did it since everyone thinks he's the only one who has enough BB Bucks.

8:16 PM BBT – Sarah Beth tells DF that she used him as a pawn once but won't do that again as she really wants to work with him.

8:20 PM BBT – Derek F asks Tiffany if they're moving forward with DX going home. Tiffany says she's fine with whatever The Cookout wants. DF tells Tiffany that they are on the same page that SB has to go next. He says he has got to execute this plan. Tiffany says Kyland cannot win HOH or SB still won't go anywhere. Tiffany says if Kyland wins, the six is done.

8:22 PM BBT – Derek F says Kyland made a promise though. Tiffany says Kyland's promises haven't meant anything but they'll find out tomorrow.

8:26 PM BBT – Derek F tells Tiffany he needs her help to make sure that SB goes home next. He says he's not happy that she kept telling him only he has enough money to compete in the next High Rollers' Room game.

8:34 PM BBT – Hannah tells Kyland that she feels really guilty about sending DX out. He says he feels guilty too. But agree they're really sad that he has to go.

8:35 PM BBT – Claire wonders if the videos they were shown were just a trick and won't have anything to do with the HOH, like the bird noises they did during BB21.

8:42 PM BBT – Kyland tells DX that him staying would benefit his game. DX asks Kyland who he can get that fourth vote from if not Azah. Kyland asks if he's talked to Derek F. Kyland said DF is upset that everyone thinks he's the only one with enough BB Bucks to play in the next game, so maybe that could be DX's way to appeal to DF to keep him because then DX would have the money to play as well.

9:15 PM BBT – No one is sure if the video events are competition-related, but they're all studying just in case.

10:45 PM BBT – DX is campaigning to DF. DF says he'd like him to stay but doesn't give him an answer on his vote. DX says he has more HGs to convince.

11:00 PM BBT – DX shifts to Alyssa for his campaigning. He's worried that Xavier had everything decided before he left for his solitary confinement. Alyssa notes that DX has lied to her in the game. He admits he thinks the decision has been settled already.

12:40 AM BBT – DX talks with Claire. He says he really should have played the roulette game for safety and should not have trusted Sarah. He wants to skip ahead to the eviction.

12:50 AM BBT – Hannah and Kyland discuss how well Alyssa is doing with studying and remembering the details.

1:00 AM BBT – Hannah asks Tiffany about the vote. Tiffany thinks it could be 5-2 on the vote but Hannah wishes it would be 4-3.

1:20 AM BBT – Kyland tells Azah he would nominate Claire + Tiffany then renom Alyssa if Claire comes down.

1:35 AM BBT – Hannah worries to DX that Alyssa knows these memory details well for the HOH comp. He encourages her that she knows it too.

2:00 AM BBT – DX is trying another one-on-one with Sarah. Kyland leaves so they can talk. DX pitches that if he stays then Alyssa and Xavier would be coming for him before they go for Kyland and her.

2:10 AM BBT – Sarah counters DX by saying if he stays then he'll try to get her out so he can work with Kyland himself. She says DX could sway votes to get her out. He points out that if he had that much sway then he'd be staying this week.

2:30 AM BBT – After their long talk DX asks if she's changed her mind but Sarah says she has not.

2:35 AM BBT – DX tells Kyland that talking with Sarah was a long shot and didn't work.

3:00 AM BBT – Kyland heads upstairs to talk with Sarah. She tells Kyland that talking with DX helped. She doesn't think she'd stay as calm as DX has been. They continue to chat about the game.
DX has continued the good fight and he knows it's a lost cause in all likelihood, but he hasn't stopped yet. Meanwhile, Xavier is tucked away in the Have-not room until the live show so we'll see him again later tomorrow. Now it's time for the HGs to keep studying and get ready for Thursday's HOH competition.
You can watch all of these Big Brother events using the archives Flashback, the DVR-like feature of this year's Live Feeds which means it's always live, even when you missed it! Sign-up now to get the free trial to watch it all live & uncensored.

Gallery: Live Feeds Highlights
Download our Big Brother App, join us on Facebook & Twitter, and get our Email Updates for more!