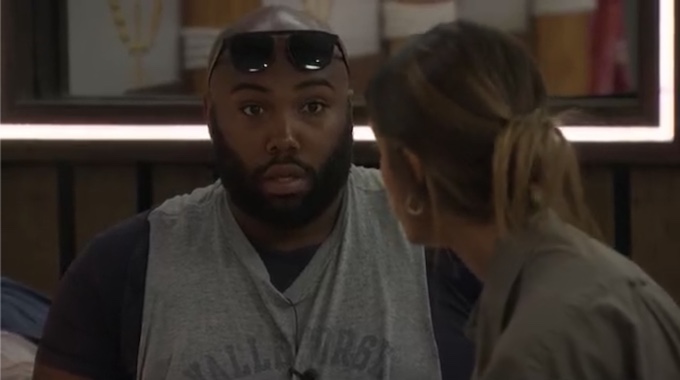 This week's target on Big Brother 23 is still trying to figure out a way to stay in the game and has been working on convincing Kyland that they are a bigger asset than a threat to him and Sarah Beth. Kyland seems to have changed his mind and even brought the idea to SB to see what she thought about switching the target for week 7 of Big Brother. Read on to find out what she thought about the idea.
If you've got the Live Feeds (Free Trial) then you can watch all of these moments with the Flashback feature to go back and watch those important conversations or funny scenes you may have missed.
Big Brother 23 Live Feed Highlights – Wednesday, August 25, 2021:
9:45 AM BBT – HGs are waking up.

10:10 AM BBT – Alyssa asks Xavier if he agrees that when they get to F4, they take out SB and bring Kyland to F3? He says yes and she thinks that they are better off sitting next to him in F2 than her.

10:25 AM BBT – Tiffany tells Claire that DX being out of the house only increases their chances at winning things. Tiffany says that they really need to win something to ensure that they aren't sitting on the block together. They both wish they had enough BB Bucks to play in the Coin of Destiny.

11:05 AM BBT – Xavier tells DF that next week they have to put Tiffany and Claire up together so that when DF wins the Coin of Destiny and the noms change, it looks like it was one of them and not him.

11:07 AM BBT – Xavier asks DF if he doesn't win the Coin of Destiny, who does he want to win? DF says Azah because she is ready to put SB up.

11:13 AM BBT – DF tells Xavier that he was talking to Azah last night and she said that it's probably best for one of them to win it because Xavier and Tiffany can't put Claire up.

11:30 AM BBT – DX tells Kyland that he told Alyssa and Xavier that he was planning on targeting Christian as soon as he won HOH, but he didn't tell them that Kyland and SB knew also.

11:35 AM BBT – DX asks Kyland if he stays and Xavier wins HOH next week, would DX be a shield for Kyland in that scenario? He says that it depends on if he can salvage his relationship with SB going into next week.

11:40 AM BBT – Kyland tells DX that SB feeling safe with DX staying could rely on Hannah talking to her and telling her that she would do anything that SB wanted. DX also mentions that he can act like he planned the whole thing and knew that Kyland would throw him a sympathy vote if no one else was voting for him so he asked them not to say anything to anyone about them voting to keep DX.

11:55 AM BBT – DX tells Kyland that if he wins the secret HOH, who could he put up where no one would believe it's DX? They agree that if Hannah was up there that would make it seem like it wasn't him.

12:00 PM BBT – Xavier is saying bye to everyone, but then tells everyone that he is messing with them. He tells them that around 2 PM they are going to give him his supplies and he will probably head up there around 4 PM. Feeds cut.

12:01 PM BBT – Claire tells Tiffany that it sounds like DX is trying to get Hannah, Kyland, Azah, and DF votes. Tiffany says that DF isn't going to want to vote for DX because he tried to flip the vote last week.

12:15 PM BBT – Claire is going over her campaign points with Tiffany.

12:20 PM BBT – Kyland tells SB that DX said DF would 100% put Kyland and SB up if he won the secret HOH. She says that DF told her that he has been going around telling people that he is planning to target Kyland, not SB. Kyland says that's concerning to him. SB says that she would talk to DF again.

12:21 PM BBT – Kyland mentions that if SB thinks it's too risky, he won't throw DX a sympathy vote. He also mentions that when he talked to DX and asked him what votes he thinks he has, he told Kyland that he doesn't even think that he has Hannah's vote right now.

12:26 PM BBT – SB asks Kyland what he thinks about making a F3 with DF and make it so that they won't put him on the block as a pawn and they would take him to F3 with them. SB then wonders if they bring Alyssa and Xavier and get them to make a F3 with DF too because then if DF tries to blow up their game, they have that on him. Kyland then says that he wonders if DX would be a better number for them though.

12:30 PM BBT – SB says that if they keep DX around, he would go after her so that he can get closer to Kyland. Kyland says that he thinks there is a scenario where the three of them could work together if they kept him.

12:35 PM BBT – SB tells Kyland that even if she decided to keep DX now, Tiffany would be upset because they are going against Claire and Alyssa and Xavier would be sketched out of they even brought that to them.

12:40 PM BBT – Kyland thinks that getting rid of DX only shields Alyssa and Xavier if none of them win HOH. He just thinks that if none of them win, DX could be that person for them.

12:45 PM BBT – Kyland says that he still thinks that if DX stays, they could make DX a stronger ally to them than DF. Kyland also mentions that if SB and Kyland were on the block with Xavier next week and one of them win the Veto, they each only have one vote to stay (each other). Kyland says that next week he feels it's less likely for one of them to go if DX is there.

1:02 PM BBT – DX tells Hannah that if she talks to Kyland today, she can't know that he is throwing a sympathy vote to DX. He asks him if his new plan is to try and flip Kyland? DX says that he thinks that it's possible. He tells Hannah that as long as SB thinks she is controlling the vote, she will give him the green light to throw a sympathy vote.

1:15 PM BBT – Alyssa tells Claire that she thinks that she is in a great position and as of right now, she has her vote.

1:19 PM BBT – Alyssa says that her goal is to find two people to put up that DF would be okay with so that he doesn't use the power. Claire says that as long as Tiffany isn't up there, she is good.

1:23 PM BBT – Alyssa tells DF and Azah that Hannah played in last week's High Roller's Room. DF says that he doesn't think so because he has a pretty good radar to that kind of thing. Alyssa says that she does too and Hannah wanted to win something so bad, saw the balancing thing and thought she could win it. DF tells her to talk to her again and see if she has the same read.

1:25 PM BBT – Alyssa tells DF that if she wins HOH, Azah and DF will no see the block in any way.

1:30 PM BBT – DF tells Alyssa that everyone is talking about putting SB up, but that's not what DF and Azah are talking about. Xavier walks in.

1:33 PM BBT – Alyssa asks Xavier who he feels best sitting next to and he tells them anyone they see as a bigger threat than him.

1:38 PM BBT – DX wonders to Tiffany if he should ask Azah for a real vote or a sympathy vote and she tells him both. He tells her that if he can get Azah he will feel pretty good. DX tells Tiffany that Kyland can't know that she knows about Kyland being willing to throw a sympathy vote. She has to tell him she is voting for Claire.

1:50 PM BBT – Azah tells Claire that if she won HOH, she would Kyland and SB up. Claire says that she would too. Azah asks her who she would put up if Kyland won Veto and she says she would probably put Alyssa up.

2:00 PM BBT – Tiffany tells DX that he has to talk to DF because he had a three hour conversation with Kyland last night in the backyard. DX tells her that he knows about that and it was DF trying to figure out if he is good with Kyland or not. DX tells Tiffany that Kyland has been talking to SB for a long time up there. She thinks that DX has to convince DF that he is going to target SB and Alyssa in case he has deals with Xavier and Kyland.

2:10 PM BBT – SB tells Alyssa that DX told her that DF is going after her and Kyland and has been since week 5. Alyssa tells her that DF did mention to her that he felt excluded from them (the Monarchy).

2:15 PM BBT – Alyssa tells Xavier about SB's plan for each of them to make F3s with DF and Xavier says that they can tell her that they did and still work with DF and Azah like they planned.

2:20 PM BBT – Xavier is packing for his solitary and DX, DF, and Tiffany are questioning why he is packing so much. He tells him that he is bringing options for the live show because Julie will be calling him out of solitary during the live show.

2:24 PM BBT – Hannah tells SB that this week sucks, but everyone has lost or will lose someone in this game. Hannah says that she is just trying to figure out if she is going to throw DX a sympathy vote or not. SB tells her that she won't think anything of it if she does and she doesn't think Kyland would either.

2:37 PM BBT – DF tells Claire that he hopes he wins HOH next week and the Coin of Destiny so that he has complete control over his noms. He tells Claire that he is going to tell her the same thing he told DX, he isn't sure what he's doing but he is sure that he is tired of feeling like he is being picked on.

2:56 PM BBT – SB tells Tiffany that she feels that this week whoever wins HOH still has to put up their nominations in case they don't change. Tiffany says that she feels like if she or Claire don't win HOH, they are going to end up on the block together. SB says that her and Kyland don't feel safe either.

3:00 PM BBT – SB and Tiffany speculate about what the Coin of Destiny comp could be and they think that it has something to do with rolling coins into holes. SB tells Tiffany that she feels like DF is going to be really good at soemthing like. She says after seeing him in bowlerina and he has told her that he bowls.
After his talk with Kyland, DX seems to have a lot of hope for this week's vote. There is some potential for him to stay this week, unfortunately for DX, he is banking on Kyland actually going through with his vote. DX will also still need to convince at least one more person to vote for him to stay. DF is pretty angry with him for trying to flip the vote last week, but Azah seemed pretty open to the idea. We will have to wait and see what happens!
You can watch all of these Big Brother events using the archives Flashback, the DVR-like feature of this year's Live Feeds which means it's always live, even when you missed it! Sign-up now to get the free trial to watch it all live & uncensored.

Gallery: Live Feeds Highlights
Download our Big Brother App, join us on Facebook & Twitter, and get our Email Updates for more!