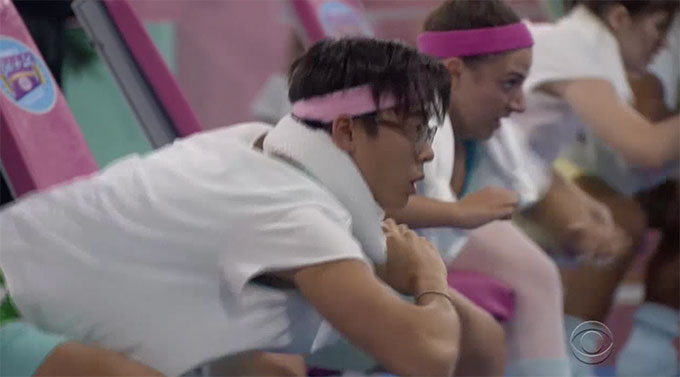 The moment Derek X won the Head of Household competition this week, he had his sights set on a Christian backdoor. And as Wednesday night's episode of Big Brother 23 showed us, everything fell into place for him to do just that. But was spilling his plan to Alyssa before the veto ceremony his fatal flaw in the plan?
The episode picks up right after the nomination ceremony. Derek X tells us that Britini and Sarah Beth are just pawns for his plan to backdoor Christian this week.
The Derek X lets Sarah Beth know that he doesn't want her to go home. But Sarah Beth tells him that it just feels fisher to her. And just when she's really confused, Derek X spells it out to her that he is trying to take a shot at Christian.
Sarah Beth says she's not completely against the plan and that she's willing to do what it takes to get herself off the block. Even if it means betraying her original team.
But the rest of the Kings, who are a part of the Royal Flush, want to know what exactly is going on. And since that group includes Christian, Derek X has to talk to them and convince them that Sarah Beth is the only pawn, and Britini is his target this week. And it really sounds like they believe Derek X, but remain cautious.
It's time to pick players for the veto competition. Joining Derek X, Britini and Sarah Beth in the competition are Alyssa, Claire and Kyland. Christian was not picked, so a true backdoor is possible. But let's make sure and get to the veto competition.
For this week's veto competition, the players will have to repeat various exercise moves in a mock gym setting. Each round the person with the least amount of reps will be eliminated. And as each person is eliminated, they get to pick a "prize," which as we all know can also be punishments. And as always, it's a game of White Elephant, so the person out second can steal the first prize, the second person out can steal either of the first two prizes and so on.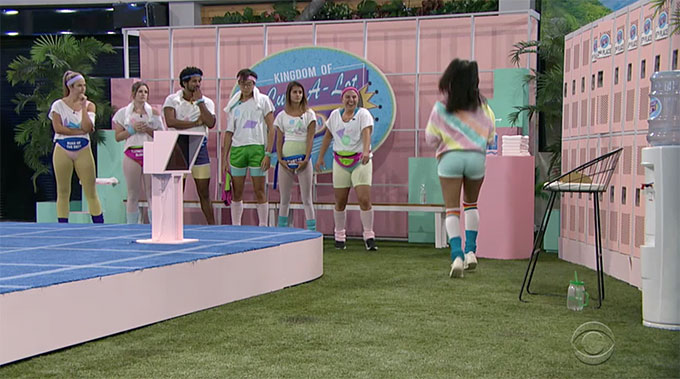 Claire is out first. She gets the 6th place prize. And it's the veto. Sarah Beth is out second. She gets the 5th place prize and it's $5,000. She does not take the veto from Claire because she knows someone else will take it from her later.
Kyland is out next and gets the 4th place prize, which is a unitard punishment. But he trades it for the veto. Derek X is out next, which gives him the third price prize, another punishment. Derek X wants the $5,000 but Sarah Beth begs him not to take it. So he steals the veto from Kyland.
That leaves Britini and Alyssa. And Alyssa is out last and gets the second place place prize – she gets a phone call from home. And Alyssa keeps the prize. So Britini gets the first place prize, which is another punishment. But of course she trades that to Derek X for the veto. Birtini has won the Power of Veto!
Derek X is the first person to get his punishment. It's the Lord of the Latrine and he has the only key to the bathroom. So he has to let anyone in who wants to use the bathroom and announce that they're about to use the porcelain throne.
As the veto meeting approaches, Derek X decides to let Alyssa in on his plan to backdoor Christian. He tells her that he thinks he has to take the shot at Christian while he has the chance. Alyssa tells him that's a bad idea, and Christian didn't do that to him last week. Alyssa says if DX does this, no one is going to trust him.
Alyssa lets Christian know that DX is thinking about putting him up and Christian immediately starts pacing. He lets us know how upset he is that he could have done that to DX last week but didn't. Alyssa returns to talk to Derek X and tries hard to convince him to not make this move. And then Sarah Beth walks in and Derek X lets her know, even though she already knew. She's OK with this because she knows there's a better chance at staying if she's sitting beside Christian.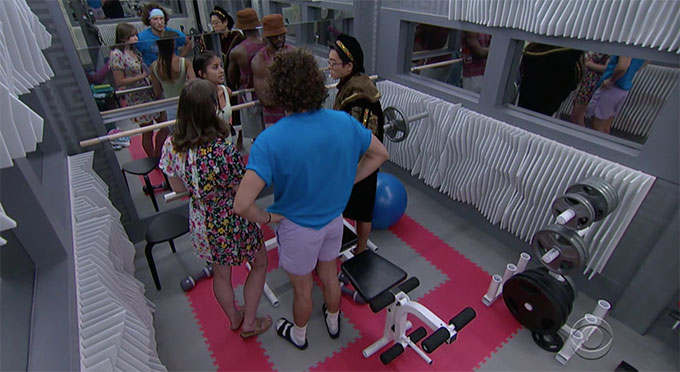 And right before the veto meeting, Christian makes a final plea to Derek X and pulls him in the storage room. And he makes a compelling argument and then the episode ends. We have a veto cliffhanger!
If you can't wait until Thursday night to find out what went down at the meeting, check out our veto ceremony spoilers.