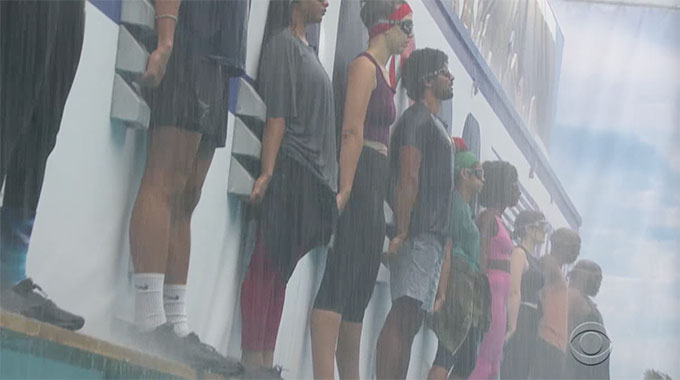 One Big Brother 23 alliance down, 100 to go.
OK, there aren't that many alliances this season, but it sure looks like it. But at least this week, one of them, The Royal Flush, was accidentally outed, and the new Head of Household showed his cards.
Sunday night's episode picks up during the Head of Household competition. All the houseguests, minus outgoing HOH Christian are up on the wall getting pelted with water and fake vomit.
Derek F is the first one out. After 9 minutes.
Tiffany lets us know that Alyssa is the one person who cannot win this competition.
Claire, with safety in tow, is second out after 29 minutes. She knows she doesn't need to win this HOH.
And Sarah Beth is feeling safe, so she drops after 42 minutes. And Hannah drops at the exact same time. But doesn't admit to doing it just because Sarah Beth, who has been targeting her dropped first.
Kyland is out next at 57 minutes. Britini drops next at 1 hour and 4 minutes.
And Alyssa is looking strong, much to Tiffany's dismay.
Azah falls next after 1 hour and 15 minutes. Tiffany is out a minute later. Xavier, Derek X and Alyssa remain.
And Alyssa starts wheeling and dealing with Derek X. She tells him if he drops she won't put him or Hannah up. Derek X is holding out and Alyssa is getting weaker. So instead of asking him to drop, she starts asking if she drops will she be safe. He says yes, she won't see the block. So she drops at 1 hour and 20 minutes.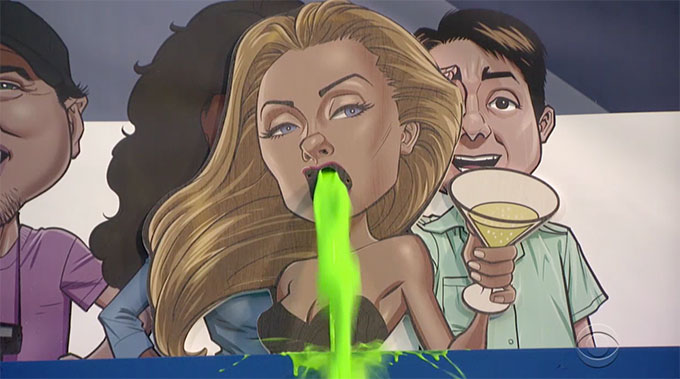 Xavier and Derek X remain. And Xavier knows letting DX have it will just paint the target bigger on DX. But before he drops, X asks for safety for himself and drops.
After 1 hour and 23 minutes, Derek X is the new Head of Household.
Xavier realizes he only asked for safety for himself, so AFTER the competition is over, he throws in the rest of the Kings for safety. Derek X sort of agrees? It's hard to even tell, really, but the competition was already over, so that part of the deal is definitely null.
Derek X lets us know that choosing a target this week is going to be a tricky challenge. Should he just go after the Jokers or take the shot at the Kings that no one else has been able to do so far…
The Kings meet up and talk about whether or not DX will put any of them up. Christian is a bit nervous, but the rest of them think they will be OK. Sarah Beth lets us know that before the eviction, she and Hannah had a meeting and squashed whatever their beef was. Sarah Beth thinks that made her pretty safe with DX this week. But did it?
Derek X finally lets us know what he wants to take the shot at Christian because he has won more than half of the competitions.
Tiffany and Hannah meet up with Derek X to talk about the plan this week and Tiffany accidentally drops the "Royal Flush" in front of Hannah. And Hannah is like "uhhh who is Royal Flush?" Derek X explains to her but lets her know it's not a real thing. DX says the flush is flushed.
Hannah isn't super happy that she wasn't let in on the Royal Flush alliance, and lets us know that she's going to hold on to that info in case she needs it.
Derek X starts having meetings with the HGs so he can finalize his nomination plans. Xavier picks up that DX might be looking at Christian or Sarah Beth, and he doesn't love that idea.
Sarah Beth meets with DX also, and when he asks her if she would be willing to go up as a pawn this week and she says she would not be happy with that at all.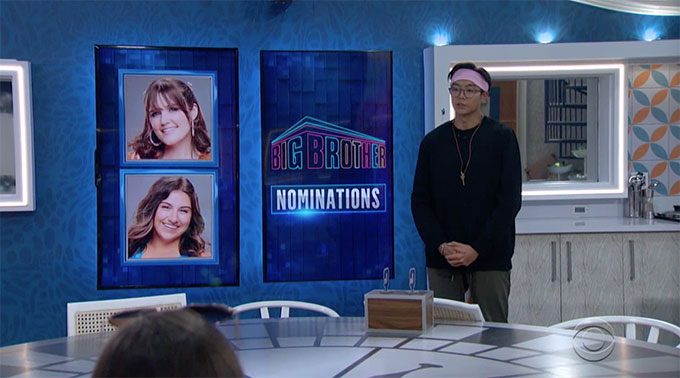 Derek X continues his meetings and eventually comes up with a plan. At the nomination ceremony he goes with Britini and Sarah Beth as pawns, with Christian as the backdoor plan.