Finally, a Big Brother 23 Wildcard Competition that was too good to pass up. Claire won the reward this week, which gives herself safety until jury and cleared the path for Christian to move forward with his nomination plans this week.
Sunday night's episode picks up right after the Head of Household competition. And since Christian won the competition, the Kings are safe. And since the big targets this week can't be touched, everyone is sent scrambling.
And since the Kings and the Queens plus Derek X have the Royal Flush alliance, the options for this week are limited. So the Jokers and the Aces (minus DX) are starting to sweat.
But only the Aces have a reason to be sweating. Christian isn't looking very hard at the Jokers. It's actually Whitney and Hannah who should be worried.
The Kings meet to discuss the options this week, and they agree that it needs to be Whitney and Hannah. Christian and Xavier prefers Whitney to be the target, but Alyssa and Sarah Beth think maybe it should he Hannah since everyone else wants Whitney out. Alyssa thinks if Whitney stays, she could be a shield for them next week.
And Sarah Beth adds that Hannah is smart and could not be manipulated. So she starts pushing hard for Hannah.
Of course Xavier is being put in a tricky situation because Hannah is in the Cookout alliance.
But what if the Wildcard Competition throws a wrench in those plans? Christian realizes his only option would be to look at the Jokers and probably go for Britini and Azah, which would mean Britini would go home.
Of course, let's not get ahead of ourselves and see what happens with the competition.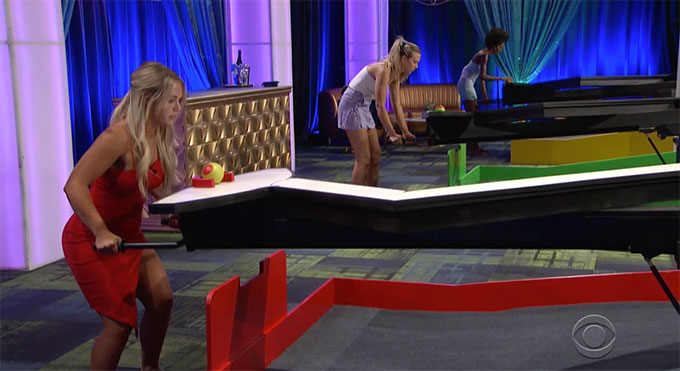 This week, participating in the competition are Claire, Whitney and Azah. For this week the three players have to maneuver a giant olive into a martini glass. And sometimes the lights will go out.
Claire comes out victorious and has to make quite the decision. Her options for the reward are choose safety for herself and her entire team or choose to keep herself and only herself safe until jury. She gets an automatic spot to jury.
And she makes the decision anyone should make: she takes the safety for herself until jury (which is really only two weeks of safety).
And Kyland and Tiffany are happy for her and not at all upset over her decision.
And lucky for Christian, Claire kept his big options open this week. So he's still looking at Whitney, but Sarah Beth is still looking very hard at Hannah.
And since Tiffany is not having any talks about Hannah being a target, she brings up Britini as a real threat against both of their teams. And Xavier chimes in to try to keep Hannah safe, but also not compromise his game and alliance.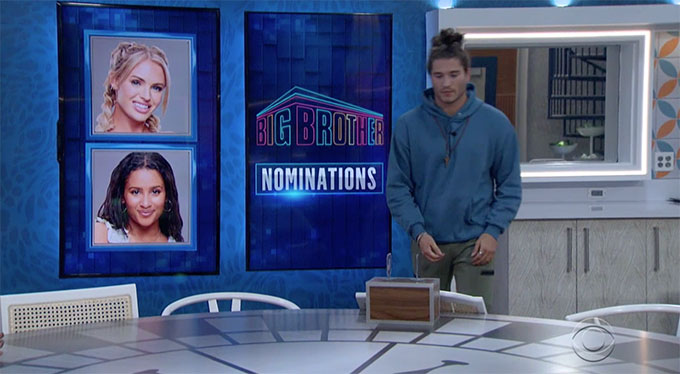 At the nomination ceremony, Christian sticks with the plan and puts Whitney and Hannah on the block. Who the actual target will be is still up in the air (but really we know it's Whitney).