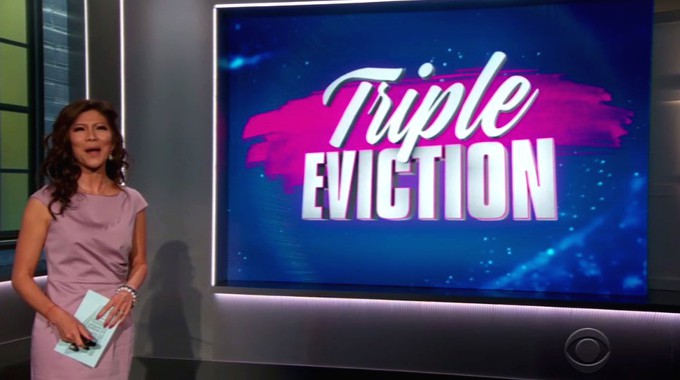 Your pleas of "get these people out of here" have been heard for Big Brother 22 and on Thursday we'll get the first formal Triple Eviction of BBUS ever as this week's eviction episode looks to put all those other measly Double Evictions to shame. Or at least we hope so as this is BB22 and 2020 after all.
Yes, it'll be the first-ever Triple Eviction, something we've only seen in the Celebrity edition's final rounds but never before done in the regular summer Big Brother seasons. And since this will be the first of its kind we don't know entirely what to expect for the format but are excited to see it all play out in the TWO-hour episode starting at 8/7c on CBS and All Access.
With a two hour event, there will be plenty of time to work our way through the slaughter without the usual whiplash speed required for cramming a Double into on short hour. Of course a slower pace will give the HGs too much time to think and that rapid-fire approach is part of the DE's charm. But at this point, the prospect of getting rid of two more of this batch brightens my day.
As of now we have the Week 8 final Noms as David and Kevin. The Veto meeting was held on Monday and those Noms can't change at this point so either Kevin or Kevin, yes you heard me, will be the first eviction of the night's three but where we go from there could be a lot of fun. Or keeping in the spirit of traditional Double Eviction disappointment, it could all fall flat.
After Kevin goes we'll have Christmas, Cody, Dani, David, Enzo, Memphis, Nicole, and Tyler all in the proverbial danger zone. Any of those two could go and from recent late-night talks it sounds like at least a few HGs are thinking it's time to turn it up and bypass the seemingly obvious choice of David, the last outsider.
There are so many possibilities here I'm hesitant to start ranking priorities for the HGs but I won't be surprised to see Christmas or Tyler targeted though I think Tyler will still have enough support to stay. Then if one of the two HOHs chickens out and nominates David the voters could do the same and send him out. Wasted opportunity if they do that.
Who do you think will be the most likely evicted HGs to follow Kevin out the door? Vote in our poll below for who you think will go, not who you want to go, and then share your thoughts in the Comments section below! Then be sure to join us back on Thursday night at 8PM ET for our live coverage of the Triple Eviction excitement for BB22.