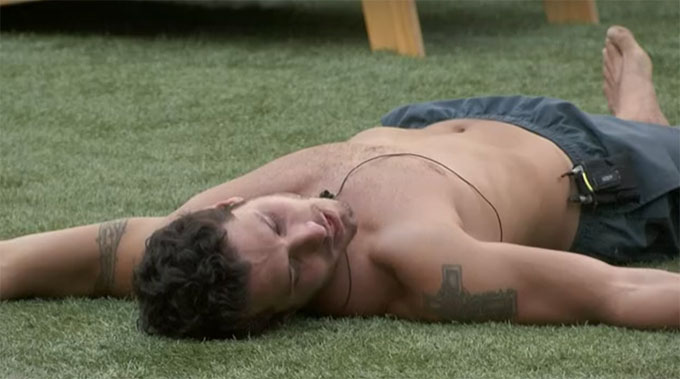 The Big Brother 22 houseguests spent most of Monday night hanging out while David did some light campaigning (he really wants to be there to see the kitchen table get smaller). As for us, we had to endure a lot of stars as production was taking some extra precautions to prevent back yard wall yellers from succeeding.
If you've got the Live Feeds (Free Trial) then you can watch all of these moments with the Flashback feature to go back and watch those important conversations or funny scenes you may have missed.
Big Brother 22 Live Feed Highlights – Monday, September 28, 2020:
3:40 PM BBT – Dani talking up their alliance to Christmas saying she can't believe they've almost all made it to Final 6. She says this could be the most successful alliance ever (good timing on Dani's part since Christmas is ready to go after her and Nicole).

3:45 PM BBT – Christmas, Dani and Nicole think they have to do a double eviction this week (it's a triple!).

4:19 PM BBT – David tells Dani he wants to see the kitchen table get smaller and asks if she will vote to keep him. She asks him if that's his pitch.

5:40 PM BBT – Christmas cam talks about her Tyler doubts. She says they have a Final 2, but he's tried to leave the game so many times she has a hard time wrapping her head round that. She says he has dishonored the game. She says Memphis has seemingly been more loyal to her than Tyler. She says she has a lot of respect for how he has done everything he has said he would. She then mentions Enzo talking Final 2 plans with her as well, but she thinks Enzo probably has a final 2 with Cody or Tyler.

5:44 PM BBT – Christmas says it's going to be very tough to figure out who to put up when she wins her next HOH.

5:50 PM BBT – Christmas says Nicole talks so openly about being in the Final 2 like it's a done deal. She says that's a ballsy thing for her to do.

5:58 PM BBT – Dani tells Memphis is annoying that they just have to do what Cody wants this week and can't even discuss their options. She says it kind of feels like Cody and/or Tyler have something with David, and that's why he's not an option to evict this week. Memphis says they can get David next round, but it is bothering him as well.

6:04 PM BBT – Dani says that if David wins HOH, he's putting herself and Memphis on the block. Memphis says 100 percent. They know that David won't touch Cody and Tyler, so that's why they're annoyed he can't go this week.

6:10. PM BBT – Indoor lockdown called. The HGs were just about to start playing volleyball. Might be suspected wall yellers again.

6:15 PM BBT – It sounds like production is playing music outside to prevent wall yellers, so we can't see the HGs when they're outside.

6:25 PM BBT – Enzo and Christmas think this week will be a double eviction or an endurance competition.

6:31 PM BBT – Christmas tells Enzo she doesn't see Dani or Nicole winning the next HOH. She says the wall comp was thrown to Dani so she really hasn't won anything (Christmas must not know about Dani's past competition record).

7:20 PM BBT – HGs have booze. They're opening wine and beer.

7:38 PM BBT – Nicole says she is feeling tipsy from the beer she drank.

7:51 PM BBT – David and Kevin are annoyed with Dani because she said this is the most chill week ever. They say yeah, because she's not on the block like they are.

8:00 PM BBT – Everyone is getting some dinner. Every time someone starts talking feeds cut.

8:08 PM BBT – Feeds keep cutting anytime HGs go outside.

9:00 PM BBT – Feeds keep cutting to stars.

10:55 PM BBT – Feeds are back.

11:30 PM BBT – General chatter among the HGs as they lament HNs and the lack of the random extra foods other seasons received along with Slop.

12:20 AM BBT – HGs have moved over to the kitchen. David mentions a HG last season being caught eating in the shower (Jackson). HGs discuss the yard being closed already so they expect something big is being built for Thursday.

1:15 AM BBT – Cody and Enzo have moved upstairs to the HOH room. They wonder who Christmas and Nicole would target. Cody wants to take out Christmas right away. Cody suggests to Enzo to nominate David with the $10K as an excuse.

1:20 AM BBT – Enzo and Cody agree that Dani will try to BD Tyler if she gest HOH.

1:45 AM BBT – Cody and Enzo have been reviewing details from the season and what's happened each week so far to prep for quiz comps.

1:55 AM BBT – Enzo suggests they skip targeting David and go for Dani instead. Enzo also worries that Tyler could be feeling neglected and shifting closer to Christmas. Cody thinks Tyler would go F3 with the two of them.

2:00 AM BBT – Enzo says if the vote isn't unanimous then he'll think it's Dani and Nicole making the rogue votes.

2:15 AM BBT – Enzo again brings up that Nicole has won before. Cody says Enzo is the only one that fixates on that.

2:25 AM BBT – Cody says Derrick was originally willing to play but then decided he would hurt Cody's chances so he backed out.

2:35 AM BBT – Cody tells Enzo his plan is to nominate Dani and Christmas the next time he gets HOH. Enzo worries about Memphis getting his hooks into Christmas. Cody discusses Memphis's Wise Guys alliances with Enzo and Christmas. Enzo says they need to get out Christmas to get Memphis back for themselves.

3:10 AM BBT – Cody says his ideal scenario would be Dani getting HOH to target Christmas then Tyler getting it next to target Dani.

3:25 AM BBT – HGs are finally going to bed.
Houseguests are preparing for what they expect to be a Double Eviction on Thursday but they'll be in for a surprise with the Triple instead. It'll be a messy night as the HGs are finally running out of easy targets and will be forced to turn on their own.
You can watch all of these Big Brother events using the archives Flashback, the DVR-like feature of this year's Live Feeds which means it's always live, even when you missed it! Sign-up now to get the free trial to watch it all live & uncensored.

Gallery: Live Feeds Highlights
Download our Big Brother App, join us on Facebook & Twitter, and get our Email Updates for more!