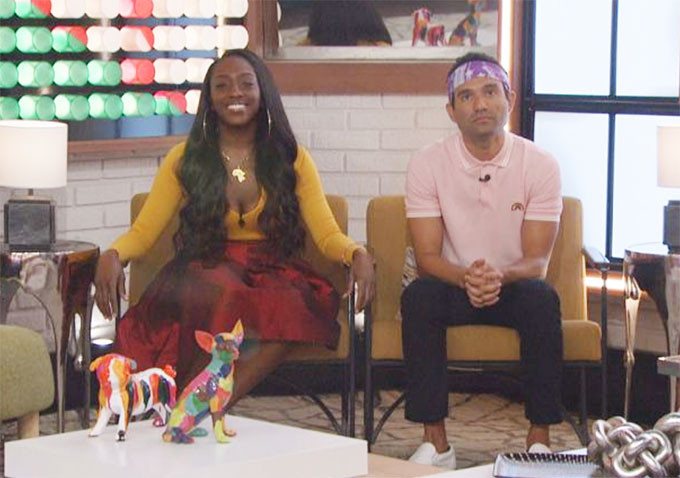 Big Brother 22 is officially into Week 8 of the season, so it's time for us to look back at Week 7 and award the one best and one worst moment of the week.
I have given up trying to pull out several best and worst moments of the week, because this season has been so predictable and disappointing, I was only coming up with worst moments. This way is much easier, and allows a more in depth look at each member. So let's get to it.
The Best Moment Of Week 7: Da'Vonne's Eviction Speech
For the second week in a row, Da'Vonne has the best moment honor. Last week it was the fact that she won her first-ever competition. But this week it is for delivering what I think might have been the best eviction speech in Big Brother history. Not only did she let the players know that she is taking with her to the jury house the idea that some of them weren't honest with her about their votes this week, she explained why she decided to come back for a third time.
"Cassandra Waldon was the very first houseguest to ever walk through those doors," Da'Vonne said as she stood to make her final plea. "She was a strong black woman. Danielle Reyes sat in these two chairs – iconic and legendary – she as well was a strong black woman, and almost won this game. The spinoff version – Celebrity Big Brother – Tamar Braxton, another strong black woman, won this entire thing by a unanimous vote.
"I had the desire to join the list of that women and be the first African-American to ever win this game," she continued. "Twenty-one seasons of winners and not one of those faces look like mine. So when I walked through those doors I had that desire, that determination to be the very fist face to to give hope to those behind me who have the desire to come in here and play this game. Because not seeing a face that looks like mine is very discouraging; it's hurtful, and it does make me feel like maybe it's impossible. But I'm wrong about that. Because it's definitely possible. We can do it. It just hasn't been done. Yet." 
Da'Vonne had a rough go at it this season. She tried to play the game differently, but she just wasn't allowed to even play. That dominate alliance – to quote her speech – filled with faces that do not look like hers, wouldn't let her. Her or her allies were on the block every single week, and anytime she or anyone outside that alliance tried to play, they were blocked and ganged up on. It was very hard to watch. But Da'Vonne maintained her class throughout it all and up to the last moment with that incredible speech.
The Worst Moment of Week 7: Memphis Wins HOH
When Memphis won Head of Household this week, I found myself scream "F—!" at my screen for the third week in a row. All I wanted was a power shift. Just once. OK, I'd want it more than just once, but with how this season has gone, I'd be fine with it just once. Because we only have one more chance for it to even happen, and that's this week. David or Kevin have to win HOH, and even then it's not really a power shift. It just means someone from the big alliance finally has to get evicted. And even that isn't 100 precent considering how easily David is swayed. He would probably put up Kevin.
My point is, we just can't have nice things this season. And I know I'm sounding like a broken record, but I just don't enjoy watching the same alliance win every single HOH and dictate every move in the game. We don't even get vote flips. As soon as the nominations are made, the target is decided on and it never changes. That is all so incredibly boring.
At least with Da'Vonne gone, and Kevin sure to follow, the big alliance will have to turn on each other. I don't really care who turns on whom, or who goes or stays, or even who wins. But at least they're going to have to fight each other to get to the end now.
What did you think of Big Brother 22 Week 7? What were your favorite moments and least favorite moments?