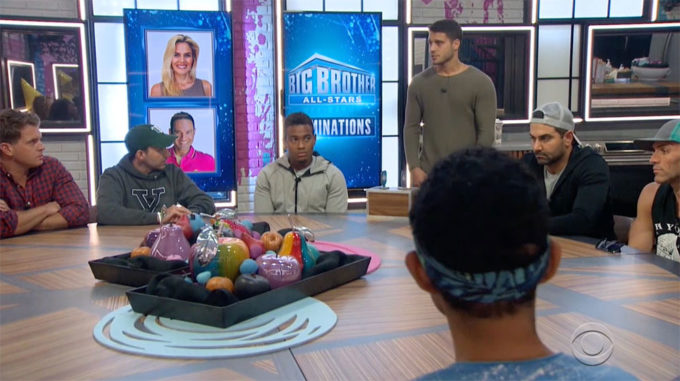 We are in the final stretch of Week 1 of Big Brother 22, and after the Veto Ceremony yesterday, we have all the information we need, aside from who is going home on Thursday. So this is your one-stop spot for everything that has gone down so far this week.
Head of Household
Unless you're just now tuning in, we all know that Cody won the first Head of Household.
Safety Suite Competition
Only Kaysar and Janelle decided to compete in the Week 1 competition. As we saw on Sunday night's episode, Kaysar won and chose Janelle as his plus one for safety.
Nominations
Since Kaysar and Janelle are safe this week, Cody had to rethink his nomination plans. He ended up going with Keesha and Kevin because he has talked to them the least.
Power of Veto
And now onto some actual spoilers. The Power of Veto results won't air until Wednesday, but we have those results now. Joining Cody, Keesha and Kevin in the competition was Enzo, Ian and Tyler. It sounds like Keesha lost by one point to Enzo. Cody has told Enzo to just keep the nominations the same, so that's likely what will happen. As of now Cody would rather Keesha go home, but talk around the house isn't so exact. Some want Keesha to stay, some want Kevin to stay. Thursday is still a few days away, so the decision will probably be un in the air until then.
Veto Ceremony
The veto ceremony is going down sometime later today, but as of now, there's no plans for Enzo to use the veto. Cody doesn't want to make a third nominee and no one is really making waves because they're all smart enough to know how the game works. That's the one thing about All-Stars, we won't see anyone acting a fool before veto ceremonies this season.
So that's the roundup of events leading up to Week 1's live eviction. Right now it looks like Keesha might be in trouble, but Kevin still has to fight to secure his votes. It's disappointing that one of two players who we haven't seen on our screens in a long time will be going home first.
Click to view larger