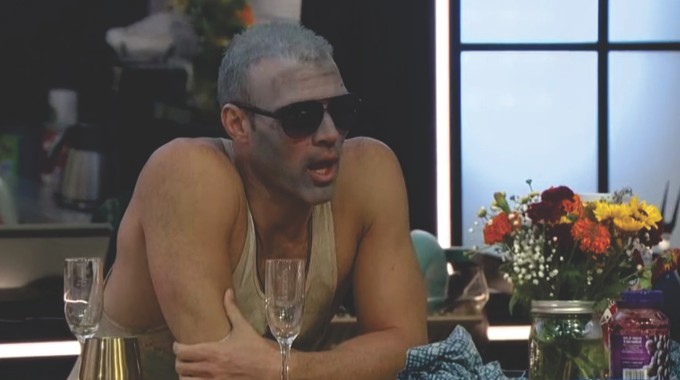 What a night on Big Brother 22. We saw the F3 revealed after Christmas's eviction followed by the hidden Round 1 competition for the Final HOH and then learned all about it from the HGs reactions through the night. Now we're set up for this week's Round 2 comp before we head to the season finale next Wednesday. Read on for all the talk from overnight in the BB22 house.
If you've got the Live Feeds (Free Trial) then you can watch all of these moments with the Flashback feature to go back and watch those important conversations or funny scenes you may have missed.
Big Brother 22 Live Feed Highlights – Thursday, October 22, 2020:
10:36 PM BBT – Feeds are back. HGs are messy. Nicole is showering.

10:40 PM BBT – Enzo and Cody are complaining about how difficult the comp was. Enzo sounds to have been nauseous from the spinning. Cody was getting hurt slamming into the wall. Neither sound confident about their performance. They say it lasted about 30-35 mins.

10:45 PM BBT – Enzo says to himself he has to beat Cody, it's his fate.

10:50 PM BBT – Nicole, alone in the kitchen, quietly celebrates her win of the first round HOH comp.

10:55 PM BBT – Cody talking with Nicole and says he was hitting the wall over and over but she never seemed to hit it. She pointed out he picked his own rope first.

11:05 PM BBT – Cody said he thought he'd be able to stay up there all night when he saw the comp then it started and he struggled. He thought Enzo was doing okay then suddenly he was done. (Enzo was out first, Cody second, and Nicole won R1).

11:20 PM BBT – Nicole says Christmas would have held on tight for that one so they cut the right HG. (Huh? The HG they kept won it so…)

11:50 PM BBT – Enzo is frustrated and discouraged. He says he doesn't have a shot and he hates showing weakness. Cody encourages him.

12:05 AM BBT – Enzo mentions getting sick earlier (from the spinning) and feels it's coming back.

12:35 AM BBT – Cody and Enzo discuss R2 coming up. Enzo thinks it'll be Sunday but Cody expects it on Saturday (I agree with Cody).

12:40 AM BBT – Nicole worries that Victor looked sad in his video to her.

12:45 AM BBT – Enzo mentions he fell in about 15-20 mins on the comp. He feels bad they spent hours building it then the HGs only lasted 30 mins.

1:15 AM BBT – Enzo jokes he wonders how he'll be embarrassed by the next comp (R2).

1:25 AM BBT – HGs discuss Ian and whether he was with Nicole. Nicole and Enzo think Ian was supporting Nicole but Cody says Ian was only looking out for himself. Cody doesn't understand why Nicole stood up for Ian. Nicole points out she voted Ian out and Cody says she didn't have to do that.

1:35 AM BBT – HGs say they wish they could watch the roundtable debate. Enzo notes the Jurors all think they know what's going on in the house but they're the ones in Jury instead of the game.

1:40 AM BBT – Nicole wishes the winner was decided by a coinflip instead of a Jury decision. She doesn't think she has support in the Jury. (This sounds like strategic downplay talk.)

2:15 AM BBT – HGs still awake and chatting about the season and their past seasons.

2:45 AM BBT – Lights out for the F3.
Enzo is in danger, yo. He's got a snowball chance at winning Round 2 against Mr. Athletic who has been killing these physical+mental. Anything is possible but I'll be shocked if Cody loses in Round 2. Then it'll be Nicole & Cody in R3 on finale night with Enzo watching and hoping for someone to drag him to the end. Well, Enzo has no one to blame but himself for this situation. Oops.
You can watch all of these Big Brother events using the archives Flashback, the DVR-like feature of this year's Live Feeds which means it's always live, even when you missed it! Sign-up now to get the free trial to watch it all live & uncensored.


Download our Big Brother App, join us on Facebook & Twitter, and get our Email Updates for more!