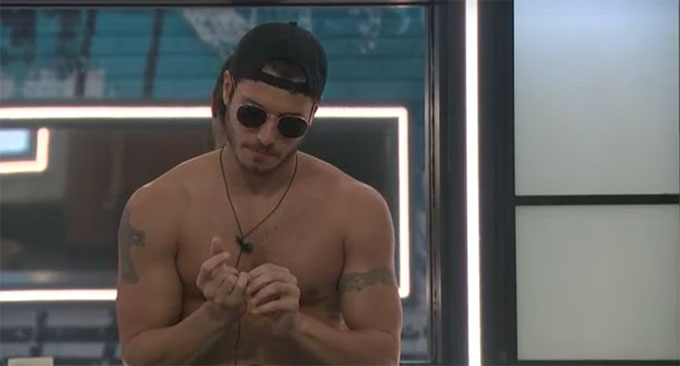 It was a quiet night in the Big Brother 22 house as Christmas and Tyler took the evening off from campaigning. We can expect them to ramp up the campaigning more tomorrow as the next eviction approaches. Everyone else spent the evening studying for the upcoming competitions.
If you've got the Live Feeds (Free Trial) then you can watch all of these moments with the Flashback feature to go back and watch those important conversations or funny scenes you may have missed.
Big Brother 22 Live Feed Highlights – Monday, October 5, 2020:
3:21 PM BBT – Cody tells Nicole they just have to win HOH and veto so they can control what happens.

3:22 PM BBT – Nicole and Cody discuss the vote. They go back and forth on Tyler and Christmas's pros and cons, but in the end they decide that Tyler needs to go now while they have the chance. Nicole said if she were to vote personally, she would vote out Christmas, but she can't vote out of anger so she thinks Tyler should go.

3:23 PM BBT – Cody says that Tyler would be fast to throw either of them under the bus. Nicole tells Cody that he has done so much for her that if they're on the block together he better stay over her.

3:34 PM BBT – HGs wonder what America voted on this season (nothing!). They wonder if Dani or Janelle were America's Player. Enzo thinks David was America's Player.

3:40 PM BBT – Nicole is using the backgammon board to study days and events in the house.

4:07 PM BBT – Nicole, still alone, says Tyler is really nice and anything she said about him she takes back. She said she was just really upset about the triple. She says he is a good guy and has a good heart. She says she's just never trusted him in the house. But she says he's really nice and checks on people. She says he's a good dude.

5:13 PM BBT – Memphis pushing a new injury now: he hurt his ankle.

5:48 PM BBT – Enzo is alone, studying the days and events for any possible upcoming competitions.

5:50 PM BBT – Enzo says to himself if he wins the next HOH he has to clip Nicole. He says if not Nicole then who … he doesn't answer himself on that one.

6:08 PM BBT – HGs hanging out, preparing dinner. Small talk going on, but nothing major.

8:02 PM BBT – Nicole is over being a have-not. Christmas is making her slop fried rice. Nicole says she wishes America still voted on the bonus food have-nots could have (so do we).

8:36 PM BBT – HGs are outside so we only get to see Nicole reading the Bible. We apparently aren't allowed to see them outside because of possible yellers.

9:22 PM BBT – Everyone is still quiet or outside. Cody goes inside to warm up a leftover hotdog.

9:40 PM BBT – Nicole has been alone in the HN room closing her eyes and appears to be going over something in her head.

10:10 PM BBT – Cody and Memphis are upstairs. Cody says he thinks Tyler would nominate the two of them together if he had the chance. He complains about having to talk with Christmas and keeps hoping someone will come break up their conversations when she corners him. Memphis says he already told Tyler he was going this week.

12:05 AM BBT – HGs are leaving the backyard to come in for the night.

12:20 AM BBT – Memphis camtalks to his fans to vote him for AFP.

12:30 AM BBT – Christmas and Memphis were chatting about being bored and wanting to get more games to keep them busy. They call it a night and turn out the lights.

1:10 AM BBT – Enzo and Tyler discussing the vote. Tyler says Nicole told him if Cody and Enzo want to keep Tyler then she'll do that too. Tyler asks Enzo to tell Cody to keep him.

1:25 AM BBT – They talk about the danger of winning F5 HOH and then not being able to play the next, critical F4 HOH. Enzo thinks Cody could end up winning that one.

1:30 AM BBT – Enzo mentions in his season when Hayden took Lane over him because Hayden thought the Jury liked Enzo too much. Tyler says he was taken to the end and so was Nicole.

1:45 AM BBT – Lights out for the night.
These are becoming quiet days in the game as the eviction decisions are being made early and despite Tyler's efforts, he won't be able to sway it. Tyler will be the next one out and we'll be on to the F5.
You can watch all of these Big Brother events using the archives Flashback, the DVR-like feature of this year's Live Feeds which means it's always live, even when you missed it! Sign-up now to get the free trial to watch it all live & uncensored.

Gallery: Live Feeds Highlights
Download our Big Brother App, join us on Facebook & Twitter, and get our Email Updates for more!