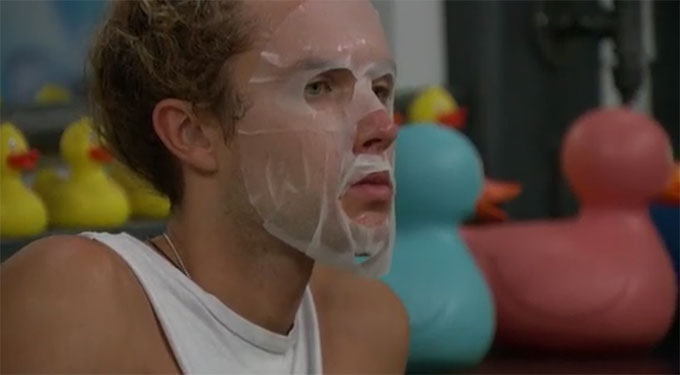 It was a quiet night in the Big Brother 22 house following the nomination ceremony. With only six houseguests left, there's not a lot to say or do. Cody and Nicole talked about winning the veto and keeping nominations the same, but struggled over which nominee will be best to send out.
Memphis has his sights set on Tyler, however. But Enzo is once again in the middle. But of course, all this can change if the veto is used. Read on to find what everyone is thinking ahead of today's Power of Veto competition.
If you've got the Live Feeds (Free Trial) then you can watch all of these moments with the Flashback feature to go back and watch those important conversations or funny scenes you may have missed.
Big Brother 22 Live Feed Highlights – Friday, October 2, 2020:
4:06 PM BBT – Feeds cut for the nomination ceremony.

5:01 PM BBT – Feeds return. Cody nominated Tyler and Christmas.

5:03 PM BBT – Christmas says to Tyler "F-ing Enzo." She says it didn't make any sense for him not to vote out Nicole since he's been saying to get her out the whole time. Tyler says he thinks Enzo is going to be mad at himself for not doing it.

5:05 PM BBT – Tyler tells Christmas that he is confident that they can pull this off and both stay this week.

5:08 PM BBT – Nicole asks Christmas if she is OK. Christmas says yeah, there are only five of them to choose from. Nicole tells her to kick ass in the veto.

5:09 PM BBT – Nicole tells Cody that he was nice and spoke well in his nomination speech. Nicole says she wouldn't have handled it that way since they tried to vote her out.

5:10 PM BBT – Nicole says Christmas came to talk to her and blamed the vote all on Tyler. Nicole says she kinds of believes her because she was crying and everything. Cody says she did the same thing to him. Cody says he thinks they were both lying because he saw Christmas and Tyler talking right after the veto and Christmas said she didn't talk to him until right before the vote.

5:11 PM BBT – Nicole asks Cody why Christmas is trying to blame Dani. Cody says because he asked Christmas if Dani was behind this. Nicole wonders if Dani did set it up. Cody said he thought maybe that Dani told Tyler and Christmas to vote out Nicole then didn't do it herself. But they agree Tyler should have thrown Dani under the bus and he didn't. Nicole says so Dani is innocent. Cody says that Dani is innocent on that but she's not innocent overall.

5:12 PM BBT – Cody says either him or Nicole needs to win the veto so they can figure it all out. Cody says he thinks they could try to pin this on Enzo like they did Dani. But Christmas told them Enzo was innocent.

5:14 PM BBT – Nicole says they got caught and now they're up. Cody says they made it obvious they have a thing together, so they can't be surprised they're on the block together.

5:15 PM BBT – Nicole tells Cody she wants to win the veto so she can make a speech and say she's not using the veto on them. She says she wants a chance to actually talk on an episode.

5:22 PM BBT – Cody tells Christmas that he doesn't have it out for her and he's still just just trying to get clarity on what went down with the vote. Christmas says she's not taking this personally but it's just been a hard two days.

5:28 PM BBT – Nicole tells Enzo that she was trying to talk to Cody and Christmas already came up. Enzo says she just never stops and says it's just too much.

5:33 PM BBT – Nicole says that Christmas is already turning on Tyler by blaming the vote all on him. Enzo says she told him the same thing, that it was all Tyler's fault and Tyler is saying it was all Christmas's idea.

5:36 PM BBT – Enzo tells Nicole that he doesn't think Memphis will use the veto. They talk about how good Memphis is doing at comps and Enzo says he definitely came here to play.

5:39 PM BBT – Nicole asks Enzo if they should get rid of Tyler since he's all over the place now. They agree they can talk about it later. Enzo says he's just undecided because Christmas is just so much and he doesn't trust her anymore.

5:40 PM BBT – Enzo says it might be best to send Christmas out to break up her and Memphis and then Memphis can go after Tyler for them.

6:11 PM BBT – Tyler tells Enzo the best-case scenario is Enzo wins veto and uses it on him and Cody is forced to put Memphis on the block. Tyler says and then he will vote out Christmas to appease Cody.

7:00 PM BBT – HGs are just hanging out. Nothing much going on.

7:35 PM BBT – Tyler and Enzo talk about how they only have three weeks left. Tyler says he cannot wait.

8:35 PM BBT – Christmas has been talking to herself for a bit. She says Cody can't get to the end or he will win. She thinks Nicole can win too.

8:57 PM BBT – Memphis tells Enzo if he wins veto nominations stay the same. Memphis says they vote out Tyler, but what do they do if Cody says Christmas has got to go… Memphis says they need to push for Tyler to go. Cody says the best case for them is Christmas wins veto. He says that would also make Cody show his hand with who his replacement nominee would be. He thinks he would put Nicole up as a pawn if Christmas comes down.

8:59 PM BBT – Memphis does admit he's upset with Christmas because Nicole told him Christmas and Tyler told them to flip the vote on her. Memphis says always wanted David out.

9:05 PM BBT – Nicole tells Cody that Dani was the reason why Janelle turned on Tyler and Cody so then Dani had to turn it around and go after Janelle.

9:10 PM BBT – Enzo, Memphis, and Cody are rehashing the TE vote when Tyler and Christmas tried to vote out Nicole. Memphis says Christmas has been blaming her VTE-Nicole vote on him and he doesn't like it. They're all feeling frustrated by Christmas's behavior but laugh at her attempts to say she was blindsided by that vote. They know she's lying about being confused because they saw her and Tyler go into the Lounge and talk just before the vote so they know it was planned.

9:15 PM BBT – Memphis says Tyler is the top target this week. They agree once the Veto is done then they can figure out their plan between either Tyler or Christmas.

9:25 PM BBT – Enzo mentions that Dani and Christmas were arguing during the live show voting.

9:55 PM BBT – Enzo tells Cody that Memphis had warned him how Tyler and Christmas are shifting blame to him (Enzo).

10:00 PM BBT – HGs are gathered upstairs and retelling stories from their seasons.

10:50 PM BBT – Christmas tells Memphis she's worried he'll be a renom in her spot if she comes down. She suggests he should throw the next HOH to her if it comes down to their Wise Guys alliance (with Enzo).

11:35 PM BBT – Tyler tells Enzo he thinks Cody nominating him over the Nicole vote is just an excuse. He knows he needs to win Veto or that's it for him.

11:50 PM BBT – Tyler worries about going to the Jury house and everyone there applauding his arrival.

11:55 PM BBT – Tyler tells Enzo he thinks the votes will be Enzo to keep Tyler but Memphis and Nicole vote him out. Then Cody will pretend to be mad at Nicole to convince Enzo not to put him (C) up. Tyler warns Enzo that they need to take Nicole away from Cody.

12:15 AM BBT – Cody has been upstairs camtalking. He wishes he knew what Derrick would want him to do right now. He stresses his need to win Veto this week but also worries he could be winning too many comps.

12:40 AM BBT – Cody cuts out the light. HGs are all off to bed.
We're down to the stage where alliances are cutting each other and that's going to keep us busy for the next few rounds. Saturday's Veto could have big consequences for the game but if Cody wins it the noms hold steady and Tyler is out the door to Jury.
You can watch all of these Big Brother events using the archives Flashback, the DVR-like feature of this year's Live Feeds which means it's always live, even when you missed it! Sign-up now to get the free trial to watch it all live & uncensored.


Gallery: Live Feeds Highlights
Download our Big Brother App, join us on Facebook & Twitter, and get our Email Updates for more!