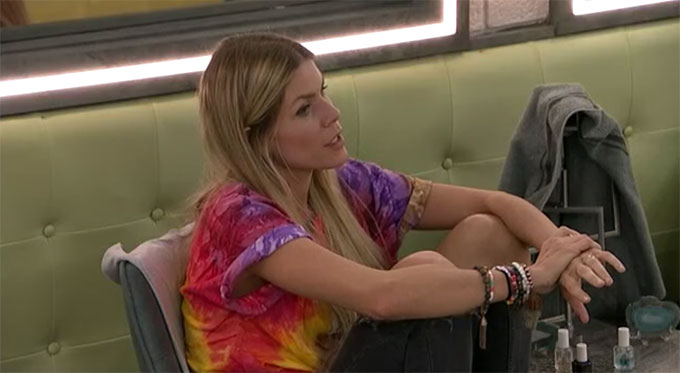 Like most Big Brother 22 Eviction Eves, much of the night was spent talking about the next target(s) instead of the current one. That's because there's never going to be any hope for a flip. And this time the houseguests know there is at least going to be a double eviction this week. But a few are pretty sure they're in for a triple.
But who are the targets going to be? Nicole spent most of the night throwing Dani under the bus so that she can survive if she's sitting next to Dani on the block. Do Dani could be in danger. But a conversation between Enzo and Tyler suggests maybe Nicole isn't as safe as it seems. Read on to find out what everyone is thinking ahead of tonight's historic triple eviction.
If you've got the Live Feeds (Free Trial) then you can watch all of these moments with the Flashback feature to go back and watch those important conversations or funny scenes you may have missed.
Big Brother 22 Live Feed Highlights – Wednesday, September 30, 2020:
3:34 PM BBT – Cody tells Tyler that he knows Dani was feeling around to see if David can go. But he says he told her David is lost in the game and it would be crazy to send out him over Kevin. He says he thinks there could still be an attempt but he knows the votes aren't there to flip.

3:36 PM BBT – Tyler and Cody agree that David is so all over the place that he could actually nominate them, but they don't think he's ever going to win a competition. Cody says David doesn't even know what competitions are even like at the second half and end of the game.

3:48 PM BBT – Cody and Tyler discuss going after Dani this week. Cody said he wouldn't keep her if she was one the block. Tyler thinks Cody, Enzo, Christmas and Memphis would vote Dani out if she's on the block. Tyler says he doesn't want to put Nicole and Dani up because then Nicole will be after him. He says he would do Dani and David but fears Nicole would use the veto on Dani. Cody says he thinks they could get Nicole to not use the veto on Dani.

3:52 PM BBT – Tyler says if he does put up Nicole and Dani and Dani wins veto he would put up David and then what would they do, just vote David out? Cody says they would have to ask themselves if it was right to out Nicole.

4:30 PM BBT – HGs are hanging out, playing games, napping. Nothing going on.

6:32 PM BBT – Enzo and Tyler think if Nicole ends up next to David on the block they will send her out. Enzo says this week has to be a double. He says there are too many people left.

6:44 PM BBT – Christmas tells Nicole she doesn't think Dani wants to take the shot at her (C). She said she wants someone else to do it. Nicole says Dani is scared of Christmas as a competitor. Nicole tells Christmas that she's on her side, not Dani's. Nicole says Dani turned on her first (she didn't).

6:45 PM BBT – Nicole says she knows Dani is going to hate her when she finds out she told Christmas Dani wants her out. Nicole says she feels guilty for telling Christmas but is close to her than Dani.

6:50 PM BBT – Nicole tells Christmas that Dani only cares about herself. She said that's why she couldn't let Christmas go on Cody's HOH this week.

6:52 PM BBT – Nicole lets Christmas know that if she nominates Dani and wins the veto she will not save Dani with it. Christmas says there is no way Dani is going to win the veto.

7:10 PM BBT – Memphis tells Dani that Kevin has got to go. He says he feels bad for how many times Kevin has been on the block but he has to go. He says he wishes they could both go.

9:04 PM BBT – Christmas is worried about David sticking around too long to be the ultimate pawn.

9:25 PM BBT – Tyler and Memphis are trying to figure out who Dani or Nicole would target in a DE. They think Dani would go for Enzo and David or Tyler and Christmas. Then Nicole would go for David and Enzo.

9:35 PM BBT – Christmas stresses to Memphis that Dani is spending too much time with the nominees before eviction. Christmas wants to make sure it's still Kevin going. Memphis agrees with the plan.

9:40 PM BBT – Christma wonders if it will be a Triple Eviction but Memphis suggests that would be too messy to do. She is upset with both Dani and Nicole and wants to make sure Dani doesn't make the move on her first. Christmas thinks she'd stay over either Tyler or David so she doesn't think Dani would try to put her up.

9:45 PM BBT – Memphis suggests the plan for Nicole winning would be to use that time to get out David then she isn't playing the next round.

10:05 PM BBT – Cody and Memphis are meeting in the HOH room. They see everyone panicking but they aren't stressed. Cody expects Dani to be playing hard for the HOH. Both agree they have positioned themselves well to survive the pending chaos.

10:10 PM BBT – Memphis can't believe production would have tipped them off to a Triple Eviction by letting Dr. Will's message play the "think three steps ahead" comment. (I can't believe it either…)

10:15 PM BBT – Cody and Memphis suspect Nicole is throwing comps including OTEV and playing for Jury votes.

11:20 PM BBT – David and Kevin are rehashing the first few evictions with Keesha, Nicole A, Janelle, and Kaysar.

11:35 PM BBT – Memphis and Christmas speculate tomorrow could end up being a normal eviction. Christmas is looking forward to being able to compete for HOH.

11:50 PM BBT – Dani and Nicole expect it could be a Double Eviction plus a Fast Forward week to get four out in seven days. Dani points out Dr. Will said three people would be leaving. They agree that at this point there is no Battle Back happening.

11:55 PM BBT – Dani says she is loyal to the Core 4 but not The Committee. Nicole says she thinks she's the same.

12:00 AM BBT – HNs ends and the HGs celebrate and start eating with Enzo and Kevin.

1:40 AM BBT – Dani asks Cody if she would vote out Christmas over Tyler. He says he would. Cody mentions Memphis still wants David out. Dani expects David to nominate her and Nicole.

1:50 AM BBT – Dani says she was encouraging Nicole to make a big move but she isn't sure she will. Dani doesn't think she would put up Enzo.

1:55 AM BBT – Cody expects Christmas to be an easy target for a Double Eviction.

2:00 AM BBT – Cody says Tyler is making him a little nervous. Dani expects Christmas is Tyler's real ride or die. Then she says, if they get Christmas out Cody can get Tyler for them.

2:15 AM BBT – Dani thinks Nicole would put up either Christmas & Tyler or David & Enzo. She says if Tyler and Christmas aren't together then one can save the other.

2:55 AM BBT – Lights are finally out for the night.
HGs won't be shocked by tonight's scramble for the Triple Eviction thanks to production pulling back the curtain early but it should still be entertaining. Christmas and Dani both look to be in a lot of danger while Kevin remains a lock for the first eviction of the night.
You can watch all of these Big Brother events using the archives Flashback, the DVR-like feature of this year's Live Feeds which means it's always live, even when you missed it! Sign-up now to get the free trial to watch it all live & uncensored.

Gallery: Live Feeds Highlights
Download our Big Brother App, join us on Facebook & Twitter, and get our Email Updates for more!