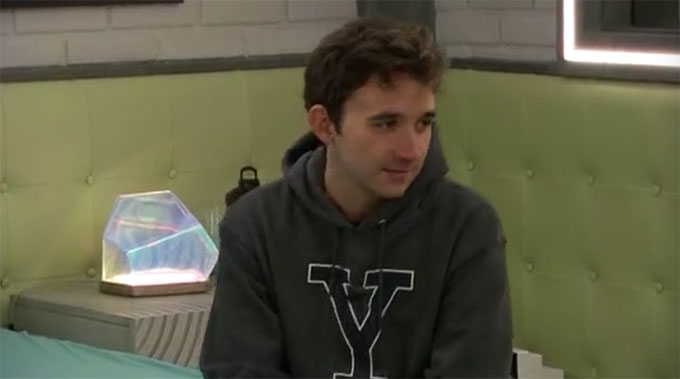 The Big Brother 22 houseguests have officially reached the jury portion, so we might start seeing some new moves and power shifts. Will it start this week with the new Head of Household? Read on to find out what her early plans might be for this week.
If you've got the Live Feeds (Free Trial) then you can watch all of these moments with the Flashback feature to go back and watch those important conversations or funny scenes you may have missed.
Big Brother 22 Live Feed Highlights – Thursday, September 10, 2020:
7:41 PM BBT – Feeds return after the endurance Head of Household competition. Dani is the new HOH.

7:42 PM BBT – Christmas is celebrating Dani's win in the storage room.

7:50 PM BBT – Da'Vonne tells David she doesn't feel safe but doesn't feel endangered either. David says he'd rather get put up outright than be backdoored. Da'Vonne asks if he wants her to talk to Dani. David says for him, no.

7:58 PM BBT – Da'Vonne and David move their things to the Have-Not room. They, along with Ian are the new Have-N0ts.

7:59 PM BBT – Ian gets to work making slop for the Have-Nots.

8:00 PM BBT – Enzo and Cody talk about Da'Vonne's performance in the HOH comp. They say it wasn't even like 5 minutes before she dropped. Enzo says he'd self-evict.

8:05 PM BBT – Cody asks Dani if she thinks Tyler threw the HOH comp. She says she doesn't then asks Cody what Tyler said to him right after the show. Cody says he didn't. Dani said he did because she say it. Dani tells Cody not to lie or she will put him on the block. Cody says he has no clue what she's talking about.

8:16 PM BBT – Nicole tells Tyler this should be a good week for them. Tyler agrees and says when the four of them were the ones left on the wall he thought they're running this game.

8:40 PM BBT – HGs are grabbing some food, taking showers and chit-chatting.

8:48 PM BBT – Christmas says she's seeing little light specks and doesn't feel great.

8:50 PM BBT – Nicole laying in bed talking to herself but then the feeds switch.

8:58 PM BBT – Ian tells Nicole he's embarrassed about losing HOH. He says he doesn't mind being on slop though. Ian asks Nicole who she thinks will go up. She says she hasn't even talked to Dani but she thinks probably David and someone else. Ian says as long as it's not either of them.

9:05 PM BBT – Ian mentions to Nicole what if Dani puts them up.  She says that would be the ultimate betrayal. Ian says maybe he will win veto this week. He's not happy he hasn't won anything yet.

9:10 PM BBT – Da'Vonne tells Kevin that Dani had her eyes on David or Tyler the whole competition but not him, so that's a good sign.

9:11 PM BBT – Da'Vonne says before Dani went to the Diary Room after the competition she told Da'Vonne she's safe this week and to not worry about anything. Kevin asks if she thinks he's in jeopardy. Da'Vonne says she thinks David and Tyler might be but she doesn't know about him.

9:25 PM BBT – HGs getting their beds ready and waiting for Dani to come out of the Diary Room.

9:45 PM BBT – Enzo wants Day on the Block for only lasting a few mins in the comp. Tyler worries he could be BD'd.

10:55 PM BBT – Nicole asks Dani who she's going to put up and she says Kevin and David to start the week (David has his power). She feels bad about telling Kevin he's okay while planning to nom him.

12:05 AM BBT – Feeds are back from Dani getting her HOH room.

12:25 AM BBT – Dani asks Day what she would do for noms. Day wants to nom Christmas and Tyler then tell Christmas she's just a pawn. Dani says Tyler can't be trusted. Day asks if Dani is nervous about taking a swing at Tyler. Dani says you can't miss if you're going to swing at him.

12:30 AM BBT – Dani says Ian isn't a threat and she likes Kevin. She tells Day to play along with Christmas.

12:35 AM BBT – Dani tells Day she will not be putting her up.

12:40 AM BBT – Dani suggests they talk to Cody about Tyler and ask him if he wants a repeat of his experience with Derrick.

12:40 AM BBT – Ian and Enzo discuss making it to Jury and that they'll be around for this until the end of October now.

1:30 AM BBT – Dani is trying to guess what the secret powers may be and wonders if they're all HOH related. She thinks Ian has one of them.

1:35 AM BBT – Nicole is crying that she's been misunderstood as mean in the house. She says she won't joke or laugh anymore. Christmas worries about how she was portrayed in the argument earlier this week.

1:35 AM BBT – Dani and Cody think this week will be a Double Eviction. Dani does not want to use her repeat HOH power because she expects the next comp to be Q&A and feels she's bad at that.

1:45 AM BBT – Cody and Dani discuss Ian and the threat he presents in the game. She thinks Ian threw the comp tonight and he has ruined Nicole's game.

2:05 AM BBT – Day and Kevin discuss who would go after Dani. Day thinks Enzo would help. Day says she doesn't trust Dani.

2:25 AM BBT – Cody mentions he was invited to play Amazing Race twice, once with Zach and then with FG, but declined both.

2:55 AM BBT – Cody tells Enzo he was going to drop before Nicole but then waited and dropped immediately after. They say it's better to let Dani doing the nominating this week.

3:45 AM BBT – Dani and Cody are upstairs chatting. She's telling him she saw Tyler in the bathroom whispering into Cody's ear just before the HOH comp. Cody says she's lying and there was no one in the bathroom when he hurried in and out. Dani insists it happened and she saw him.
Dani has said there's no backup plan to her noms of David and Kevin but David's hidden power probably feels differently. She may be going for another target this week while using two pawns upfront, hello Backdoor, but I don't think she'll be able to use David as part of that plan. So who will be the alternate? The field of options is narrowing but we'll find out later today on BB22!
You can watch all of these Big Brother events using the archives Flashback, the DVR-like feature of this year's Live Feeds which means it's always live, even when you missed it! Sign-up now to get the free trial to watch it all live & uncensored.

Gallery: Live Feeds Highlights
Download our Big Brother App, join us on Facebook & Twitter, and get our Email Updates for more!