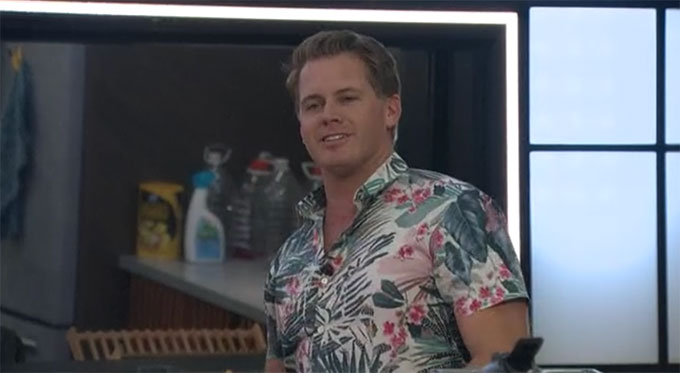 It's officially Week 2 in the Big Brother 22 house. There's a new HOH and a new set of targets. Well, maybe a new set of targets. Or maybe an old set of targets. A lot of people have a lot of different ideas. But what does the new HOH think? Read on to find out.
If you've got the Live Feeds (Free Trial) then you can watch all of these moments with the Flashback feature to go back and watch those important conversations or funny scenes you may have missed.
Big Brother 22 Live Feed Highlights – Thursday, August 13, 2020:
6:14 PM BBT – Feeds return after the live show.

6:20 PM BBT – HGs are excited because they got some alcohol.

6:28 PM BBT – The HGs have a toast for surviving Week 1 in the BB22 house.

6:36 PM BBT – Nicole F is worried Memphis will want to target Ian and tells Christmas that Ian has to stay this week because she can get him to vote with them.

6:40 PM BBT – Nicole F complains about Janelle making the game personal. She tells Christmas that Janelle is coming after her (Christmas) because she's a strong player. They wonder if Memphis would be brave enough to go after Janelle. They don't think he will so Nicole F says she would like to get Nicole A out and refers to her as the "tail of the snake."

6:53 PM BBT – Da'Vonne and Kevin shake on their alliance. It's them and Nicole A. Kevin wonders if there's a girl's alliance. Day says if so she's not in it and doesn't think Nicole A would be in it either.

6:56 PM BBT – Janelle and Dani making fun of their performance thus far. Janelle says she can't even win a True or False competition anymore. Dani says she's been so irrelevant she's only had two DR sessions.

7:08 PM BBT – Christmas and Kaysar have a talk. He tells her he likes her and that she's good with him. Christmas gets choked up because she's homesick.

7:30 PM BBT – Christmas and Kaysar have been talking about who they could work with. He tells her that Janelle really likes her (countering what Nicole F told her earlier).

7:46 PM BBT – Some of HGs discussing how they feel with Memphis being HOH. Kevin asks Ian if he's anxious. Ian says he's always anxious. Ian says Memphis winning is a wildcard and he find that exciting. He says Memphis hasn't talked game with a lot of people so it will be interesting to see what he does.

7:59 PM BBT – Ian asks Kevin what he thinks Keesha meant by saying she wishes most of the HGs well. Kevin said he asked her and she said she just wanted to stir things up because everyone is being boring.

8:01 PM BBT – Kevin asks Ian and Nicole A if they will be doing the Safety Suite competition. Ian says he's not sure because this is just the biggest wildcard HOH. Nicole A says she's not sure she is either.

8:13 PM BBT – Cody asks Bayleigh how she feels with Memphis. She says she thinks they're OK. Cody says the only name Memphis has mentioned is Ian. Bayleigh thinks that would be a good target. Cody agrees and says he likes Ian but he's already won once.

8:16 PM BBT – Some of the HGs discuss BB15 and call it the racist season. Memphis says he didn't watch it but remembers it being on the news.

8:30 PM BBT – Janelle tells Nicole A she feels safe with Memphis because she was close with Keesha. Janelle thinks anyone who crossed Keesha will be in trouble with Memphis.

8:35 PM BBT – Nicole A asks Janelle who she is after. Janelle says there's no need for her to say but if she was in power she would get with her and talk about what they need to do.

8:45 PM BBT – Cody warns Nicole F that Memphis might target Ian. She says she knows but thinks that sucks. Nicole says if Ian goes home then they lose someone she could use on their side. Nicole F says people will use the safety on Janelle if they win it. Cody says if someone saves Janelle then they'd be on the block next to Janelle the following week if he wins HOH.

8:50 PM BBT – Nicole says she wants David up as a pawn. Cody says he doesn't think they should do that. Nicole says she didn't win so she doesn't get to choose anyway.

8:57 PM BBT – Cody says he knows Memphis wants to go after Ian. Nicole F says that's fine but they are going to save Ian.

9:40 PM BBT – Enzo and Dani discuss possible noms for Memphis and think he'll put up Kevin, Nicole A, or David. They wonder if Memphis will be trying to BD Ian.

9:55 PM BBT – Memphis got his HOH room and goodies.

10:15 PM BBT – Memphis talks with Christmas, Dani, and Franzel. He wants two of their people to play in the Safety Suite comp to throw off alliance suspicions.

10:30 PM BBT – Cody joins the conversation and suggests David and Nicole A for the noms. Memphis mentions Ian.

10:35 PM BBT – Memphis is more concerned with Da'Vonne and Bayleigh than he is with Janelle and Kaysar.

10:40 PM BBT – Franzel talks with Ian and worries Nicole A is getting close to Janelle, but Ian dismisses the idea. Franzel says no one has mentioned Ian yet but she'll let him know if they do.

10:45 PM BBT – Ian heads upstairs to HOH and Memphis tells him he is good. Nicole A joins them. Memphis says everyone should play the Safety Suite because he doesn't know his noms yet.

11:35 PM BBT – Enzo is worried about whether or not to play the Safety Suite comp and says he needs to talk to Memphis to find out what he's thinking.

12:00 AM BBT – Franzel and Da'Vonne wonder about a Battle Back. Day doesn't think it'll happen but Franzel mentions Janelle said it would this season.

12:10 AM BBT – Janelle talks with Nicole A and Kevin about forming a group. She tells Kevin he was targeted for being associated with her. Ian is in the room and maybe sleeping. Nicole A warns that he's listening and doesn't believe that he's asleep.

12:25 AM BBT – They continue to discuss who could be working together. Kevin feels confused and left out.

12:50 AM BBT – Janelle is with Christmas in the kitchen. Christmas is considering playing in the SS comp. She says David has already decided he won't play in it but she is waiting for the last minute to decide.

1:30 AM BBT – Janelle tells Kaysar she walked in on another group meeting with Cody, Tyler, Dani, and Franzel. She says Enzo wants to target Christmas and David. Kaysar noticed Christmas gets mentioned a lot. Janelle thinks Dani is playing two sides and while she likes Dani she doesn't see how they can work with her.

2:20 AM BBT – Nicole A asks Janelle and Kaysar for a F3. Nicole wants David to join them too but Janelle worries he's with the others. She suggests Kevin but Kaysar has been worried he's a loose cannon. Janelle and Kaysar want to work with Day and Bay.

2:35 AM BBT – Janelle is frustrated that they probably had the numbers before. Nicole A pushes again for Kevin and Janelle still doesn't like that idea.

2:40 AM BBT – Janelle really wants Franzel out. Nicole A says she needs to play nice for now. Kaysar agrees they need to target Franzel to start breaking up the other side.

3:00 AM BBT – HGs are off to sleep.
Janelle, Kaysar, and co are flailing a bit here as they try to figure out a safe path forward. Memphis may end up passing them over this week and give them an opportunity for rebuilding. Nominations are coming up on Friday along with the Safety Suite competition so we'll be watching for more conversation from Memphis on his picks and will find out who is nervous enough to swipe their VIP card.
You can watch all of these Big Brother events using the archives Flashback, the DVR-like feature of this year's Live Feeds which means it's always live, even when you missed it! Sign-up now to get the free trial to watch it all live & uncensored.


Gallery: Live Feeds Highlights
Download our Big Brother App, join us on Facebook & Twitter, and get our Email Updates for more!