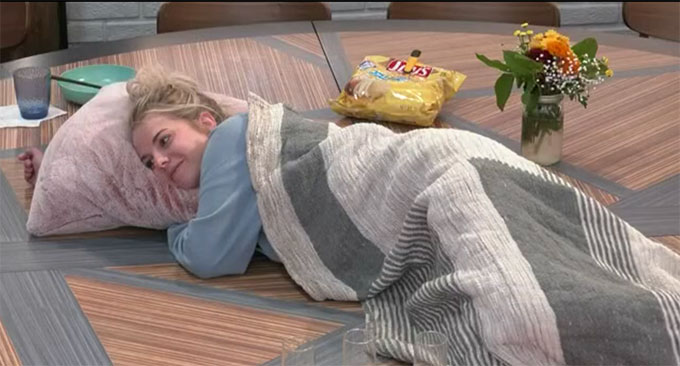 The Big Brother 22 Final 3 spent most of Sunday looking back on the season and looking forward to getting out of the house this week. Nicole worked on her final speech, and Enzo spent a bit more time regretting his choices. A little alcohol joined them for the evening to get the chatter going and we heard from the R3 players on their alleged plans for F2.
If you've got the Live Feeds (Free Trial) then you can watch all of these moments with the Flashback feature to go back and watch those important conversations or funny scenes you may have missed.
Big Brother 22 Live Feed Highlights – Sunday, October 25, 2020:
10:45 AM BBT – Lights are on for the HGs.

12:30 PM BBT – HGs are still sleeping.

1:35 PM BBT – Nicole and Cody are now up.

2:20 PM BBT – Enzo is vertical and joins the living.

2:50 PM BBT – Cody and Nicole are back to playing chess.

3:35 PM BBT – HGs gathered and discussing events from the season. Nicole discusses Memphis's lies. Cody thinks Memphis was arrogant that his late alliances would be effective. Cody says everyone but David knew how to play and what needed to be done which is why where there were so many alliances.

4:10 PM BBT – Enzo points out the target never won the Veto all season. (Kevin got the Veto and used it, but wasn't the target that week.)

4:15 PM BBT – Enzo doesn't understand why Christmas was mad at him for her nomination last week. He says she would have been made if there were only two people and she went up.

4:35 PM BBT – Nicole is practicing her F2 speech. She says the weak persona was designed to protect her. Nicole says her strategy was to surround herself with strong players but doesn't think she hid behind Cody. She is worried she can't beat someone with 7 comp wins (Cody).

4:55 PM BBT – Nicole says her strategy was to throw all comps at the beginning. Then when everyone knew she and Cody had an alliance (Wall Yeller – "Cody and Nicole are playing everyone") she had to distance herself from him.

5:30 PM BBT – HGs discuss what S.O.S. stands for. None of them know what it means.

6:08 PM BBT – Enzo is annoyed with how boring it is. He says they need three beers each or they need to let them watch a movie. Or maybe another luxury comp, he suggests.

6:38 PM BBT – Cody decides to get things ready to make dinner.

7:08 PM BBT – Enzo really wants BB to open up the backyard so he can play pool. Cody says he's in the mood to drink.

7:45 PM BBT – HGs are still bored. Enzo is walking around, talking about Halloween being next week, Nicole is napping and Cody is looking for ingredients for chicken fried rice.

8:10 PM BBT – Enzo and Cody decide to play chess in the kitchen. Nicole makes a bed on the table to watch.

8:30 PM BBT – Enzo says he must've made good TV yesterday with his meltdown over losing Part 2 of the final HOH.

9:10 PM BBT – Nicole has been explaining her podcast and her and Victor's "brand" to Enzo and Cody for awhile now. She says she will be sad if Victor tells her they aren't doing the podcast anymore when she gets out.

10:30 PM BBT – HGs are making dinner.

11:00 PM BBT – (Nicole is in the DR.) Enzo tells Cody he wanted to punch Hayden in the face on BB12 after he cut him at F3. He says he really just wants the 50K + stipend. Enzo reminds Cody he promised at the start that he'd take him to F2 no matter what.

11:10 PM BBT – Enzo says he kept Nicole in the Triple because he knew Cody was close with her and he expected her to start winning comps and keep them safe. Enzo thinks they would have been in trouble if David had stayed over Nicole. Cody says it was a good move.

11:15 PM BBT – Enzo worries his only big move was getting out Kaysar in Week 4.

11:30 PM BBT – Nicole is back and playing chess with Cody. Enzo is now in DR. She asks if he's taking her to F2. Cody teases he might cut her then says he's taking her.

11:35 PM BBT – Nicole says Enzo is working to remind her about his kids but she plans to take Cody.

11:40 PM BBT – Nicole tells Cody to throw R3 and she'll take him to F2. She teases he doesn't trust her.

12:10 AM BBT – Nicole worries to Cody that the Jury won't vote for her if they suspect/know that viewers don't like her.

12:15 AM BBT – Nicole camtalks that she doesn't think she has Ian's vote.

12:25 AM BBT – Nicole camtalks again that she isn't cutting Cody and isn't trying to find an excuse not to take him.

12:50 AM BBT – Enzo has been silently reflecting in his bedroom. Nicole has been wandering the house quietly.

1:10 AM BBT – Big Brother gives the F3 three beers in the storage room.

1:45 AM BBT – F3 has been gathered in the kitchen joking around and enjoying their beer.

2:30 AM BBT – Cody and Enzo play chess while Nicole looks on.

3:00 AM BBT – HGs heading to bed. Enzo camtalks that he was so close to the $500K and doesn't think the other two will take him to F2.

3:10 AM BBT – Enzo is getting into bed and says he expects Cody will take Nicole to F2 and she will win it all. He says he's accepted it.

3:15 AM BBT – Lights are out around the house.
Crazy as it is, I think Enzo is right that both Cody and Nicole plan to take each other to the end. They may fear Enzo is too well-liked personally and could defeat their games for the big win. It'll be interesting to see how the Jury reacts and where the money goes here. Just a few more days until we find out.
You can watch all of these Big Brother events using the archives Flashback, the DVR-like feature of this year's Live Feeds which means it's always live, even when you missed it! Sign-up now to get the free trial to watch it all live & uncensored.


Download our Big Brother App, join us on Facebook & Twitter, and get our Email Updates for more!