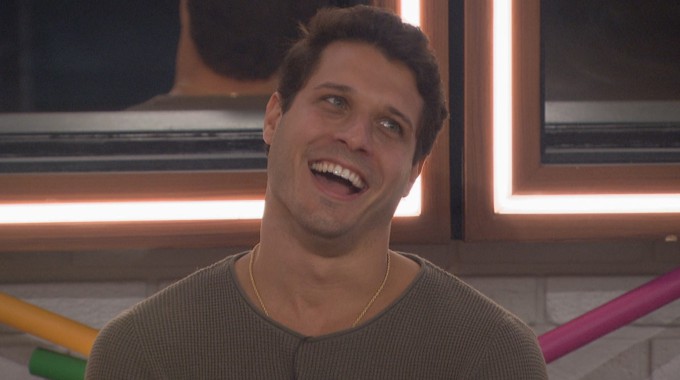 Our last stop in the look back over past seasons to Big Brother 22 for each of the Final 3 is with Cody Calafiore, the prince to Derrick's king of Big Brother 16. If anyone thinks they have something to prove here in this F3 it's going to be Cody who fell short 7-2 after picking Derrick over Victoria for his F2 companion. Oops.
Now he's back and he's been cleaning house all season from his first night HOH win all the way to last night's Round 2 final HOH comp win. So can he right his BB16 wrongs this time around? Let's see how his two Big Brother seasons compare.
Cody Calafiore: BB16 vs BB22
Cody has been a leading contender in this season since the first night when he snagged the first HOH comp and never really let go of the power all the way to the end (at least so far). It must have been endlessly frustrating to have performed so well in BB16 only to be swept aside on finale night by the season's mastermind Derrick, especially when Cody could have easily taken Victoria to the end for the win. He did it to himself! Crazy. So would he let that happen again?
BB16 was a strong performance for Cody with 3 HOH wins and 3 Vetoes. That season Cody eliminated Brittany, Donny, and Victoria. Feels familiar to this season with the mostly weaker targets, right? Of course, it was that last elimination with Victoria that ended Cody's chances of a runaway win. No one to blame but himself on that one and BB22 gave him a big shot at redemption.
Looking to this season Cody has had 3 HOH wins and 4 (!) Vetoes on his resume. No twist victories though with the Safety Suite or BB Basement. It's an impressive scorecard even if he went after Keesha and Kevin then with a redemption of a Tyler eviction which is a stronger accomplishment.
If Cody doesn't win BB22 I'll be shocked as both Enzo and Nicole seemed set on taking him to the end. But now that he's won R2 it could be up to him on which one goes with him. No pressure after that last mistake, right? Enzo seemed confident the other night that he can beat Cody in the end if he gets there, but no chance. Nicole might be the wiser to cut Cody over Enzo, but would she? Ehh. I'm still pegging Cody for the win this season and it'd be well earned if he does.
Cody in BB16: 3 HOH & 3 Veto – 2nd place
Cody in BB22: 3 HOH & 4 Veto – 0x Twist – TBD place
Verdict: So far it looks like BB22 will be Cody's stronger performance. More comp wins to date with the chance to win even more with this final HOH around the corner. If he gets to the end it should be a victory for Cody making this obviously the better of his two seasons.
What do you think of Cody's time on BB22 vs BB16? Will he redeem himself or fall victim to a repeat of the same poor choices in a F2? Could he lose to Nicole if she wins R3 or does he get the win no matter how he stands before the Jury? Share your thoughts below.