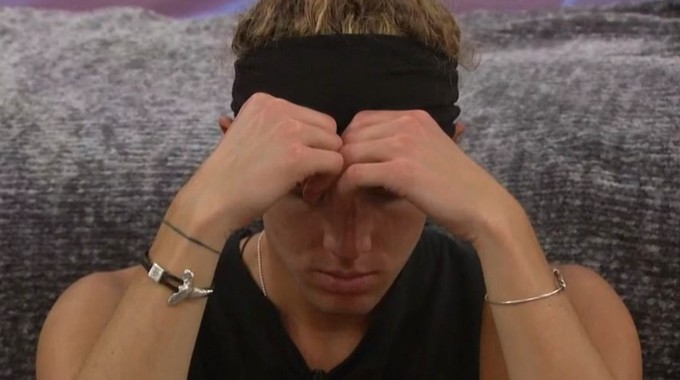 Another busy Veto Day for the Houseguests on Big Brother 22 as the new HOH had his targets on the Block and looked to secure them with a PoV win. Now at the Final 6 for the season everyone had a chance to play but not all of them ended up bringing a strong performance.
By the end of the night, we saw the target shifting as the HOH decided this was the opportunity to take out a bigger target. Find out who is now in the danger zone and see if you think this could change again by Thursday night.
If you've got the Live Feeds (Free Trial) then you can watch all of these moments with the Flashback feature to go back and watch those important conversations or funny scenes you may have missed.
Big Brother 22 Live Feed Highlights – Saturday, October 3, 2020:
9:20 AM BBT – HGs are getting up for the day.

10:10 AM BBT – Christmas has been talking to Memphis in the kitchen. She's hyped for the comp today.

10:25 AM BBT – Nicole camtalks to Victor and says today was supposed to be their wedding day.

10:40 AM BBT – Christmas is camtalking in the Lounge. She fears going out in 6th place. She hopes Tyler comes down and Enzo replaces him then Tyler and Memphis would vote to keep her. Christmas says she'd do better to keep Tyler over Enzo after he voted to keep Nicole. She's afraid to be up against Memphis if there's a renom but she feels good against Tyler or Enzo.

10:40 AM BBT – Memphis is questioning Nicole about a conspiracy to that he was one of the votes. He says Cody thinks "they" are blaming each other now.

10:45 AM BBT – Christmas is talking through an imaginary scenario where Memphis wins the next HOH and breaks a tie to send Cody out. It's an overly complicated scenario that sounds unlikely.

11:30 AM BBT – HGs are lounging and discussing life back home.

12:15 PM BBT – HGs speculate this could be a late-night Veto comp (it won't).

12:30 PM BBT – Memphis was very surprised to see Keesha back for the season. He figured it'd be Jesse if anyone had come back.

12:35 PM BBT – Christmas and Nicole are trying to figure out how voting will be handled on finale night. They speculate Julie will not be handling keys from the Jurors.

12:55 PM BBT – Christmas worries to Memphis about who would be the renom, him or Enzo. Memphis isn't sure. She says she fears she'd go home against him (M).

1:00 PM BBT – Christmas speculates Enzo has a 3-person alliance with Cody and Nicole. She says Enzo talks about Cody like he does about Memphis so she thinks that means there's a loyalty there.

1:05 PM BBT – Christmas suggests they'd do better to skip over Nicole and target Cody because she (N) isn't winning anything.

1:10 PM BBT – Tyler tells Enzo that Cody is more loyal to Memphis so their Triple Threat alliance is now dead. Enzo encourages Tyler to work on repairing things with Cody. Enzo tells Tyler the two of them will be tight if he stays. Tyler says Cody is going after him now because he didn't take a shot at Enzo. Tyler suggests Enzo was supposed to be the one to go, not Dani because he wasn't part of The Committee. (Enzo was not part of that alliance.)

1:15 PM BBT – Feeds cut for the Veto.

4:50 PM BBT – Feeds are back. Cody is wearing the medallion.

5:00 PM BBT – Memphis tells Christmas not to worry because they have the votes to keep her. Tyler is in the next room holding his head. Enzo comes in and tells him he didn't do well either (both timed out in the comp).

5:25 PM BBT – Enzo is playing makeshift basketball in the foyer.

5:40 PM BBT – Enzo tells Cody that Tyler admitted to him there was another alliance called The Committee (Enzo already knew). He tells Cody that Memphis is definitely pushing to keep Christmas.

5:45 PM BBT – Tyler tells Cody that he's a goner, but Cody denies that. Cody says they'll make sure Memphis doesn't get to keep Christmas.

5:50 PM BBT – Enzo worries that Nicole is getting to the F2 and will win. Cody says she won't get that far.

6:25 PM BBT – Cody and Nicole discuss the vote. Cody wants Tyler out while Nicole wants the other woman out. Then she says she'll do whatever and agrees with getting Tyler out. Cody doesn't want to push Memphis too hard to agree to vote out Christmas or he worries Memphis will team up with Tyler and seek revenge.

6:30 PM BBT – Enzo warns Tyler that Memphis is going to vote against him. Tyler's plan is to get Enzo to tell Memphis at the last minute that Nicole is voting out Christmas and he doesn't want Memphis being the odd vote out.

6:35 PM BBT – Nicole is fully on board with targeting Tyler. She worries he'll be able to flip Memphis to his side if he stays. Nicole is very worked up about Tyler and says he's played a terrible game.

7:05 PM BBT – Nicole suggests Tyler and Christmas made the fatal flaw in their games by trying to vote her out.

7:40 PM BBT – Cody tells Christmas he doesn't have either her or Tyler preferred to go right now. He promises her he didn't have a bad take on her, he just had limited choices for his noms.

8:30 PM BBT – Cody warns Memphis that Tyler will want to go after bigger players which means the two of them. He says this is their chance to get Tyler after he slipped up in the Veto comp because they may not get lucky again. Memphis agrees this is a good opportunity to take Tyler out. Cody says they're good with Nicole targeting Christmas next over them.

8:45 PM BBT – Enzo tells Cody he needs to take Tyler out because otherwise, his HOH accomplishments are Keesha and Kevin.

9:05 PM BBT – HGs get beer and wine. They also dig out the stashed wine.

9:45 PM BBT – Feeds cut while HGs are drinking.

12:15 AM BBT – Feeds are back and HGs are tipsy.

12:45 AM BBT – HGs are goofing around and playing in the darkened HOH room.

1:55 AM BBT – Cody and Enzo are chatting in the HOH room. Cody expects Christmas to put him and Nicole up if she wins HOH. Enzo says he'll nom Christmas and Memphis.

2:00 AM BBT – Cody doesn't want to have to cut Nicole over Christmas. He hopes Nicole will win HOH so they don't have to reveal their alliances. Enzo worries about Nicole getting to F2 but Cody says they can't get her out.

2:10 AM BBT – Enzo tells Cody if he gets evicted he wants Cody to win. Cody reassures him they'll be F2 together.

2:20 AM BBT – Enzo points that neither of them nor Memphis has been on the Block.

2:55 AM BBT – Enzo says he'll probably put up Christmas and Nicole if he wins HOH next. Enzo points out if they don't win HOH next then they'll retain control by way of the votes.

3:45 AM BBT – Cody and Enzo are still awake and chatting in the dark. General game chatter.

4:00 AM BBT – Enzo is sleeping on the HOH couch. All lights are out.
Taking Tyler out is obviously the right choice over Christmas and Enzo is right that so far Cody has been going after non-threats with his HOHs. Tyler is a competitor but would he be closer to Cody than Christmas is to others? Either way, we've still got Enzo playing things right down the middle and looking safe for another week.
You can watch all of these Big Brother events using the archives Flashback, the DVR-like feature of this year's Live Feeds which means it's always live, even when you missed it! Sign-up now to get the free trial to watch it all live & uncensored.

Download our Big Brother App, join us on Facebook & Twitter, and get our Email Updates for more!