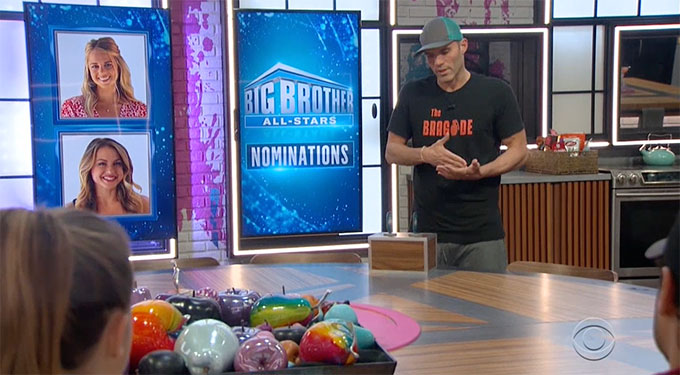 Christmas once again finds herself on the block, only this time she's not a pawn. We are about 101 percent certain Christmas will be leaving the Big Brother 22 house tonight.
There's been little suspense this season when it comes to evictions, so don't expect that to start now. Cody probably should be keeping Christmas over Nicole, so it's definitely worth talking about, but as we've seen and heard from the houseguests themselves this season, those pre-game alliances run deep. Cody and Nicole seem to have made some kind of death pack, because both have protected each other beyond comprehension this season. Don't get me wrong, a lot can be said about loyalty, but it's a lot more respectable when loyalty comes from an organic relationship in the Big Brother game, and not one forged long before this season even started. I didn't mean for this to become an op-ed, but it has just been really frustrating to watch. Cody even said himself in last night's episode that his loyalty cost him the win last time, so he should be considering cutting Nicole.
So, that being said, I think Cody might cut Nicole over Enzo next week? But this week, Christmas doesn't stand a chance. She's outta here. And she will probably look back on her game and silently regret how she played the game for everyone but herself. That all started when she was HOH and targeted Da'Vonne and Bayleigh for no good reason. I mean, the reason was for her alliance, but look where that got her. Third place isn't first place.
It looks like you all agree as well that Christmas is heading off to jury (more likely a sequester hotel) tonight. Based on out eviction prediction poll, you guys say there's more than a 90 percent chance it's Christmas leaving tonight. That 9 precent picking Nicole must just be wishful thinking. And I feel you, let me tell you.