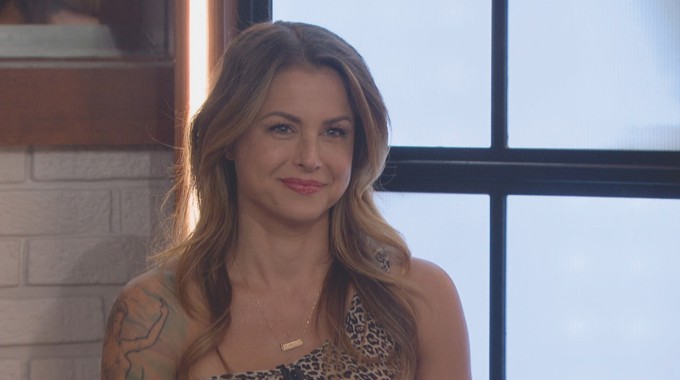 This week on Big Brother 22 we'll say farewell to the F4 and welcome the F3 for a long-awaited end to this once long-awaited return of the All-Stars installment. And while the sum of the parts turned out to be far weaker than many of us had hoped it's interesting, at least to me, to see how these F4 HGs stacked up in their return to the Big Brother house. Which of them up'd their game and who, if any, fell short of their former glory.
Today we'll start with Christmas, on her anticipated last day in the game, and then work through all four of these final HGs, one a day, as we compare their original/previous achievements with what they delivered in this All-Stars season.
Christmas Abbott: BB19 vs BB22
Christmas had a lot to prove in her return to Big Brother, this time without a cast on her foot. After breaking her foot in the first days of her original season, BB19, we wanted to see if she was the comp beast she claimed to be.
In season 19 Christmas was dragged along as a lame-duck opponent with the right allies and made it to F3 where she left in 3rd place after telling both Paul and Josh that it was okay to cut her. So they did! Of course, at the time I thought Josh had made a crucial mistake, but clearly, he didn't and won the season.
As far as her performances on BB19, Christmas "won" two HOH comps, zero Vetoes, and one twist power. One of those HOH comps was the running "GO!" challenge… in a cast… that everyone threw to her. The other was two weeks earlier and based on their knowledge of the season.
It's worth noting that Christmas was forced to sit out and ruled ineligible to participate in a LOT of comps that season even if she was picked to play. There's no way to know how she would have performed in those weeks but she definitely had a lot of missed opportunities in that one.
There were two early nominations on Day 1 and then in Week 1 but then nothing else until Week 12 when she was eliminated. Really that has to go back to her being a lame-duck HG. Why nom her when you could use her, right?
Jumping to our current season, Christmas has had one HOH win, two Veto wins, and one twist power. Again like before, her HOH win here was by default. Week 5 was the knock-out comp where she stood like a statue and won when her opponent was ruled out. Effective strategy as it turned out, but certainly a passive one.
Then for twists, Christmas did pretty decently this season with one Safety Suite win and the Basement power win. Compared to just one twist win in BB19 with the Den of Temptation this was an improvement this time around.
Nominations wise she did worse with one more than her original season. This year it started out slow with a Week 4 appearance and then she just became that perma-nom with Weeks 9, 10, and 11. As she noted overnight on the Feeds, things really fell apart after she tried and failed to evict Nicole. Yeppers. Take note as to why and that shows you who is really in charge this season.
We're expecting Christmas out in Week 11 which earns her 4th place, a weaker performance compared to last season's 3rd place finish.
Christmas in BB19: 2 HOH & 0 Veto – 1x Twist power – 3 nominations – 3rd place
Christmas in BB22: 1 HOH & 2 Veto – 2x Twist power – 4 nominations – 4th place
Verdict: Overall 5 wins with one lower ranking and an extra nomination for Christmas in BB22 vs BB19. I'll have to call her latest season the better of her two considering the comp wins were stronger in S22 vs S19 and coming in 4th vs 3rd is so close although a finale night appearance from inside the house is a big achievement.
So tonight we'll say farewell to Christmas and she'll fall just short of the end again. Share your thoughts on her latest season versus her original on BB19.
Sources: Big Brother Wiki Fandom, BB19 Archives, BB22 Results