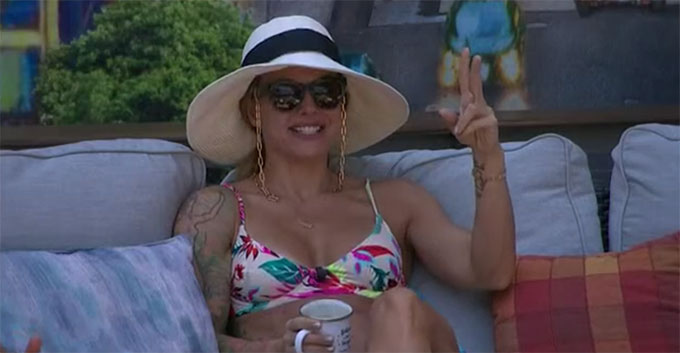 If you've been following along with the Big Brother 22 spoilers, then you already know how the Power of Veto plays out. And if you don't know yet, stop reading because there are spoilers ahead.
This week Memphis held all the power in the Big Brother All-Stars house as he held the HOH key and the Power of Veto. And he decided not to use the veto because he didn't want to do what either side he's working with wanted him to do. So the second All-Star to be evicted will be either Nicole A or David.
So what are the votes looking like this week? Janelle and Kaysar have been campaigning for Nicole A because they need her for a number and because they genuinely like her. She doesn't know this or believe any of that, but it's true. She also has Kevin on her side. So that should be three easy votes for her. Bayleigh and Da'Vonne are kind of working with Janelle and Kaysar, so they've been trying to pull them in for votes, but they're both pretty set on keeping David.
The rest of the house seems to be leaning toward keeping David as well. Tyler, Dani and Nicole F all want a shot at the final Safety Suite competition, and since Nicole A didn't play this week she is still eligible. So getting rid of her increases their chances. They initially wanted to get rid of her to weaken Janelle and Kaysar, but since they can't use that as an excuse any longer, they're going to have to admit it's because of the Safety Suite situation.
So let's break down the votes.
Voting for David to go:
Janelle, Kaysar, Kevin
Voting for Nicole A to go:
Tyler, Dani, Nicole F, Cody, Enzo, Bayleigh, Ian, Da'Vonne, Christmas
That's 9-3 in David's favor. But Memphis and Cody are going to try to make it 12-0 or at least 10-2, which Kevin voting with them. I'm not sure why that matters, but that is their goal. So it's possible we see another unanimous vote, especially if Nicole A calls out Janelle and Kaysar over her confusion. She could lose her only votes.
Who do you think will be evicted from the Big Brother 22 house this week? Let us know by voting in our poll below.


Want to see if the vote count changes before Thursday's live eviction? Grab the Live Feeds' Free Trial and start watching what's going on inside the house right now!