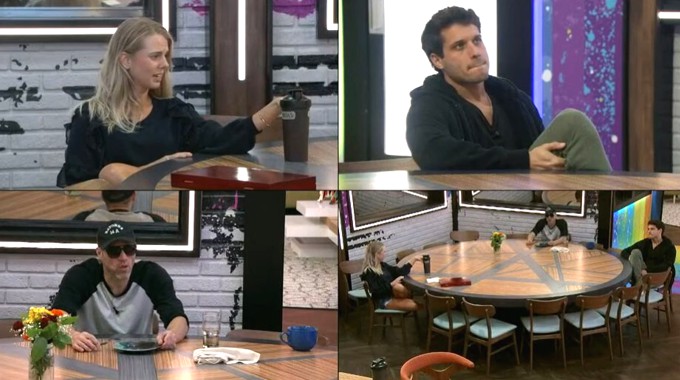 Our last Saturday of the Big Brother 22 season and it delivered another big comp for us with results that would shape the end of the season. The Final 3 HGs quietly awaited the second round of the final HOH and late-night results gave us plenty to listen to as the HGs reacted to the unsurprising outcome. Read on to hear what the HGs are thinking as we head toward finale night on BB22.
If you've got the Live Feeds (Free Trial) then you can watch all of these moments with the Flashback feature to go back and watch those important conversations or funny scenes you may have missed.
Big Brother 22 Live Feed Highlights – Saturday, October 24, 2020:
10:50 AM BBT – HGs getting their late wakeup call for the day.

12:25 PM BBT – Cody and Enzo wonder if their round two comp will be today or Sunday. Enzo thinks back to his original season's F3 HOH comps.

2:30 PM BBT – F3 sitting around rehashing the season and the HGs who have gone before them.

3:30 PM BBT – HGs are wondering what the after-party could be or if there's just nothing this year.

4:30 PM BBT – HGs are napping.

6:35 PM BBT – Pet Loops have begun for the R2 comp.

10:45 PM BBT – Feeds are back. We only see Nicole and Cody playing chess.

11:10 PM BBT – Enzo finally appears. He says he's calmer now and is going to take a shower.

11:15 PM BBT – Enzo talks to himself in the bathroom and says he lost his cool.

11:25 PM BBT – Enzo is taking his shower and mentions that Cody destroyed him (presumably in the R2 comp).

11:45 PM BBT – Enzo camtalks in the bathroom that he let everyone down and couldn't possibly beat Cody. He says he messed up on the last part. Enzo laments that he almost pulled it off. His talks confirm expectations that Cody won Round 2.

12:25 AM BBT – HGs discuss how the house is starting to fall apart and smell.

12:45 AM BBT – Discussion over Christmas's HOH win and how much different it would have been if Da'Vonne had won it.

1:10 AM BBT – HGs talk about targets through the season. They think Tyler was after Dani from the start.

1:40 AM BBT – Enzo feels frustrated that he studied all season for what ended up being three questions.

2:30 AM BBT – Cody and Nicole are playing chess so Enzo says he's going to bed. Back in his bedroom Enzo camtalks and asks himself why he didn't get rid of Nicole. He says he thought Christmas would win the HOH and get rid of her then.

2:35 AM BBT – Enzo says he hopes Cody wins over Nicole but still wishes Cody would take him to the end. He says that he may have messed up tonight but he (E) played strong all season too.

2:40 AM BBT – Enzo reveals his time was 37 minutes versus Cody's 4 minutes. (Ouch.) Enzo continues to lament his decision to save Nicole and mockingly calls that his power move of the season. He's very worried he'll hear Nicole announced as the winner of R3.

2:45 AM BBT – Enzo questions if there were pregame alliances and says he knows he didn't have one. He lightens up, smiles, and says he had so much fun this season but his luck ran out again at F3.

2:50 AM BBT – Enzo still hopes Cody will take him to F2 and he thinks Nicole would be crazy to take Cody to F2.

2:50 AM BBT – Nicole tells Cody she knew she'd come back again and this feels like the way to end it, with achieving F3 in All-Stars.

2:55 AM BBT – Nicole says her "mom" is going to be upset with her about how she handled the HN with Janelle. ("Mom" seems to be their code for Derrick.)

3:00 AM BBT – Nicole claims to Cody that the Jury is bitter and won't let her win a second time.

3:10 AM BBT – Enzo, still camtalking, is upset about Christmas's third-place comment. He doesn't credit her HOH win nor her BB Basement win so he says she only won the one comp.

3:30 AM BBT – Nicole says she almost voted for Cody in BB16 but Derrick had her convinced. He says he was Derrick's closest ally and still didn't see how deep his game ran.

3:35 AM BBT – Lights out for Enzo but he's still talking. He says he told Cody and Nicole that he doesn't care and they can take each other to F2. Enzo says he won't be campaigning. He worries that Cody may take Nicole and Nicole could win.

4:15 AM BBT – Lights out for the house.
Enzo did this to himself for sure but could he still end up in F2? Would Nicole dare cut Cody if she wins R3? Maybe it. It'd be a smarter move for her but we often see HGs made a bad choice in the final moments of their season. We'll keep watching and listening for more camtalks that could reveal their plans.
You can watch all of these Big Brother events using the archives Flashback, the DVR-like feature of this year's Live Feeds which means it's always live, even when you missed it! Sign-up now to get the free trial to watch it all live & uncensored.


Download our Big Brother App, join us on Facebook & Twitter, and get our Email Updates for more!