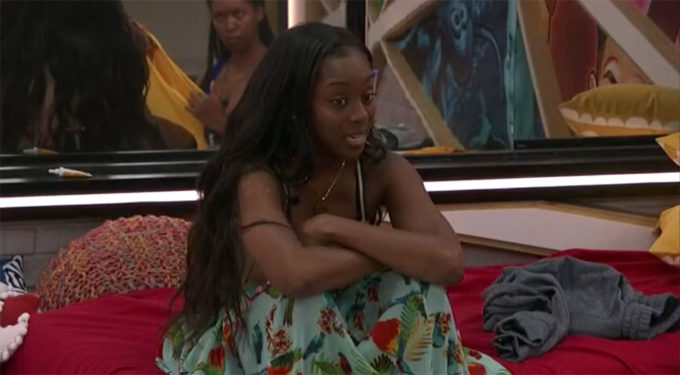 We all know by now there are way too many alliances and deals in the Big Brother 22 house. But what's growing more and more confusing is trying to figure out which ones are actually legit. Let's take a look at the alliances and deals for Big Brother All-Stars Week 4.
Well start with the original of the season, The Committee. This is the one that consists of Cody, Memphis, Dani, Christmas and Nicole. This seemed like it was THE alliance. But they quickly got upset with Memphis for not going after Janelle and Kaysar. And now Cody is really upset with Tyler because he told Da'Vonne that Dani is after her. So that alliance is basically a mess. Nicole even told Dani on Monday night that that alliance isn't real anymore. But Dani said she trusts them more than The Slick Six.
Speaking of the Slick Six, that's Cody, Dani, Tyler, Bayleigh, Da'Vonne and Enzo. Nicole knows about this alliance, but isn't in it. That's because it's not a real alliance. It was a way that Cody and Dani wanted to keep Bayliegh and Da'Vonne from coming after them. But Tyler, fed up with Dani, has blown that all up basically. So I think you can throw these two alliances out the door and focus on The Core Four if you want to know who is the most loyal. The Core Four is Cody, Dani, Enzo and Nicole. I think of this group, Enzo is the most likely to drift. So I think we can really say Dani, Cody and Nicole are an unbreakable trio.
There's another pretty fake alliance called Four Prime. That one is Ian, Nicole, Dani and Cody. That one hasn't been mentioned since it formed, but it was a way for Dani and Cody to allow Nicole to have her "shield" in Ian. Nicole and Ian have their own thing called the Million Club.
But here's the thing, Ian has everything figured out now after a wall yeller disrupted the house a couple of nights ago. So his trust in Nicole has faltered, as has his trust for Cody and Dani.
Tyler still has all of his final 2 deals, but he's done with David after his messy gameplay. And Tyler's trio with Enzo and Cody is on thin ice as well, because of Cody's thoughts on Tyler now.
Bayleigh and Da'Vonne are still solid, as are Da'Vonne and Kevin. No one trusts David anymore, and then there's Kaysar. He's all alone now without Janelle. He's just sitting there a free agent, but instead of scooping him up, they're all going to vote him out this week.
I think we can expect some new alliances and deals in the coming weeks since all the other groups are falling apart. Who would you like to see work together?
Thanks as always goes out to @89razorskate20 on Twitter for keeping track of all the alliances and deals. Check out their helpful chart below.
🌟8-29-20 #BB22 ALLIANCES & DEALS UPDATE!🌟
🔹How The House Stands After Janelle's Eviction, Kaysar Has No Allies & David Has Lost Trust From His Allies! pic.twitter.com/0YNTQKNcM5

— BigBrotherJunkie👁 #BB22 (@89razorskate20) August 29, 2020