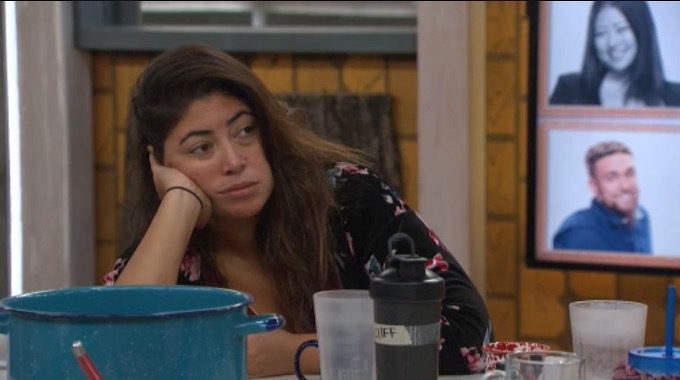 It was a slow morning with the backyard being closed and all the HGs hanging around the kitchen table talking about life experiences. Nick talked a bit to Nicole about what he plans to say in his campaigns and what he plans to offer people if he stays.
If you've got the Live Feeds (Free Trial) then you can watch all of these moments with the Flashback feature to go back and watch those important conversations or funny scenes you may have missed.
Big Brother 21 Live Feed Highlights – Tuesday, August 27, 2019:
10:00 AM BBT – HGs are waking up.
10:45 AM BBT – Cliff and Nicole are talking about how there are only 5 votes to evict this week and they (him, Nicole, and Jessica) control three of them.
11:30 AM BBT – The HGs are all hanging out in the kitchen eating and chatting.
12:57 PM BBT – Holly mentions setting up booby traps around the HOH room for any clowns that might have shown up. The HGs are all still hanging around the table chatting.
1:23 PM BBT – Feeds were down for about 10 minutes. When they came back up, the HGs are still around the table. Nicole, Cliff, and Jessica are cleaning up after pies. Talks around the table are about how Christie had a crush on Kat.
2:00 PM BBT – Some of the HGs have moved their conversations into the bathroom. Tommy talks about how great it is that Jackson and Holly have both communicated with each other's families in their shoutouts. Mentions how Jackson shouted out Holly's family and her upbringing in his eviction speech.
2:20 PM BBT – Jackson asks Christie what the end of the season HOH comps look like and they start talking about endurance comps that make you hang onto something and spin. Jackson says that he would throw up all over himself and Tommy and Christie laugh about it because he has already peed on himself in one comp and is going to end up throwing up on himself in another.
2:30 PM BBT – Nick and Nicole are going over dates and events.
2:38 PM BBT – Nick and Nicole are talking about Tommy and Nick mentions that Tommy is loyal until you need him to vote for you.
2:45 PM BBT – Nick tells Nicole that if he leaves, Jessica and Christie's targets are going to change and he plans to use that as a point in his campaign to prove him staying can benefit people. He also mentions that Jackson and Holly are his two major pitches.
3:00 PM BBT – Nicole wonders what she should do if she wins HOH should she link up with Jackson and Holly or take a shot. He tells her that they will always be targets and everyone is going to take shots at them. He suggests she links up with them.
Not much game talk going on, but Nick has some great ideas for his campaign and pitches for this week. He knows that he is going to have to convince Holly that he is an asset in order to get Jackson's vote, but he will still have to convince Cliff to vote in his favor also. Do you think he can convince Jackson and Cliff to vote to keep him? We will find out throughout the remainder of the week!
You can watch all of these Big Brother events using the archives Flashback, the DVR-like feature of this year's Live Feeds which means it's always live, even when you missed it! Sign-up now to get the free trial to watch it all live & uncensored.


Gallery: Live Feeds Highlights
Download our Big Brother App, join us on Facebook & Twitter, and get our Email Updates for more!