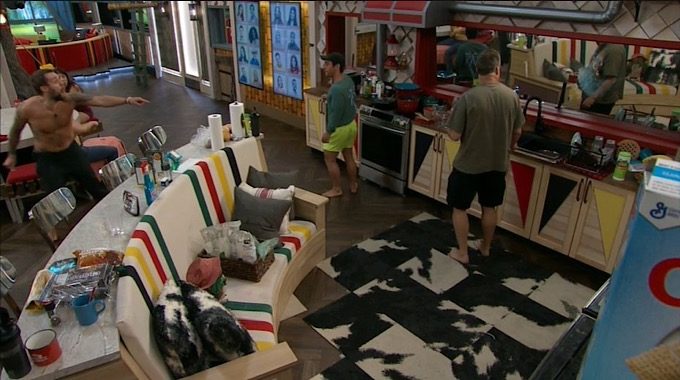 As we all know, it's Prank Week inside the Big Brother 21 house. We have had America's Prankster choosing nominees, we have had three HGs put in charge of hitting people with pies all week and now we have seen a clown invasion. Read on to find out which HGs were freaked out the most and check out some screenshots below!
The first clown popped up in the mirror behind the kitchen sink at 7:20 PM BBT (cam 2). As you can see from the reaction in the photo used above, it got the HGs pretty good. Cliff was doing dishes when he dropped one of the coffee mugs into the sink and it broke. While he was cleaning the pieces of the mug out of the sink, Nicole noticed a clown in the mirror. The HGs spent a good amount of time talking about the first clown and throughout the night they kept popping up when the HGs least expected it.
Tommy found one in the bathroom while he was washing his hands. Holly and Tommy found one in the storage room and shortly after Jackson came in to check out what was going on, it popped up again. Jessica got clowned while brushing her teeth and then the backyard opened up and while Christie and Tommy were putting down the awnings, another clown popped up in the window causing Tommy to scream.
Out of all of the HGs, Nicole was probably freaking out the most about the clown invasion and at one point suggested that they all sleep in the RV room in order to keep each other safe. Here are some screenshots of the HGs and clowns throughout the night!
Gallery: Clown Invasion
Before Prank Week ends, what else would you like to see happen to the HGs?
Download our Big Brother App, join us on Facebook & Twitter, and get our Email Updates for lots more Big Brother coverage.
Did you know you can get a Free Trial to check out the Live Feed in-house cameras for Big Brother? Watch any moment from the season both live and in the past with the Flashback feature. If you haven't tried the Feeds yet then this is your week to do it! It's twenty cents a day and the cheapest entertainment you'll find all summer.