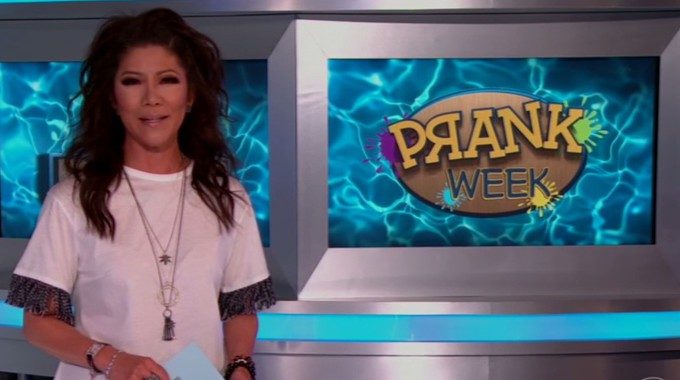 Update The results are in! Scroll down for the spoilers of who won the America's Prankster twist.
It's Prank Week on Big Brother 21 and the "America's Prankster" vote is open for fans to decide which HG will get to steal a nominee from the new HOH!
That's one powerful twist and after several flops in the Camp power twist earlier I'm not surprised to see one that production can at least guarantee will fire. So now the votes are open until Friday at 9AM PT (12PM ET) and you'll get 10 votes on Thursday then after midnight you'll get 10 votes for Friday. Use them wisely!
Holly can't receive the Prankster power since she's the new HOH so one of the other remaining HGs will be awarded the power to take one of her two nominations away and then if there's a Veto used on the Prankster's nomination then he/she will also get to name the renom.
There are a lot of unknowns here like how that works between the HOH and the Prankster. I would expect it to be a silent role usurping Holly's nom but does she name two nominees and then the Pranker picks one of them to zap or will she know beforehand she can only pick one? Who knows. These things are apparently left undefined so they can be best handled as needed later…
America's Prankster Spoilers
Nick won the Prankster power
At 9AM PT the polling closed and HGs were informed the vote had taken place. Then DR called in each HG one at a time to let them know whether or not they got it. The camera zoomed in on Nick's feet as he walked in for his turn then when he was back Nick privately confirmed to the camera that he had won the Prankster vote. That matches up with our polling yet again.
Nick will get to name one of the two nominees this week. Think he'll go for Christie? He's got to, right? But wait, Holly wanted to nom Christie too. Hmm. She also wanted to nom Nick. Guess they could both end up on the Block anyway, if he's allowed to be nominated which I'd guess he is or it'll be obvious who is the Prankster!
If you can't see the poll below then refresh the page here.