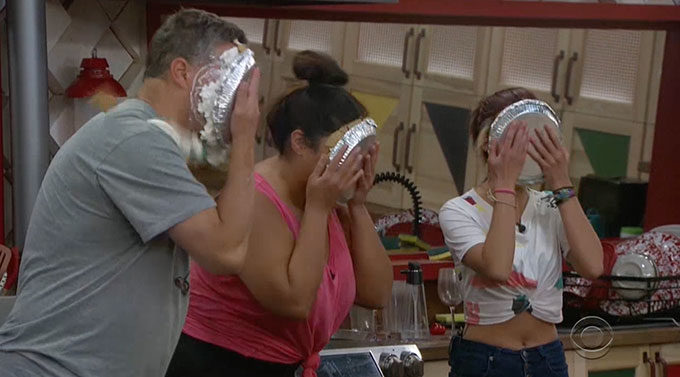 As we wait for Big Brother 21 Week 10 to kick into gear, let's take a look back at the best and worst moments from Week 9. And it looks like we are back to the worst moments outnumbering the best moments.
The Best Moments of Big Brother 21 Week 9
Prank Week. It wasn't the most earth-shattering twist ever, but it was fun. I think they could have done more, but the concept was good.
Nick Nominates Christie. I'm pretty sure Nick won the Prankster vote just to do this, so I was happy to see him follow through.
The Worst Moments of Big Brother 21 Week 9
Holly Nominates Nick. I still don't see why they thought Nick was the biggest threat to win the game. With how slimy he's played, why would anyone vote for him? I think this cast is overlooking the real threats and it's just mind boggling.
Nick Wins The Prankster Vote. I am still confused how this happens. Nick has so few DRs and when he does they're scripted and spoken like he's ordering from a drive through speaker. I guess people just really wanted Christie nominated, because I would have personally voted for Nicole as the Prankster.
Zingbot. Usually Zingbot us the highlight of any Big Brother week. But this year the zings just weren't landing. Christie's chewing zing was probably the best one, but the others were just lame and uninventive. But again, this cast is kind of boring, so I guess even Zingbot struggled to make them seem interesting.
Jackson Wins Veto. I really wanted Nick to win so that we could see Tommy on the block next to Christie. Of course Holly probably would have nominated Jessica with her going home. For some reason they are insisting on Christie not leaving this game and it makes no sense to me.
Nick's Campaign. One of the few great things about this season has been how hard every nominee has fought to stay. And then Nick came along. His campaign week was so boring and he just didn't put in the work to stay. For someone who really didn't want to go, he just didn't pull off a good campaign.
Nick is Evicted. I don't like Nick, and I'm glad he's gone, but I just could not have voted him out over Christie if I was in that house. Christie is a treat to win the game and she does nothing for me as a player. Everyone who said last week if Christie goes the Live Feeds will be boring needs to eat their words because she survived and this past week of the Live Feeds were the most boring they've been this season. And that is saying a lot.
It was a very boring and slow week in the Big Brother, so here's to hoping it picks up this week. What were your favorite and least favorite moments from Week 9?